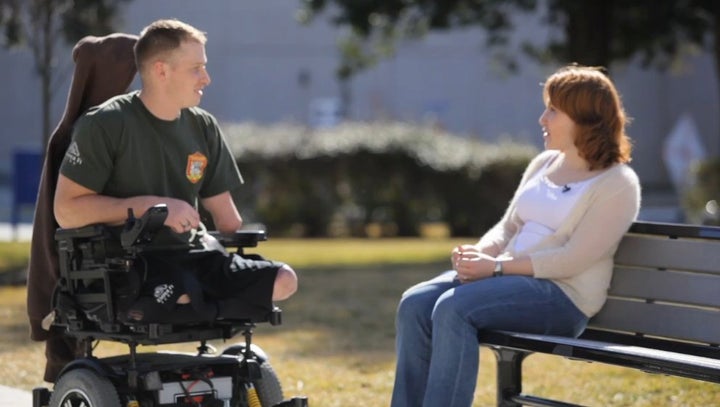 Have you struggled to break into the financial services job market? The finance industry is actively seeking military talent due to their maturity, professionalism, and problem-solving abilities. Veterans on Wall Street can help you switch careers.
Veterans on Wall Street (VOWS) matches vets with career and business opportunities in the financial services industry through its partnership with Bank of America, Citi, Credit Suisse, Deutsche Bank, and Goldman Sachs and its annual career fair. You can attend the career fair to find jobs, or simply to network and learn about the industry.
Last year, more than 1,500 veterans and military spouses attended, and 154 were directly hired. The 2012 fair was held on June 21st as part of the Chamber of Commerce's Hiring Our Heroes initiative with approximately 500 vets in attendance and recruiters from financial services firms.
Not all finance jobs are front office positions (sales, trading, and mergers and acquisitions). Banks are hiring back office functions as well, such as operations and IT. Back office positions do not necessarily require a college degree.
Vet Perspectives on the Fair
The conference included a day of seminars about the financial services industry. In the morning, there were panel discussions in which veterans at different stages in their careers shared their experiences and provided helpful advice about transitioning from the military into the financial industry.
Charles, a former Navy pilot, attended this year's conference. He explained, "It's a great way to learn about different finance firms and more effectively compare them. Several firms handed out pamphlets with info about their upcoming veteran events. That's really helpful, since these exclusive events are not always well advertised."
Patricia, a former Naval Flight Officer, saw three benefits in attending the conference. "I got to see what opportunities are out there. I learned more about the finance industry. And, I met other vets going through the transition process as well as vets who had already transitioned into the financial industry. In fact, several of the vets I connected with were key to helping me build my network in the industry and ultimately get hired into an investment banking position."
What if you missed the fair or didn't get placed?
Don't worry! VOWS gave us some great tips to help you find a job in finance:
Get Smart! Firms don't expect you to have a finance degree or previous work experience in the industry, but they do expect you to be able to talk the talk.
Don't feel intimidated -- Before I took finance and accounting courses I thought discount rate only applied to shopping. (Look it up at investopedia.com and bookmark the site).
Subscribe to the Wall Street Journal, Bloomberg, The Economist, and Dealbook to learn current events and lingo. Look up unfamiliar terms at Investopedia.
Contact VOWS with questions about the conference or finance industry.
Demonstrate Commitment. Firms want candidates who are excited about working in the industry, know what the job involves, and are committed to a career in finance. If your story doesn't convey this commitment, you may be overlooked even if you're a strong candidate.
Seek a Mentor
.
Business Professional Women Foundation has mentors for female veterans. Apply to be a mentee here. Female vets should apply for mentors from both organizations for the expanded networks and additional perspectives.
Practice, Practice, Practice
. Conduct mock interviews with friends and family, attend career fairs to gain more experience and confidence, and attend networking events to build your network and perfect your elevator pitch.
Bottom Line
: If you're dreaming about a job in finance, make it a reality. Transitioning to a new career is never easy. Follow these tips, roll up your sleeves, and hit the street. Your dream job could be around the corner!
Veterans Lisa Nagorny and Dan Pick experienced challenges transitioning from the military. They believe that every vet has the ability to reach their career aspirations, despite the soaring veteran unemployment rate. Lisa and Dan created the career transition blog, Switch, to share relevant resources and their personal experiences. Join them and spread the word!
http://www.switchstarter.wordpress.com
© 2012 SwitchStarter, LLC
REAL LIFE. REAL NEWS. REAL VOICES.
Help us tell more of the stories that matter from voices that too often remain unheard.