Those who criticize NFL players' protests during the national anthem often argue that the gesture is disrespectful to American military veterans.
But one veteran has heard enough of the debate and is speaking out for himself.
"I'm tired of random people on the internet speaking for me," Benjamin L. Corey, an Air Force vet who describes himself as a progressive Christian, wrote in an emotional blog post for Patheos.com. "I have a voice, and I am capable of using it."
"What I need those of you who claim taking a knee disrespects my sacrifice to hear, is this," Corey wrote. "Instead of disrespected, I feel my sacrifice deeply honored every single time I see a football player take a knee ― because that represents the freedom of speech and expression that I gave so much of myself to uphold.
"In fact, nothing honors my sacrifice more than the public exercise of these core freedoms."
Trump reignited the debate over the kneeling protests last week when he called for fans to boycott games and asked NFL team owners to fire players who participated in such displays. The president has since tweeted relentlessly against NFL players, denouncing the gesture as disrespectful of the flag and veterans.
As a veteran himself, Corey argued that the ones being disrespectful are actually the people who insult the individuals who are exercising their constitutional right to peaceful protest.
When you vilify and harass someone for the peaceful exercise of their rights, and when you participate in a public campaign to harm or end their careers simply because they are using the very rights veterans like myself have sacrificed for, you disrespect me.

You insult me. You dishonor me.

You exploit me for your own cause.
To read Corey's take on the kneeling protests and his response to those who oppose it, read his full blog on Patheos.com here.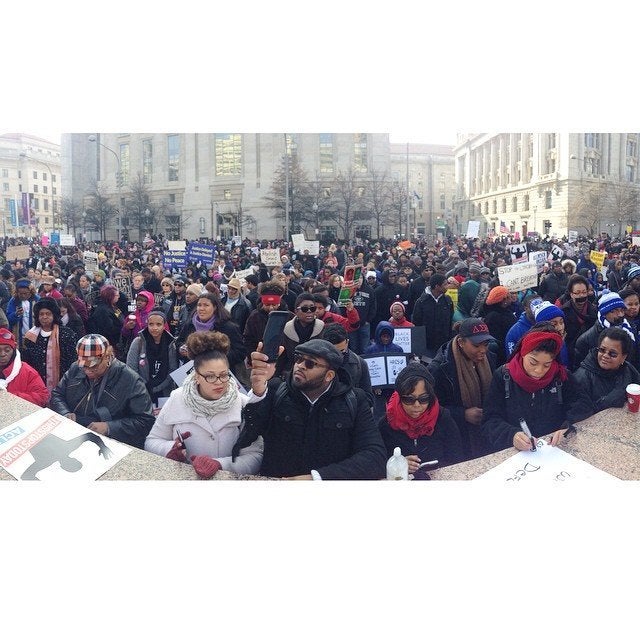 Powerful Black Lives Matter March In Washington
Popular in the Community