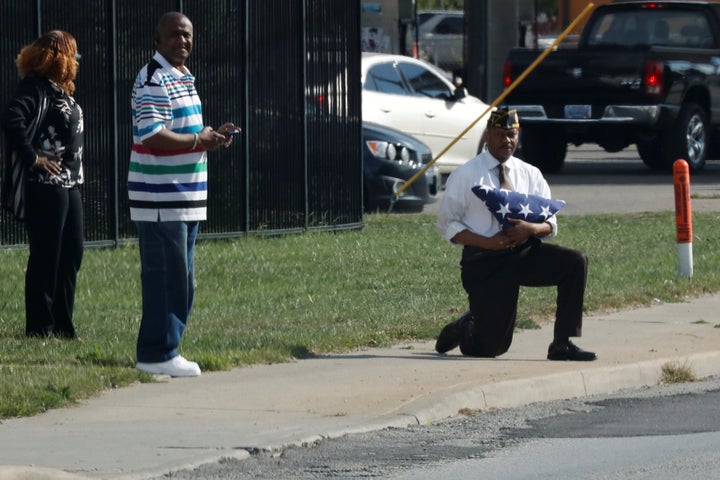 Marvin L. Boatright was checking the mail outside his family's funeral home business in Indianapolis last spring when a motorcade carrying Donald Trump, then a presidential candidate, whizzed by him for the first time.
"I wanted to give him a thumbs down," Boatright, a 60-year-old U.S. Army veteran told HuffPost. "But I didn't do anything. I just looked at him out of respect."
On Wednesday, he found himself within feet of the former reality TV star ― now president ― again, as Trump's motorcade traveled the same route past Boatright Funeral Home toward the state fairgrounds, where Trump would speak about tax reform.
This time, Boatright had a message to deliver. He desperately hoped someone in the motorcade would notice him, a proud military veteran, honoring his country and his flag ― on bended knee.
"For the commander in chief to call our citizens 'sons of a bitches' was totally wrong and beneath the dignity of the office."
"As a veteran, and as an African-American, we have already and we continue to serve for God and country," Boatright said. "But you can have a love of God and country and still be against social injustice. You don't have to separate one from the other."
"For the commander in chief to call our citizens 'sons of a bitches' was totally wrong and beneath the dignity of the office that he holds," he said about Trump's repeated attacks against NFL players who kneel or sit during the national anthem to protest police brutality and systemic racism.
As Boatright took a knee, he wore an American Legion cap and cradled a folded flag ― a tribute to all veterans, including his father, who served in World War II and died almost 20 years ago. Some onlookers cheered him on, he added.
Boatright was shocked to learn someone from the motorcade had noticed him ― a photographer for Reuters. The picture went viral Thursday after an editor for Yahoo News tweeted it.
"We love this country," Boatright, who served in the U.S. Army 1st Cavalry from 1974 to 1976, said of himself and other veterans. "We love this flag. But we also love life and liberty for all humanity."
"The kneeling was to bring dramatization to the disappointment that we have seen throughout our country as it relates to those who have been killed by our various police departments," Boatright said.
Over 200 NFL players, as well as dozens of other athletes in various sports, have taken a knee, sat or raised a fist in protest during the national anthem since Colin Kaepernick, then-quarterback for the San Francisco 49ers, started the movement in August 2016.
Some critics of the protests say participating players are disrespecting military personnel and first responders, while others claim the demonstrations themselves aren't actually raising awareness about the issues.
Boatright disagrees on both fronts. He said the protests serve a "very important" purpose, especially for Americans who may not tune into cable news, but who follow sports and entertainment.
"The issues that affect our nation can be seen and made visible through sports," Boatright said. "We need to get our racial equality act together, especially as it relates to police action and shootings around our nation. ... [The protests] were never about disrespecting our nation or the flag, which we hold so dear."
The second generation mortician isn't the only veteran to come to Kaepernick's defense. Others, including former talk show host Montel Williams, have passionately spoken out against the president's condemnation of the protests.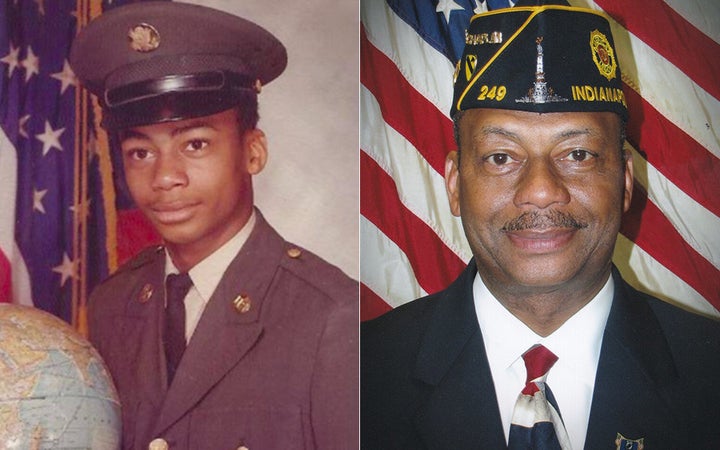 "We take an oath to defend this country, foreign and domestic," Boatright said. "But there's no enemy based on your right to express yourself ... We have to look at life through a broad lens, not a damn colored glass."
"We serve whomever," said Boatright, adding that he would defend the free speech of someone holding a Confederate flag, too. "We don't make a distinction and [Trump] should not have either."
As a disciplined veteran, Boatright held himself back from saying anything "derogatory" about the commander-in-chief out of respect for the office, but noted that he wouldn't have taken a knee if it weren't for Trump calling "fellow citizens sons of bitches last weekend."
In the 40-plus years since he served in the Army, Boatright has become a father of five and grandfather of four. He's holding out hope that the newest generation of Boatrights will one day experience a world like the one described in Dr. Martin Luther King's iconic "I Have A Dream" speech.
"I would want my children to be judged by the content of their character rather than the color of their skin," Boatright said. "You cannot ask for anything greater. ... We've not reached it yet, but I think we'll get there."
Related
Popular in the Community