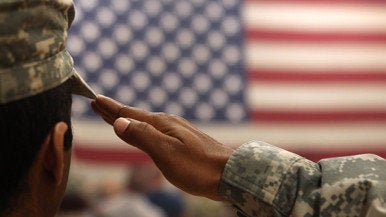 The last 11 years of war have taken a tremendous toll on those who serve and their families. On that we can all agree. Tragically, suicide prevention within the military has proven to be one of the biggest challenges as the rates of attempts and deaths by suicide have soared. Our society continues to struggle to understand the factors that lead service members and veterans to choose to end their lives, as we search for successful programs and effective interventions.
Despite the progress being made across our nation as military and civilian communities work collaboratively, there remains a huge stigma surrounding the treatment of mental health concerns. The development of psychological symptoms is often viewed as a sign of weakness or a character flaw. Take the recent case of Marine Pvt. Lazzaric Caldwell, who was convicted of "self-injury" after he slit his wrist in a barracks in Okinawa in 2010. Pvt. Caldwell was convicted under the Uniform Code of Military Justice's Article 134, known as the General Article, because the judge found his self-injury was prejudicial to good order and discipline and brought discredit upon the service. Does the military leadership really believe that someone who chooses to cut himself is really of sound mind -- and that punishment for such behavior will ensure the strength and integrity of our Armed Forces?
This former member of the military leadership does not. Ten years ago my wife and I lost to suicide our son Kevin Graham, a senior ROTC Cadet battling depression and keeping it a secret because he did not want the Army to know of his illness. Kevin tried to tell us that "his brain didn't work anymore," that "guys were supposed to suck it up," and that he saw himself as a failure. We did not realize his illness was a matter of life and death. We have to live with knowing we did not get our son the best medical care he deserved -- and we lost him. Eight months later we lost our other son, 2LT Jeffrey Graham, to an IED that detonated while he was leading a foot patrol in Iraq. I believe our sons died fighting different battles. Had Jeff survived the IED, he would today be an amputee, severely burned and struggling with post-traumatic stress, traumatic brain injury, and possibly his own thoughts of suicide. People can break physically and they can break psychologically. When we meet physically wounded soldiers, we know that each and every one of them could be our Jeff, while we have pledged to use Kevin's death to speak out for all the "Kevins" suffering in silence and in fear of the stigma associated with mental health care.
In the last 10 years we have talked with hundreds of people who have attempted suicide and not died. We can tell you emphatically that in every case their story is the same: They wanted to escape the mental and psychological pain but did not truly want to die. They felt hopeless, without purpose, alone, trapped and most of all ashamed that they could not live up to their own expectations and standards, much less the demands of others. Any commander who would even consider bringing criminal charges against a service member who attempted suicide and survived must have a complete lack of understanding and education with regard to mental health and suicide prevention.
Where do we go from here? The Department of Defense is facing certain cuts. As Defense Secretary Leon Panetta and Veterans Affairs Secretary Eric Shinseki recently warned, depending on what happens with our nation's fiscal cliff, these cuts may be severe. We can assume cuts will primarily be made to "noncritical" programs -- including some designed to identify and address the needs of the other Pvt. Caldwells who are currently serving.
The Departments of Defense and Veterans Affairs need to ensure that those programs and approaches that have demonstrated effectiveness are protected. They need to continue to work with organizations in the nonprofit and veterans service space to fill gaps in mental health services and meet needs. We must do a better job of identifying service members and veterans who are suffering. We must help them see that life is worth living. We must educate the chain of command so that those who are troubled are not subjected to humiliation and punishment, which will only exacerbate their pain and suffering and increase the likelihood that those who attempt and fail will attempt again. And we must make a clear distinction between misbehavior and behavior driven by psychological impairment.
Mark A. Graham
Major General, US Army (Retired)
Executive Consultant, Homeward Bound Adirondacks
Barbara Van Dahlen, Ph.D.
President and Founder, Give an Hour
Related
Popular in the Community