The most current national data yet on veteran suicide shows that in 2017, 6,139 veterans died by suicide, an increase of 129 from the year before. Since 2008, veteran suicides have exceeded 6,000 each year, according to the study.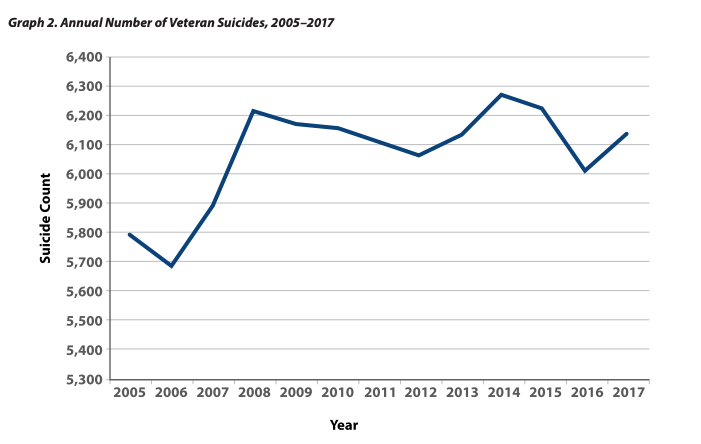 The newest data is a sharp increase from 2015 to 2016, which saw veteran suicides decrease by 217. 
Other key findings from the study:
• Among U.S. adults, the average number of suicides per day rose from 86.6 in 2005 to 124.4 in 2017. These numbers included 15.9 Veteran suicides per day in 2005 and 16.8 in 2017.

• In 2017, the suicide rate for veterans was 1.5 times the rate for non-veteran adults, after adjusting for population differences in age and sex.

• Firearms were the method of suicide in 70.7% of male veteran suicide deaths and 43.2% of female veteran suicide deaths in 2017.

• In addition to the aforementioned Veteran suicides, there were 919 suicides among never federally activated former National Guard and Reserve members in 2017, an average 2.5 suicide deaths per day. 
REAL LIFE. REAL NEWS. REAL VOICES.
Help us tell more of the stories that matter from voices that too often remain unheard.