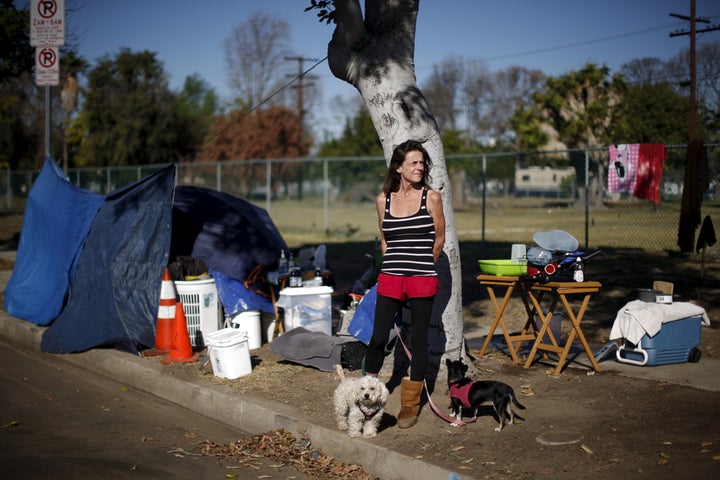 Facing swift and stiff backlash from lawmakers and activists, the Department of Veterans Affairs has reportedly backtracked on a decision to slash funding for a successful program that helps provide housing to homeless veterans.
Politico first reported on Wednesday that the VA was planning to essentially end a $460 million program that supports veterans looking for permanent housing. The program, known as HUD-VASH, provides vets with case management and clinical services from the VA and rental assistance from the Department of Housing and Urban Development.
The VA's plan had been to funnel money allocated for the program to local VA hospitals to use however they saw fit. The hospitals only had to show they were "dealing with homelessness" in some way, Politico reported. 
VA officials reportedly shared news of the plan with advocates and state officials in a Friday call ― but "anger exploded," said Politico. Advocates accused the VA of "putting at risk the lives of men and women who've served this country."
VA Secretary David Shulkin said in a statement to the Post that "there will be absolutely no change in the funding to support our homeless programs."
"Over the next six months, I will solicit input from our local VA leaders and external stakeholders on how best to target our funding to the geographical areas that need it most," Shulkin said.
The reversal came after a torrent of criticism from advocates and lawmakers from both sides of the aisle.
"The VA is taking its foot off the pedal," Leon Winston, an executive at Swords to Plowshares, an organization that supports homeless vets in San Francisco, told Politico this week. 
In November, all members of the Senate Appropriations subcommittee on military construction, veterans affairs and related agencies signed a letter, shared online by the Post, "strongly" urging to VA to pause any action on its plan so that its "intention, consequences and implementation" could be better understood. 
"The shift [of funds] could have tremendous unintended consequences," the senators cautioned. 
Even former first daughter Chelsea Clinton chimed in this week to criticize the proposal.
HUD-VASH is the largest homeless veteran housing program in the country. Since 2008, more than 111,000 homeless veterans have found permanent housing thanks to the program, according to a 2017 report compiled by the National Coalition for Homeless Veterans. 
"Nearly 40,000 veterans experiencing homelessness on any given night and HUD-VASH plays a big role in ending veteran homelessness and decreasing that number, especially for the chronically homeless," Randy Brown, a spokesman for the organization, told the Pittsburgh Post-Gazette last month. 
Calling all HuffPost superfans!
Sign up for membership to become a founding member and help shape HuffPost's next chapter
BEFORE YOU GO