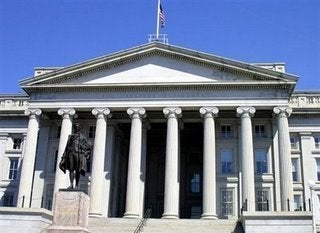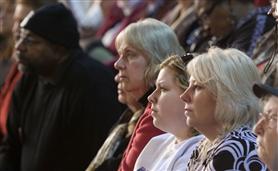 Citizens fearing loss of their homes are the single, largest segment of constituent calls to members of Congress. Thousands of jobs are being lost daily and the stock market is in the tank. I expected to see a bit of relief or, at least, hope in my e-mail when President Obama signed the American Recovery and Reinvestment Act (stimulus package). There was some of that but a strong hint of dissatisfaction permeated my mail. Why? They didn't get enough!
Administration and non-administration staff alike were staring at graphs pointing steeply down. I was in Washington when the bill was being negotiated. Frustration was high and few knew exactly what was in the bill. Everyone had a strong opinion expect for the Party of no. They could only chant their failed "tax cut for the rich" strategy. Perhaps in the future, they can help target better legislation instead of playing to their base. I left Washington as the Senate was voting on the bill and wondered what it would contain.
What it did contain for veterans was:
VA Total = $1.4B
VA Medical Facilities (facilities maintenance) $1B
VA National Cemetery Administration $50M
VA General Operating Expenses (for hiring claims processors) $150M
VA Information Technology Systems $50M
VA Inspector General $1M
VA Grants for State Nursing Home Construction $150M
The bill was not even signed and my e-mail was swamped from the left and the right. Why? The right was accusing me of supporting a Democratic Party that abandons both the military and veterans. The left was screaming veterans were not given enough. When President Obama signed the legislation, the pace only accelerated.
Congressman Chet Edwards, Chairman, House Appropriations Subcommittee on Military Construction, Veterans Affairs, and Related Agencies, is on record in a February 13 press release stating:
"The funding provides for much-needed jobs through targeted investments to improve the quality of life for our service members and veterans, support the National Guard and Reserve. According to the Associated General Contractors of America, these construction funds will create and sustain nearly 100,000 jobs."
Today, February 20th, Congressman Edwards said:
Regarding Congressman Buyer's criticism of the bill, let me point out that the Democratic Congress has increased veterans health care and benefits funding by more in two years than the Republican led House did in 12 years, including his years as Chairman of the VA Committee.

In 2007 and 2008 alone, the Democratic led Congress increased veterans funding by $16.3 billion, which is more than House Republicans did collectively from 1995 through 2004.

In addition to the $16.3 billion increase by Democrats in just two years, we also passed a historic 21st Century GI Education bill, which matched the education benefits of the World War II GI Bill.
Congressman Edwards makes clear that the Democratic House, led by Speaker Pelosi, passed $16.3 billion in increases over the Bush requests in the 110th Congress. I mention the House because that was the target of most e-mails. Senate support was as strong. The entire Democratic Party supports veterans and will continue to expand on their record.
Stimulus funding is a good start. My immediate concern is that the VA may not have enough Obama appointees to quickly direct the new spending. That can be solved. Now, we veterans must stay in front of Congress and make our requirements known. Over the next couple of years, there is much to accomplish.
Also, a broader course of action is needed. Many temporary and permanent VA positions are available in the coming months. Apply for them. Consider sacrificing some years of your life to helping veterans. For far too long, Conservatives and Republicans frowned upon government service. To my mind, there is no higher calling. Barely a teenager, I remember President John F. Kennedy's stirring call to ask what you can do for your country. Now is another such time.
Democrats in Congress support and will continue to support our military and veterans. Join them.
REAL LIFE. REAL NEWS. REAL VOICES.
Help us tell more of the stories that matter from voices that too often remain unheard.