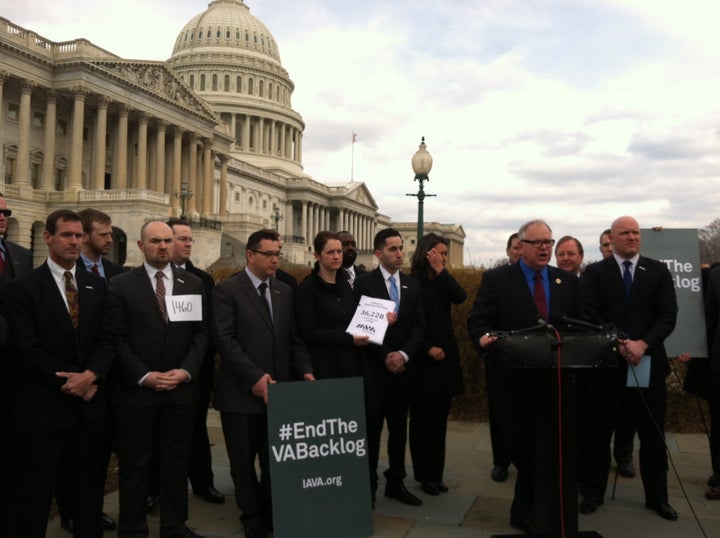 WASHINGTON -- A group of Iraq and Afghanistan veterans met with senior White House officials Wednesday to express what they are calling an urgent need for the Obama Administration to fix the current backlog in Veterans Affairs disability benefits claims.
Members of the Iraq and Afghanistan Veterans of America presented a petition to White House Chief of Staff Denis McDonough, calling for President Obama to "keep the promise we made to the millions of veterans who have served and sacrificed to defend our nation" by ending the benefit backlog.
According to a March 2013 report by the Center for Investigative Reporting, there are roughly 900,000 benefit claims pending at the VA. That number is expected to top 1 million by the end of March. VA disability benefits help veterans cover a wide expanse of medical expenses that are incurred while seeking treatment for injuries or diseases acquired during active duty.
Wednesday's meeting on the issue was held in the White House's Roosevelt Room and included a number of other administration officials. However, Paul Rieckhoff, CEO and founder of the IAVA, which organized the petition, said the group was not met with any firm commitment from the administration.
"We delivered this petition to the White House yesterday and we have not heard an adequate response from the president," Rieckhoff said at a press conference Thursday outside the Hill.
"We've called on the American people to stand with us and we're calling on the president to end the VA backlog," Rieckhoff added. "Mr. President, we served when we were called. Now we're calling on you to serve -- end the VA backlog. End it now."
The Wednesday meeting with McDonough was part the IAVA's seventh annual Storm the Hill event, during which the group introduced military and veteran policy recommendations to the administration, including a push to end the VA benefit backlog.
On Thursday, more than 40 veterans representing 22 states met outside the Capitol to once again push their "break the backlog" message, this time to more than 100 congressional offices.
Congressman Tim Walz (D-Minn.) -- an Army veteran who retired Command Sgt. Maj. after 24 years of service -- also spoke at Thursday's event, urging the administration to correct what he calls a "stain on the national soul."
"Their service didn't end when they returned back. They put themselves in harm's way, they did what this nation asked, and they came back," Walz said. "They [return to] what is absolutely a stain on the national soul -- they end up fighting against their own government for benefits."
A request for comment from the U.S. Department of Veterans Affairs was not returned.
In addition to the number of veterans waiting for disability benefits, Rieckhoff also expressed disappointment in the VA over the length of time most veterans are forced to wait before receiving benefits, which is an average 273 days.
"The VA tells us that [the backlog] will be done by the end of 2015," Rieckhoff said. "That's too long. These veterans should not have to wait that long for the benefits they deserve."
The number of veterans waiting more than a year to receive benefits has skyrocketed under the Obama Administration, jumping from 11,000 to 245,000 between 2009 and 2012 -- an increase of more than 2,000 percent -- according to the CIR report.
The wait time for those attending Thursday's press conference was in plain sight, as some veterans displayed the number of days they've waited on their clothes. One veteran wore the number 1,460, signifying that he has waited four years to receive benefits.
Tegan Griffith, who served in the Marine Corps from 2005 to 2009 and was deployed to Iraq in 2008, said that the benefits backlog not only affects her and her family personally, but also does not honor veterans' service.
"My dad and my brother and myself are all Iraq War veterans," Griffith told The Huffington Post. "This inefficiency at the VA is affecting a lot of lives."
"Just like in the military, you take care of each other ... and that's all we're expecting. We're expecting some kind of backup, we want to know that they're behind us and that we shouldn't have to wait this long," Griffith explained. "That's what we want to hear."
Griffith was scheduled to meet with Democratic Congressman Mark Pocan, also from Griffith's home state of Wisconsin.
"We strongly believe that our veterans are not a charity, they're an investment," Rieckhoff emphasized. "They're the future of this nation."
Before You Go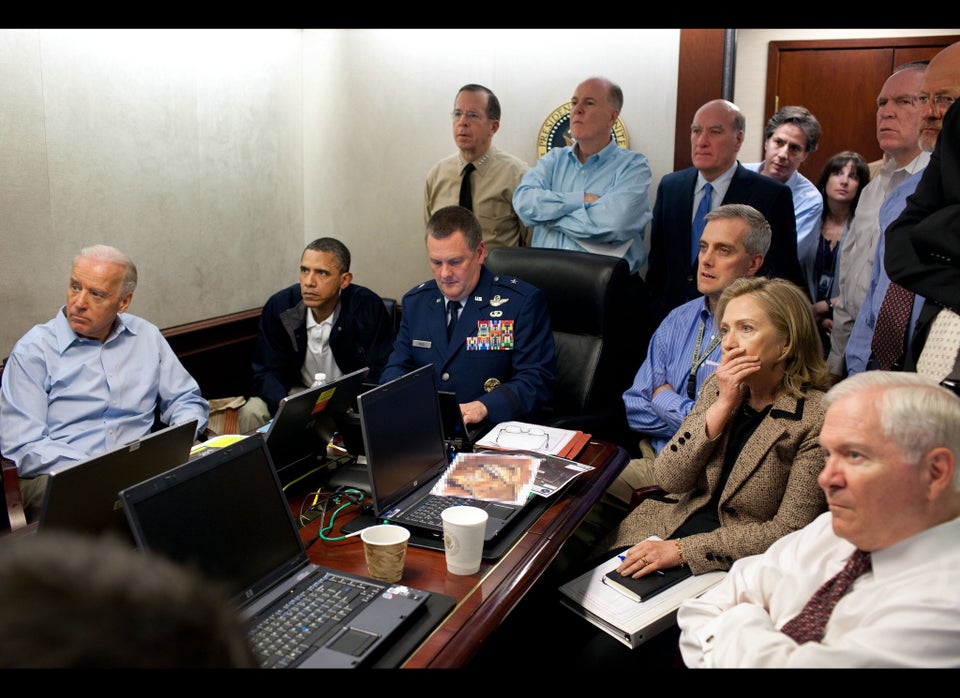 Most Iconic Photos Of Obama's First Term
Popular in the Community