 WASHINGTON -- Despite growing pressure for budget cuts, the Obama administration next week will propose spending $63.5 billion for veterans services in fiscal 2014, asking for a 4 percent increase over current spending.
The money is targeted at eliminating the backlog of veterans claims for benefits and increasing mental health services, including treatment for military sexual trauma. The budget proposal, which will not be officially unveiled until next week, also will make permanent two tax credits to encourage employers to hire veterans.
Since 2009, the overall budget, including mandated programs and discretionary spending, has risen from about $100 billion in 2009 to $140 billion this year, an increase of about 40 percent. The VA's discretionary spending this year is roughly $61 billion.
The backlog in claims has long bedeviled the VA, which currently is working on 854,000 veterans benefits claims, of which 595,000 are overdue. The VA inspector general earlier this year found a veteran who has been waiting more than four years for his paperwork to be finished. Much of the backlog has been caused by the addition of new benefits for which veterans can file claims, including exposure to Agent Orange defoliant during the Vietnam War, and Gulf War syndrome.
But the VA also has been struggling to replace its antiquated paperwork claims process with an automated digital system, which is now installed in 30 of the VA's 56 regional benefits offices. VA Secretary Eric Shinseki told reporters at the White House on Friday that by the end of 2013, the system will be completed. The goal is to eliminate the backlog by 2015, but "the effects of automation are going to begin to show themselves" long before that, he said.
At present, even with much of the system bogged down in paper, VA claims adjusters are completing 1 million claims a year, Shinseki said.
"We're glad to see the increase in the budget," said Paul Reickhoff, chief executive officer of Iraq and Afghanistan Veterans of America. But he was highly skeptical of the VA claims that it is making progress on reducing the backlog of veterans claims for benefits. "The customers on the ground, our members, don't see it," he said.
The proposed budget increases for 2014 include nearly $7 billion for mental health services such as treatment for Post Traumatic Stress Disorder and providing such service for veterans families. It also includes medical and rehabilitation services for the 50,000 American military personnel wounded in Iraq or Afghanistan.
"We've been at war for 10 years and we have far more complex injuries to deal with," said Shinseki, himself a veteran wounded in the Vietnam War. Taking care of these wounded veterans, he said, "is going to go on for years."
Shinseki turned aside a question about what the White House Office of Management and Budget, which has approval authority over agency budget requests, had rejected out of his budget proposals."You could always use more money," he said. But he added that President Obama has been a strong advocate for veterans, and his budget requests have increased every year.
White House Chief of Staff Denis McDonough acknowledged that the battle with Congress over spending and taxes "is forcing a lot of very difficult choices." But he said spending on veterans "is at the top of our list." He did not rule out, however, the possibility that the OMB had pruned back the budget requests from the VA.
"It wouldn't surprise me if this was not the first time in the history of the OMB process that there was wrestling over the ultimate number," McDonough said. "But we feel good about the investments we've made in veterans and their families over the course of five years," he continued, singling out the VA's new automated claims processing system.
He said of Obama, "There is nobody more impatient than the guy we're reporting to."
Before You Go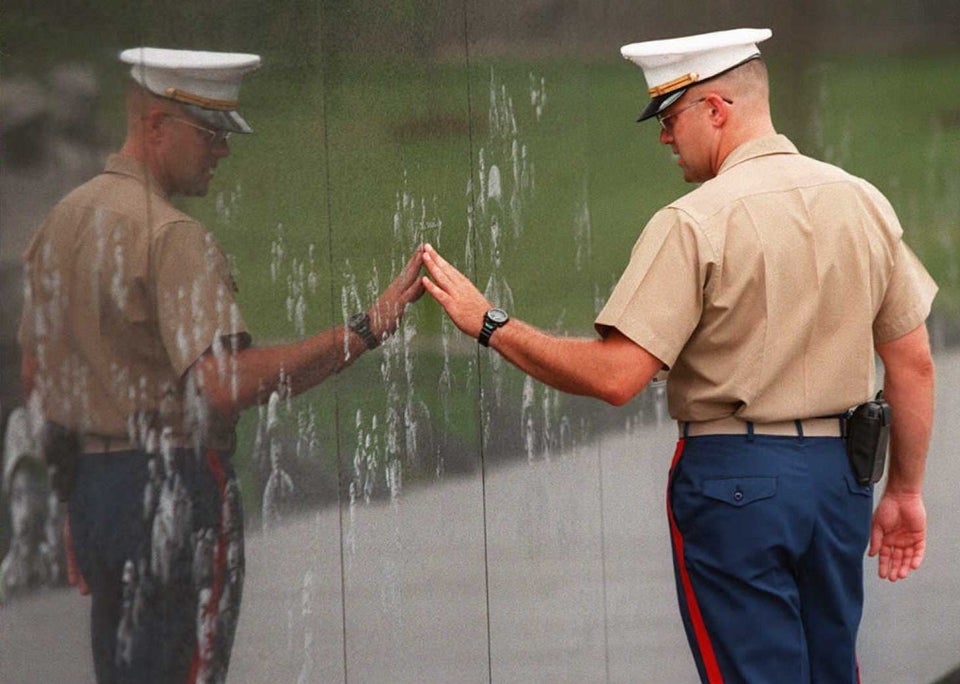 Veterans Day
Popular in the Community