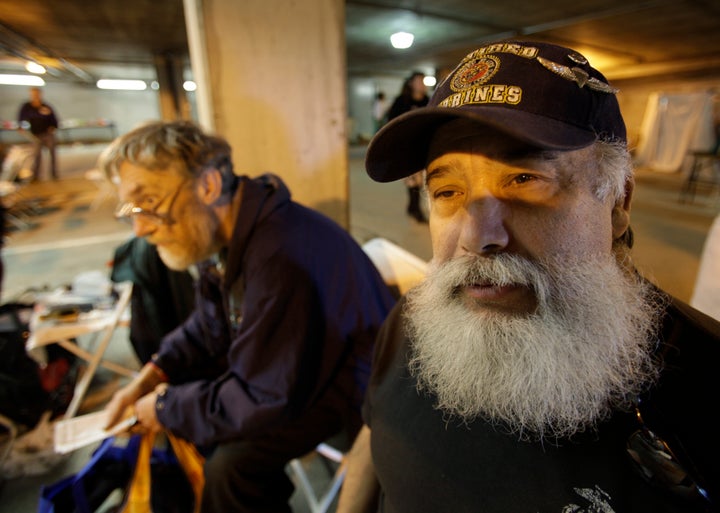 For hundreds of thousands of veterans returning home from the battlefronts in Iraq and Afghanistan, making it home alive is just the first challenge.
An estimated 25 percent of returning U.S. service members will experience combat-related problems such as post-traumatic stress disorder (PTSD), traumatic brain injury (TBI), depression or anxiety disorders. More veterans are committing suicide than are dying in combat overseas -- 1,000 former soldiers receiving care from the Department of Veterans Affairs attempt suicide every month. About 50,000 veterans are experiencing chronic homelessness, according to nonprofit housing group HELP USA. And the unemployment rate for 18 to 24-year-old veterans is 21 percent, much higher than the 16.6 percent rate for non-veterans of the same age.
Though the VA has come a long way from the 1970s, when many Vietnam veterans failed to reintegrate into society and became homeless and addicted to drugs, the department still has problems. The VA bureaucracy is notoriously difficult to navigate, and veterans are left to figure out on their own what benefits they are eligible for. As a result, many fall through the cracks -- more than 720,000 veterans do not take advantage of VA benefits for which they are eligible.
To fill in the gap, veterans charities are a crucial resource -- providing financial assistance and job training, funding medical research and rehabilitative services, and helping veterans obtain government benefits. Every year, Americans give millions of dollars to such groups, expecting that the money will assist those who've served their country.
But as a group, veterans charities are prone to abuse, profiteering and outright fraud, say philanthropy watchdogs. Almost half of the 39 veterans charities rated by the American Institute of Philanthropy in its April/May 2011 report received F grades, largely because they devoted only a small ratio of their expenses to charitable programs, in part due to excessive fundraising expenses. Some of these groups defend their spending by arguing that reliance on such ratios is misleading, claiming that new nonprofits may have to spend over 50 percent of their revenue on outreach, education and fundraising for a while. But charities that spend up to 90 percent of their donations on overhead have been widely condemned and were the subject of congressional hearings in 2007.
Despite bipartisan outrage at such practices, there was no real follow-up, either through enforcement efforts or new rules and regulations. And several of the charities publicly shamed at those hearings continue to receive poor grades. In the last few years, there have been several prominent cases of nonprofit groups that preyed on the public's patriotism and generosity, promising assistance to veterans while lining their own pockets. They range from an impostor -- currently one of the most-sought fugitives in the country -- who claimed he was a Navy commander and ripped off at least $2 million, to a classic fraudster, who set up a table for non-existent veterans groups in front of the local post office and raked in money for years.
CRUCIAL LIFELINE TO THOUSANDS OF VETERANS
Their misdeeds cast a pall over the sector, making the public skeptical of veterans charities and threatening future donations to those groups that deserve praise.
"Veterans charities are extraordinarily important," Oregon Attorney General John Kroger tells The Huffington Post. "There is a lot the VA doesn't do, and charities help fill that gap. And the majority of them do an excellent job, but if you're looking to line your own pocket, it's an easy way to raise money. If you're looking for a feel-good cause that can raise money on the phone, there is very little that has as much appeal as veterans' issues."
Darnell Epps, a 52-year-old veteran living in Virginia Beach, was homeless for years until he discovered Vetshouse, the only nonprofit in Virginia to help homeless veterans. Through the group, he was given a car to help him start his cleaning business and provided with transitional housing and food.
"If it wasn't for them, I would probably still be out on the street," he says. "They gave me my life back. The VA can't do it all and these charities are key; they've helped many of us vets."
Ed Edmundson credits veterans charities with easing the burden of his son, Eric, who incurred shrapnel wounds and a brain injury in a roadside bomb explosion in Iraq. The North Carolina native says he sold his business and cashed in his savings and retirement to pay for the cost of moving in with Eric and his family to provide round-the-clock care. Some of the family's expenses, including the cost of flying Eric's wife and daughter from Alaska to Walter Reed Medical Center, were covered by various charities, such as the Wounded Warrior Project and the Semper Fi Fund.
"Non-profit organizations became an answer to our prayers," says Edmundson.
The Wounded Warrior Project and several other prominent veterans charities such as Fisher House Foundation, the Navy-Marine Corps Relief Society and the National Military Family Association, have been praised for assisting thousands of veterans.
ABUSING THE TRUST OF DONORS: 'THIS IS A HUGE PROBLEM'
Attorney General Kroger says the issue is close to his heart since he himself is a veteran of the Marine Corps. But when his office recently surveyed the rising number of charities in Oregon and which ones spend the most on overhead as opposed to charity, "a number of veterans groups came up extraordinarily high on the list. One was outright fraud -- a guy setting up a table at a shopping mall -- and another problem was people who were raising money and not being honest about where the money was going. This is a huge problem."
Since taking office in 2009, Kroger has been particularly aggressive in taking legal action against veterans charities that abuse the trust of donors. Among his cases is a lawsuit against Veterans of Oregon, charging that the charity claimed that donations were helping homeless and hospitalized veterans when in fact it was largely used to award medals to veterans. In addition, the group failed to disclose to donors that its fundraising partner kept 80 percent of the money it raised. The head of the charity, William "John" Neuman, is fighting the case, adamantly denying to the Chronicle of Philanthropy that he misled donors.
Kroger also sued the Oregon War Veterans Association and Military Family Support Foundation, claiming that founder Greg Warnock kept most of the money he raised and used donations to make contributions to powerful politicians in the state. The group has called the suit "baseless" and called for an investigation of Kroger.
After initially declining to comment, Warnock wrote HuffPost a lengthy statement. Among his claims, he states that "Kroger's claims are purely political in nature and do not warrant the kind of destructive abuse we are enduring from him, especially considering all of the amazing accomplishments we have made on behalf of veterans in Oregon and beyond." Warnock vehemently denies that he kept most of the money his group raised and claims that Kroger neglected to interview the group's board members, donors or recipients. Warnock also says the campaign contributions were permitted political activity.
The attorney general says he can't comment due to the pending litigation but emphasizes, "When you're going after people and trying to hold them accountable, lots of them fire back."
Such schemes that exploit patriotic sentiment for the plight of veterans have been around for many decades. In 1926, the New York Evening Post exposed a plot hatched in the wake of the armistice that ended World War One by the "battalions of bunk" to raise several million dollars "purporting to aid former soldiers but actually hiding the proceeds away in secret bank accounts." Part of the scheme involved several cleaning women who borrowed neighbors' children, dressed them in rags and pleaded for money from passersby. And in 1958, five Chicagoans were dragged before the House veterans affairs committee to defend themselves against charges that they bilked Disabled American Veterans of $2 million -- three of them were later charged with mail fraud and conspiracy. That same year, Rep. Olin Teague "found so much abuse in fund raising [sic] for veterans" that he urged the House Government Operations Committee to open a wide-ranging probe into the entire field of tax-exempt charitable fundraising, reported the Gadsden Times.
"The most popular causes -- veterans, firefighters, police -- tend to be the least efficient because they attract money-hungry types," says Daniel Borochoff, the president of the American Institute of Philanthropy. "There is very little oversight so it keeps happening again and again." He notes that most enforcement happens on the state level, which often just prompts fraudulent groups to cross state lines "and come out under a different name."
BIPARTISAN OUTRAGE AT 'INTOLERABLE FRAUD'
The prevalence of fraud and misrepresentation in the sector has prompted Congressional scrutiny and bipartisan outrage but very few repercussions. In 2004, the Senate Finance Committee called for a panel to examine nonprofit governance, transparency and ethical standards. Though it concluded that government oversight and regulation was necessary to deter abuse, misrepresentation and fraud, it also maintained that charities are granted wide latitude in their activities due to First Amendment protections and did not recommend any new legislation.
In December 2007 and January 2008, the House Oversight Committee held hearings to spotlight abuses in the system, highlighting several egregious examples. Then-chairman Henry Waxman (D-Calif.) noted that the American Institute of Philanthropy had given failing grades to 70 percent of the veterans charities it examined for several reasons: managing their resources poorly, paying high overhead costs and direct mail campaigns and excessive salaries. Citing the example of the American Veterans Relief Foundation, which raised $3.6 million and spent only $21,000 on veterans' grants and assistance, Rep. Darrell Issa (R-Calif.) thundered:
They fall into the category of what I would call "profiteering," profiteering by those who use the name of a soldier or a cause in order to justify fundraising that ultimately leads to profit for individuals who may or may not be veterans, may or may not have any need, may simply be good at fundraising.
That particular charity is now defunct, but two other prominent charities whose leaders were subpoenaed to appear before the committee still operate and continue their questionable practices.
One of the hearing's most dramatic confrontations was with Roger Chapin, a self-described "nonprofit entrepreneur" and former
real-estate developer who has launched more than 20 charities. One of those charities, Help Hospitalized Veterans, has been praised for distributing millions of therapeutic arts and crafts gifts to patients at VA medical centers, state nursing homes and military hospitals. The group, which also provides a variety of services to homebound veterans and cash support to many VA special events, has been praised by presidents and Congressional leaders since its founding in 1971.
But a Forbes magazine articles questioned whether Chapin and his wife were using their charities to fund their high salaries and illegitimate expenses such as vehicles, real estate investments and a $17,000 annual country club membership. In addition, the magazine reported that out of every dollar donated to HHV, only 9 cents went to the kits, 5 cents went to administrative expenses and for counselors visiting hospitals and 47 cents went to direct-mail expenses.
One of the charities' critics was Edmundson, who said he didn't feel it was "appropriate" to give a small percentage of donations to charity. He added, "I am concerned, the negative effect that the few self-serving non-profits will have on the ability of the legitimate non-profits to obtain funding from the general public. It would be an unfortunate turn of events if the service they provide is not available. As I have shared, the service they provide is immediate and personalized to the needs of the soldiers and their families."
Chapin didn't win any friends by reportedly going into hiding after refusing to comply with a subpoena to appear before the committee. When he did finally appear a month later, he explained that fundraising for many charities across the country depends on direct-mail expenses and that it was unfair to pick on his charity. Chapin claimed that HHV was awarded two stars by Charity Navigator, a leading watchdog group. Coming to his defense was Richard Viguerie, prominent conservative fundraiser, who lashed out at the committee, claiming that Waxman's agenda was "unconstitutional" and "mean" and stating that advertising mail can be valuable just by generating sympathy for returning veterans.
Chapin retired from Help Hospitalized Veterans in 2009 with a $2.2 million payment package. He still serves as the president of another of his charities, the Salute to America's Heroes Foundation. Both charities were given zero stars in Charity Navigator's most recent evaluation, though they have increased the percentage of funds they spent on charitable programs.
Reached at home, Chapin said both charities had not made any changes in response to the criticism of their fundraising expenses, defiantly stating, "Hell, we just keep doing what we've been doing." He called the hearing a "charade" and a "witch hunt," explaining that SAHF has helped almost 20,000 veterans. He continued to defend the heavy reliance and spending on direct mail practitioners, even in the age of Facebook and Twitter and online charitable tools. "It's an expensive way to raise money but we're all challenged and it's tough as hell to get donations. But something is a hell of a lot better than nothing."
The other target in the sights of lawmakers at the 2007 hearing was Pamela Seman, the executive director of the Disabled Veterans Association, a charity which kept only $500,000 out of $4.5 million in donations raised -- about 10 percent -- through a professional fundraising group.
"It makes all of us angry that the veterans, people who have served our country are used to raise money to give [to] some professional organization in the business," said Waxman. "It's absolutely inexcusable."
Seman, who still leads the organization, did not return calls for comment. DVA received zero stars in its latest evaluation from Charity Navigator and an F rating from the American Institute of Philanthropy. Its fundraising ratio has grown even higher, with only 5 percent going to charitable programs.
WASHINGTON DITHERS WHILE FRAUD CONTINUES
In Washington, there has not been much action. On the first day of the 2007 hearings, former Rep. Sarbanes, the author of the post-Enron accounting rules that bear his name, stated that there may be a need for stricter regulation of charities, emphasizing that "charities that serve our veterans have an extra obligation because there is a deeper trust placed in them, a broader trust than with respect to just about any other charitable endeavor."
Though there was some discussion of legislative remedies in the wake of the hearings, especially in regard to requiring more disclosure of charity spending in direct mail pitches, nothing happened. Though some watchdog groups have pressed for more hearings to re-examine the issue, none are planned. A spokesman for Rep. Issa, who now chairs the Oversight Committee, did not return emails requesting comment.

"It got a lot of press attention during the hearings but after that died down, there wasn't any significant demand for more disclosure or information," says Bennett Weiner, the COO of the Better Business Bureau's Wise Giving Alliance and an advocate of voluntary standards rather than government regulation. He says that veterans charities have slightly improved their performance, noting that the number which failed to meet one or more of their standards dropped from 62 to 54 percent. But he notes: "No question about it, veterans and police and firefighter groups have been well-known to be subject to questionable practices by those who got involved in the field and realize that there is public sympathy and the chance to raise money."
Meanwhile, the alleged scams continue. Last month, prosecutors in Ohio pursued Vietnam veteran Michael Muhammad, claiming that he raised money for himself through his charities, Help Homeless Veterans and Veterans Hope Community House. They also claim that he was charging veterans to stay at a shelter that offered horrible living conditions. His lawyer denies the charges, saying that the money raised went to aid veterans.
And last week, an associate of one of the most brazen fundraising fraudsters in recent history pled guilty to corruption, theft and money laundering at a county court in Ohio. Bianca Contreras was the treasurer of the U.S. Navy Veterans Association, a group founded by a man known as Bobby Thompson, who is accused of using a false identity to raise millions of dollars.
Though the money was ostensibly intended for Navy veterans and Thompson attracted praise from Congressional leaders for his purported efforts, the money went into his own pocket, say attorneys general in several states. Thompson is currently a fugitive, and officials remain tight-lipped about any progress in finding him. But Contreras is expected to cooperate with prosecutors, which may reveal some clues to his identity. The 39-year-old Tampa woman faces up to 25 years in prison when she comes up for sentencing in August.
Donors who've been misled can be hard to identify, since most are not aware that they've been ripped off, says Weiner. "The number one recommendation for people wanting to contribute to a good cause is to check out the charity -- the vast majority of people don't do that. Get a financial report from the group's website, verify that they are properly registered in your state, check with a third-party group that checks these groups out."
This story has been updated to include comment from Greg Warnock, founder of Military Family Support Foundation.

Popular in the Community