Jamie Beavers is a clean-cut, 32-year-old Catholic from south Philly. As a kid, he shot hoops to avoid the neighborhood drug toughs. He became a high school basketball star and won a full university scholarship. He played varsity until an injury sidelined him and the scholarship was withdrawn.
At loose ends, he enlisted in the Army in 2003 and was sent twice to Iraq, spending 27 months in combat and enduring multiple IED blasts and other trauma. He came home with Traumatic Brain Injury and Post-Traumatic Stress Disorder and an addiction to the pills that medics in Iraq had provided to keep him going.
This past February, he was arrested and thrown in jail, sick, alone and hopeless. His wife, terrified of his nightmares and drug habit, had fled with their two girls. His brain injuries had dimmed his ability to think and speak, and left him so dizzy he often had to walk with a cane.
"Seems like I'm a 10 year-old kid in a 30-year-old body," he said. "I just lost a lot of things people take for granted. And I became an addict of opiates. It just kinda spiraled out of control."
Among the grim repercussions of a decade of fighting in Iraq and Afghanistan -- the dead, the battle-injured, the wreckage, the wasted billions -- is this: while most soldiers return from war and resume a somewhat normal life, many do not. All too frequently, the trauma of combat leads to struggles with drug addiction or alcohol abuse, to outbursts of anger and violence at home or work, to petty crime or other reckless behavior that ends up in a confrontation with flashing lights and handcuffs.
No one knows the precise number of veterans already in prison. An estimate by the Justice Department five years ago put the number at 223,000, most of them Vietnam-era veterans. Whatever the number, many serve their time without getting treated for the conditions that helped land them in prison in the first place.
There are more coming, in what will amount to a river of personal tragedies that is likely to clog the courts and, some say, will pose dangerous risks to civilian society.
"It's going to be an epidemic," says Guy Garant, an assistant district attorney in Philadelphia who handles a rising caseload of veterans. "I'm seeing Vietnam veterans who went [to war] once, 40 years ago. Now we have guys 18, 19 years of age, going again and again. We're going to have huge issues with this."
War veterans, of course, are responsible for their actions, like everyone else. And some doubtless would have gotten in trouble no matter what their wartime experiences. But research has demonstrated that the trauma of combat makes men and women more likely to engage in criminal behavior.
Based on interviews with men who fought in Vietnam, the National Vietnam Veterans Readjustment Study estimated that half of all combat veterans with PTSD had been arrested one or more times.
So far, the VA has formally diagnosed 207,161 Iraq and Afghanistan veterans with PTSD, which suggests at least 100,000 of them are suffering from the demons of PTSD and have become ensnared in the criminal justice system.
But today's generation of combat veterans may get into more trouble than their Vietnam counterparts. A 2009 report by the Naval Health Research Center in San Diego of 77,881 enlisted Marines with at least one combat deployment demonstrated that those Marines with a diagnosis of PTSD were six times more likely to be busted on drug charges than Marines without PTSD, and 11 times more likely to be discharged for misconduct.
Less is known about the long-term effects of mild or severe Traumatic Brain Injury (TBI), military health officials say.
But already, the active-duty military force has its hands full with criminal misbehavior. The Army recently estimated that more than 8,000 active-duty soldiers have committed undetected drug-related crimes including illegal use and distribution of drugs.
Inside the Army's active-duty ranks, documented violent sex crimes have doubled since 2006, from 665 rapes and sexual assault cases to 1,313 last year.
At present, there are 17,000 active-duty Army soldiers, the equivalent of three combat brigades, under arrest, in military prisons or under investigation.
If many of them are suffering from combat trauma, they're probably not getting help.
The military justice system is more concerned with punishment than with rehabilitation, according to Army Maj. Evan R. Seamone, chief prosecutor at Fort Benning, Ga. Troops behind bars rarely get the kind of diagnosis or treatment that could actually help, he says, and too often they're given medication to keep them quiet.
"Wounded warriors experience symptoms that often manifest in criminal conduct," Seamone wrote in a lengthy article in Military Law Review's summer 2011 issue. But in too many instances, simply punishing and then discharging mentally ill offenders is creating "a class of individuals whose untreated conditions endanger public safety and the veteran as they grow worse over time."
Within the military, Seamone told The Huffington Post, "there's a reluctance to talk about treatment for offenders after they have been convicted and to get them involved in the intensive treatment that actually works at that stage of the process. Medication has become much more of a substitute for face-to-face therapy, which has proven highly effective in the treatment of PTSD."
As a result, he said, military offenders "are often in worse condition when they get out."
OUR JAILS ARE FULL OF VETERANS
Since 2001, the Army has discharged 19,842 soldiers guilty of multiple felonies, according to the Army report. Military service members charged with a drug offense are often simply booted out of the military without treatment — regardless of whether it was the military that got them hooked on pain medication, as is commonly the case.
Jamie Beavers says he was given opiates by doctors in Iraq for pain, anxiety and fatigue so he could stay on duty. But when he returned home, he no longer qualified for the drugs. Too late: he was already addicted. He found an illegal supply out on the streets — and when he popped positive on an Army drug test, he was booted out, without the opportunity for treatment. "Go see the VA (Department of Veterans Affairs)," he says he was told.
"This is criminal," said Howard Gormley, an Army infantryman who fought in Vietnam and retired after 27 years as a Philadelphia cop. "They (the military) get 'em hooked on drugs — then put them out on the street."
"They should never let them out here until they've cured them," adds Gormley, who works with incarcerated veterans for the nonprofit Philadelphia Veterans Multiservice and Education Center.
What makes it harder for military ex-offenders is that they are often discharged with "bad paper" — bad conduct discharges — that bar them from receiving the VA benefits they need, such as PTSD counseling or substance abuse therapy, let alone the GI bill or housing assistance. That makes it easier to fall back into old habits of drugs and crime. Already, there is an increasing flow of Iraq and Afghanistan war veterans into the criminal courts of Philadelphia, said Rebecca Hicks, a justice outreach specialist for the Philadelphia VA Medical Center.
"Everyone who goes [to war] comes back a different person," says Patrick F. Dugan, a Philadelphia municipal court judge who handles veterans cases.
Dugan is a former enlisted paratrooper with tours in both Iraq and Afghanistan. He currently serves as an Army reserve captain.
Dugan has the rolling gait of a veteran paratrooper and the cut-through-the-BS attitude of a combat veteran. When veterans come into his court they get no slack; in fact he is tougher on veterans than on defendants who haven't served. But he understands where they've been.
In Iraq, a 19 year-old female soldier in Dugan's unit was decapitated in an IED blast.
"What does that do to the people near her?" he said. "Everyone is going to be affected by that for the rest of their lives. I get chills just talking about it."
Most people, Dugan believes, come home from war and go on to do great things. Others get in trouble.
"People are going to have issues, and we have to address those issues, and I believe we have failed our veterans in the past — our jails are full of veterans. This is one area America has neglected. We have to do better."
MY WIFE WAS SCARED OF WHO I WAS
Jamie Beavers was arrested the first time on a clear, cold morning in February, just after 8 a.m.
He'd awoken that morning coughing up blood. Alarmed, he threw on clothes and was speeding up Broad Street toward the VA hospital in West Philadelphia when the cops pulled him over. He blew zero on a breathalyzer, but without his cane, he stumbled when he was asked to walk a straight line. He went right to jail. There, he had time to take stock.
During his first tour in Iraq, with the 3rd Infantry Division, Beavers worked as a turret gunner on an armored Humvee, helping guard truck convoys on a dangerous patch of road, route Tampa out of Camp Anaconda. IED blasts were common; he recalls being blown up at least six times. It was a nerve-wracking job: the turret gunner is the most vulnerable to IED blasts because he is often blown out of the vehicle and killed. Beavers was on call 24/7.
"When the bell rang, we had 45 minutes to dress, load up the truck and get a security briefing," he said. He'd lie half-awake sweating on his cot, knowing when the bell rang he'd be heading out again where insurgents would try to kill him. "Every time the bell rang I thought, 'I could die,"' he said.
After one powerful IED blast wrecked his truck and left him unconscious, he woke up in the base hospital where he says he was prescribed various pain and anti-anxiety medication, including morphine, oxycodone, Roxicet, dilaudid and Xanax, to get him back on duty and keep him there. Not for another year would the military begin routinely sidelining soldiers exposed to blast.
After his 12-month deployment was over, he was transferred to the 25th Infantry Division in Hawaii, and four months after he got home from Iraq he deployed again. This time he was in combat for 15 months. He returned with the shakes, hearing problems and raging nightmares about the things that he saw and did, "things that were inhumane that still stick with me to this day and I'm trying to get through that.
"I'd wake up in the middle of the night and hear the bell going off, or I'd be yelling 'Kill him!' and seeing snipers at the window," he said. "My wife was scared of who I was."
After Army doctors in Hawaii cut him off from prescription drugs, Beavers started buying illicit medication to try to calm things down. He was never tested for or diagnosed with Traumatic Brain Injury, so he was never offered therapy or any other treatment.
Three weeks before he was due for another Iraq tour, Beavers was discharged from the Army after having tested positive for drugs. Back home in Philadelphia, he stumbled into the VA medical center and asked for help. He got it: he was diagnosed with Traumatic Brain Injury and PTSD; counselors helped him win a 100 percent disability from the VA and he began counseling sessions for his PTSD.
But like many other veterans, he found the VA itself was overwhelmed. "I was being seen four times a week, then three, then two, then once every two weeks, and then once a month, because they had such a caseload," he said. "I felt like I got thrown to the back of the bus, and that kind of threw me into a bad depression. I didn't know where to turn for help."
That's when Beavers met Judge Patrick F. Dugan, the presiding judge of the Philadelphia Veterans Court.
One of dozens popping up across the country, the Philadelphia Veterans Court is an alternative to criminal court and it emphasizes treatment and rehabilitation rather than simple punishment. Offenders with military records are diverted into Veterans Court if they choose.
The idea of providing treatment — and not just punishment — for veterans in trouble didn't crystallize until 2008 in Buffalo, where a local judge, Robert Russell, found veterans swamping his drug court. He saw that veterans with drug addiction weren't getting helped by being thrown into prison; they were just being recycled. He enlisted the local VA medical center and volunteer veterans to help out and began sentencing the defendants in his court to probation — and help.
Word of the Buffalo court's effectiveness spread rapidly, and today some 95 communities across the country have their own veterans treatment court.
Philadelphia's veterans court was launched in 2010, and on Friday mornings, when Dugan strides into room 406 of the Philadelphia Criminal Courts building and gavels the court into session, things run pretty much routinely.
The defendants who shuffle in front of Dugan's high bench, most of them charged with non-violent crimes such as drunk driving or drug possession, are often a hangdog lot. They seem embarrassed to be there and especially so when Dugan mentions his paratrooper background and exhorts them to shape up. He peers down at them with the mixture of irritation, exasperation and fondness that sergeants often reserve for their wayward soldiers.
"I want you to remember the pride you felt when you put on the uniform for the first time," he tells them. "That's the person I want to see in my courtroom. Stand up straight! Treat people with respect!"
Here's the deal, he says. You're here because you've committed a criminal offense. If you volunteer for veterans court, we can connect you with the veterans services you need — medical, dental, PTSD counseling, drug abuse therapy, housing, job assistance, education. You do six months or a year of probation, show up for your appointments on time, come in here once a month, and you graduate with your record expunged.
But this is voluntary. You can go have your case tried in criminal court. If you decide to work with me here, he tells them, you gotta stay with it. You miss appointments, you don't check in here, you go back to jail.
They go off to the VA for a complete assessment, and on that basis Dugan imposes a sentence of treatment and probation, and, depending on the defendant's history and severity of the crime, sometimes jail time as well.
Most, but not all, complete the treatment. In one recent court session, one veteran failed to show up; a warrant was issued for his arrest. Another also failed to show, but word came that he had attempted suicide and was being treated in a VA hospital. But the vast majority appear one final time in Judge Dugan's courtroom to "graduate'' from the program. According to the VA's Rebecca Hicks, fewer than 10 percent turn up as repeat offenders.
What seems to make veterans courts across the country work is that the service providers — case managers from the VA and representatives from city, county and non-profit agencies — all sit right in the courtroom. Help is not some distant bureaucracy with a crowded, take-a-number waiting room; it's right at hand.
The benefits of this approach are clear. Court dockets and jail cells aren't clogged with veterans who've abused drugs or alcohol; those veterans are out on probation and in treatment. Many of them are seeing a physician for the first time in years, going back to school, going to Narcotics Anonymous and PTSD counseling. Some have found housing after years of living on the streets.
All this happens with the prosecutor, the probation officers, VA case managers — and Judge Dugan — watching carefully.
"I don't consider this to be more lenient," Dugan says. "I expect more out of these guys because of their military background. They went through basic training. They did stuff. They volunteered to go in harm's way. And they earned these benefits."
Garant, the assistant district attorney, insists he treats veterans more harshly than other offenders.
"A guy charged with (drug) possession, pleads guilty in criminal court, he gets six months probation and no treatment — but he walks," Garant said. "Same guy in Veterans Court, we make him go through treatment and that may take a year during which time he's on probation. So he does more time, but he gets help.
"I don't want to put these guys in jail," Garant said. "I don't want to give them a record. I want to get them help."
TRYING TO GET THROUGH THAT
This summer, things were looking good for Jamie Beavers. He was out on six months probation, checking in regularly in Dugan's Veterans Court, finishing up a methadone drug treatment program at the VA medical center and attending Narcotics Anonymous. He is working with counselors at the Philadelphia Veterans Multiservice and Education Center on getting his bills paid, working on his resume, hunting for employment, and applying for affordable housing.
He and his wife are separated, but every other weekend, he was seeing his two girls, 8 and 20 months — "the only time I feel really joyful," he said.
Just when things were going well, trouble struck again. Picking up his daughters on a mid-August Friday night for pizza and videos, he got into an argument with his wife; things escalated, the cops were called, and Jamie was arrested. His mother posted bail.
The clash and arrest threw Beavers into a deep depression. Barred from seeing his eight year-old and baby daughter, he lay in bed much of the day in his second-floor apartment just off Shunk Avenue in south Philly, refusing to answer his phone or email. He stopped showing up at the vets center.
Gormley, the ex-cop, became alarmed and tracked him down. "What often happens in these cases is they get into trouble and stress and go back on drugs," Gormley said. "I'm worried."
But Beavers was okay. He'd stayed off drugs, and was just returning from the methadone clinic at the VA.
"I haven't seen my girls for weeks and that's been really hard," he said. "But no, I didn't go back to the drugs, I'm done with that."
In Veterans Court, Garant and Beaver's public defender, Melissa Stango, are working to have Beavers' domestic violence case combined with his DUI violation so he can continue his rehabilitation under Dugan's supervision. But he still faces an uphill slog through the debilitating effects of his brain injury toward a more normal life.
In the military, he said, "I saw things that were inhumane that still stick with me to this day, and I'm trying to get through that. I did two tours, killed a bunch of people, got blown up six times, have PTSD and can't hear out of my left ear. I have a 100 percent disability from the VA." Until now, he said, "I was never in trouble with the law."
Beavers has a gentle, friendly demeanor and smiles often. He speaks haltingly, sometimes searching for a word. Traumatic Brain Injury has left him with some memory loss and he sometimes has difficulty focusing, paying attention. He hopes to get a job to keep up with his bills and child support payments, and eventually to get back into college, maybe to earn a degree in counseling so he can work with other veterans with PTSD or addiction problems.
"I know I'm a little behind because of my injuries and because I've been out of school for so long," he said. "It's hard…I'm just…trying to get back into things. If I can get a college degree and a good job by the time my daughter hits high school… that'd be good."
Before You Go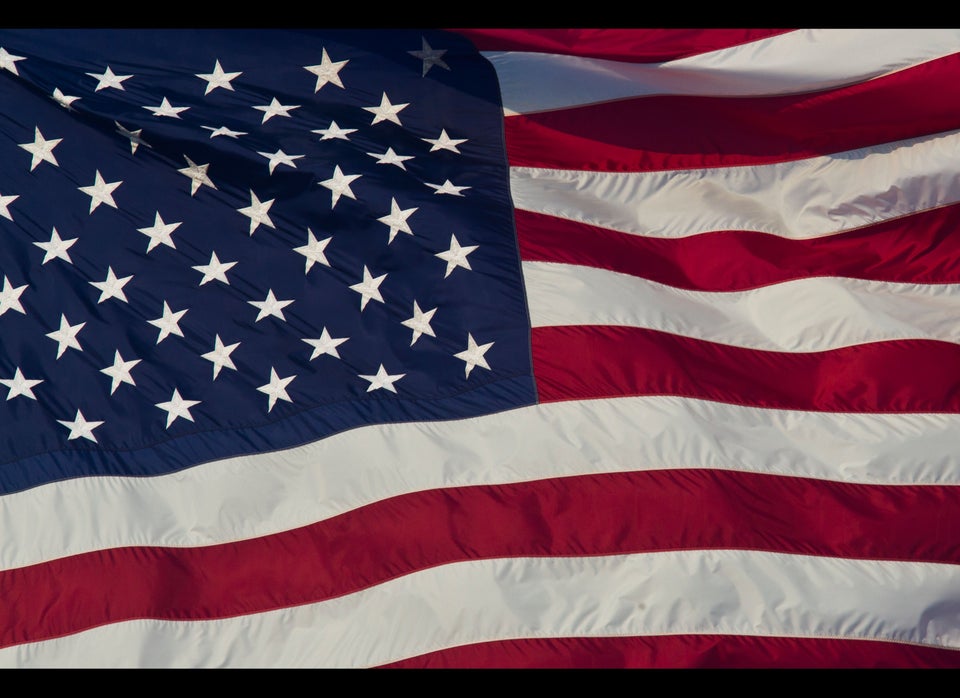 Military Deaths In Afghanistan
Popular in the Community