 WASHINGTON -- The 113th Congress that takes office in January will have the fewest military veterans since World War II, although the number of members who served in the Afghanistan or Iraq wars is growing.
Nineteen percent of the next Congress will be veterans, with 85 in the House and 19 in the Senate, according to a tally compiled by the American Legion. In the current Congress, there are 91 veterans in the House and 25 in the Senate.
The decline isn't completely surprising. The 95th Congress of 1977 and 1978 -- just after the draft ended in 1973 -- had 412 veterans. The percentage of members who served in the military has steadily fallen since.
"There are two things that are leading to fewer veterans in Congress," said Jon Soltz, co-founder of VoteVets.org. "First, the last conscription force to fight a war is at retirement age, and they are leaving Congress. Second, the new generation of veterans makes up a smaller percentage of the overall population now, and many of them are just getting into politics for the first time. Many of them aren't yet ready to run for Congress, because they have no political base in their communities."
As many of the veterans from World War II, the Korean War and the Vietnam War retire, Afghanistan and Iraq veterans are beginning to take their places. Rep.-elect Tammy Duckworth (D-Ill.), a double amputee from the Iraq War, is one of the highest-profile new members. During her race, she faced accusations from the incumbent, Rep. Joe Walsh (R-Ill.), that she was not a "true hero" and talked too much about her military service.
Including Duckworth, there are a total of nine new House members who have served in Iraq or Afghanistan, according to Iraq and Afghanistan Veterans of America. Republican Martha McSally, who served in both wars, is still waiting for the outcome of her race to be decided against Rep. Ron Barber (D-Ariz.). No new senators are veterans. Seven Iraq and Afghanistan veterans were reelected.
"While the total number of veterans in Congress has decreased, we will see a record number of post-9/11 veterans in Congress this year," said Tom Tarantino, chief policy officer for Iraq and Afghanistan Veterans of America. "Sixteen veterans of Iraq and Afghanistan have won their races and will be part of the House of Representatives next year."
While committee assignments in both chambers are still being figured out, Sen. Patty Murray (D-Wash.) has already said she will step down from her position as chair of the Veterans Affairs Committee, meaning Sen. Bernie Sanders (I-Vt.) will likely take her place.
"I had to really think about stepping down from the committee because these issues have been such a passion for me," Murray told the Federal Times. "As I thought about it, I decided I could really fight for veterans just as strong on the budget committee."
More than 1 million new veterans are expected to return home within the next five years, meaning these issues will become increasingly important for Congress.
"Congress must act on the challenges facing veterans and their families like employment, education, suicide and mental health, and a VA struggling to keep pace with demand for its services," said Tarantino. "Joined by their fellow veterans of all generations and civilian supporters in Congress, these new veteran representatives have the opportunity to uniquely speak to the experiences of veterans across the country and work to pass legislation to address the challenges facing them."
VoteVets was particularly active in helping to elect Duckworth and Rep.-elect Tulsi Gabbard (D-Hawaii). The organization also was involved in supporting non-military members who are strong on veterans issues.
"Right now, Iraq and Afghanistan veterans are better represented in Congress than we are in the overall population, and even more young veterans are running and winning local and state office, which will put them on the path to higher office, if that's what they want," said Soltz. But, in the immediate term, what this all means is that veterans need to work that much harder to educate and hold non-veterans in office accountable, and push them on issues veterans face. That's why our group doesn't just focus on veterans running for office, but gets involved in other races, as well."
As the Washington Post noted, the Senate is set to lose six veterans due to retirement or election losses: Sens. Daniel K. Akaka (D-Hawaii), Jeff Bingaman (D-N.M.), Scott Brown (R-Mass.), Herb Kohl (D-Wis.), Richard G. Lugar (R-Ind.) and James Webb (D-Va.). Akaka is one of just three World War II veterans in Congress.
Number of veterans in Congress since 1975, according to the American Legion:
CORRECTION: A previous version of this article and chart incorrectly stated that there will be 18 veterans serving on the Senate side of the 113th Congress. There are in fact 19 members.
Before You Go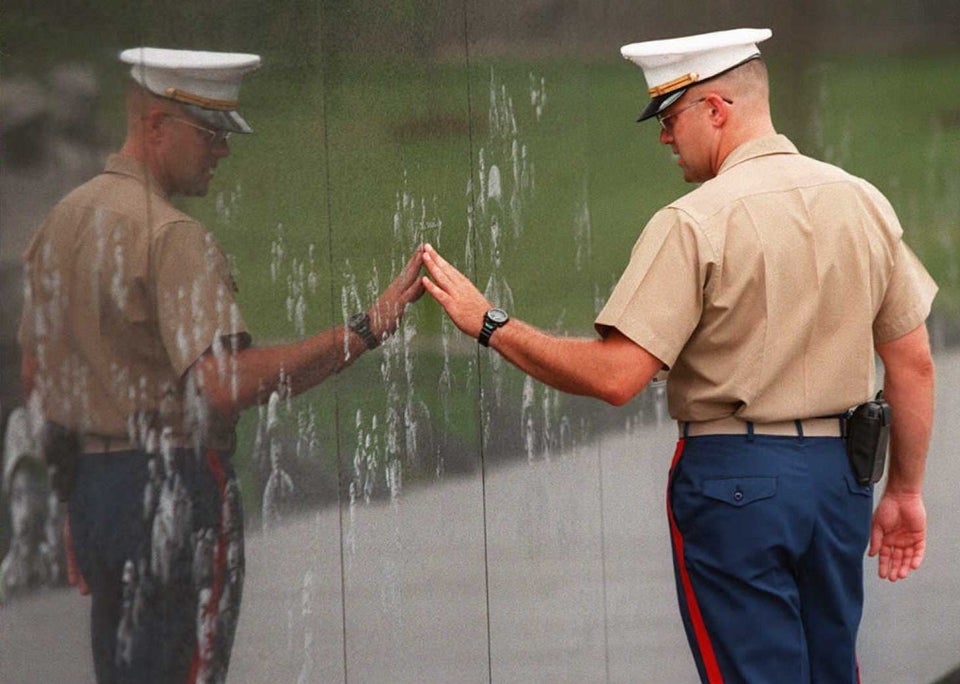 Veterans Day
Popular in the Community