As we celebrate this Veterans Day, let's recall a recent U.S. military mission led by a teddy bear. When the Air Force was called upon to drop humanitarian supplies in Iraq, a soldier attached a teddy bear to the cargo.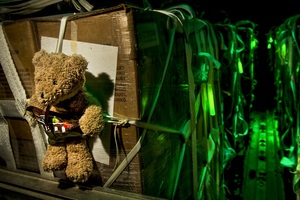 A teddy bear accompanies a halal meal in a C-130 Hercules before a humanitarian airdrop over Iraq, 8/14/2014. (US Air Force photo by Staff Sgt. Vernon Young Jr.)
The bear was donated by a child who wanted to help Iraq's children. The air drops brought food and water to thousands who were trapped by the ISIS terrorists.
Although we do not often hear about the role of the U.S. military in feeding the hungry, it's a mission that goes back many years. It makes sense too because where there is war there is hunger. You cannot win a peace if there is hunger and suffering.
Think back to the Armistice of November 11, 1918, which ended the main fighting of World War One. Some countries, such as the Baltic States of Latvia, Estonia and Lithuania, continued to see violence and unrest. Starvation threatened these populations. U.S. soldiers with the American Relief Administration sought to bring them aid.
Captain Thomas Orbison, who did relief work in Latvia, wrote about spreading "the gospel of food for undernourished children." He was ordered by Colonel John C. Groome, who headed the ARA Baltic States mission, to "go to it."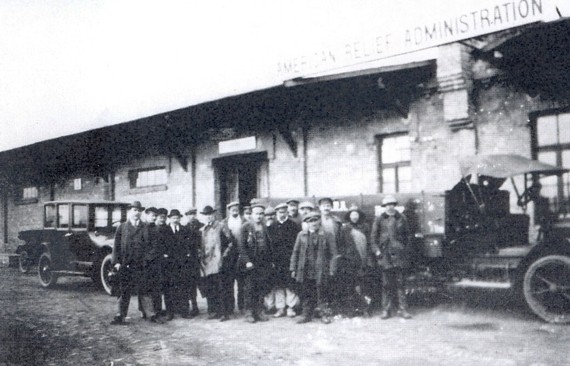 Photo of the American Relief Administration in Russia. (National Archives)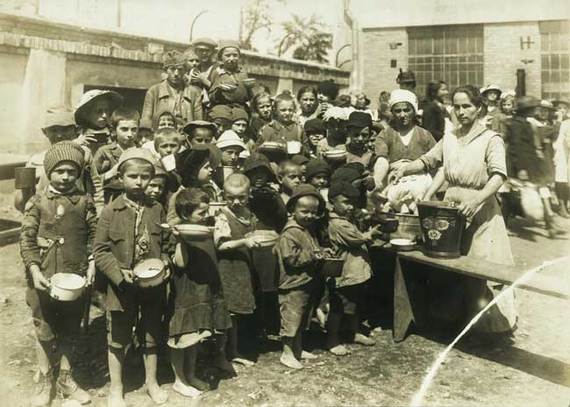 American Relief Administration Food Distribution, Finland, CA 1919. (Herbert Hoover Presidential Library)
The ARA set up feeding programs, especially for children, in these and other countries. It encountered many obstacles. In Latvia, for example, the country had been occupied by both German and Russian forces. With this chaos, getting food to the population was a major struggle.
Lieutenant George Harrington was assigned a team to bring food to Riga, the capital of Latvia. His soldiers moved 40 cars of supplies by train toward the city. There was one problem though. The tracks were torn up about 10 miles from their destination. That did not stop this group of determined soldiers.
They repaired the tracks and brought the food in to feed the hungry. A malnourished girl, who had bravely kept the American consulate open despite the war, greeted the soldiers and helped organize the aid. Harrington's mission was a success. President Woodrow Wilson remarked, "We need a lot of Harringtons and his sergeants at home."
This was the "get it done" attitude of the American Relief Administration. It saved millions of lives during and after World War One. One ARA soldier was told in Montenegro that it would be impossible to deliver food aid in a very mountainous region blocked off from regular access.
The officer replied, "Yes, we can" and went about bringing food over broken bridges using cables. They even used animals to move food over snowy trails. The officer said,
"We did it. The people in this district are now happily eating American flour and pork. They have stopped digging graves and are, instead, planting their crops for this year's harvest."
Captain Orbison could not believe his eyes upon visiting a town in Latvia. There was this amazing transformation that took place after the feeding programs had started. He recalls being greeted with flowers. Prior to the arrival of the food aid the area looked like a ghost town.
Captain John Miller, who did relief work in Estonia, noted how children were backward in physical and mental development because of the years of war. The ARA launched a feeding program there after the Armistice. They served over 35 million meals to help save this population.
On Veterans Day and every day let's remember these life-saving missions by soldiers fighting hunger. For there are 805 million people worldwide who struggle to get food every day. They are victims of the war launched by ISIS in Iraq, and of wars in Syria, South Sudan, Central African Republic and other nations in conflict.
As long as this spirit of humanitarianism exists we can help those in need. We can keep the hope alive that someday we can end hunger around the globe.
Support HuffPost
The Stakes Have Never Been Higher
Related
Popular in the Community