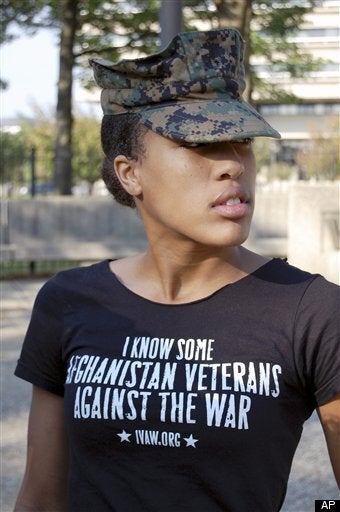 On Veterans Day our nation honors the men and women who have served our country. Cities host parades, department stores have sales, schools and the Federal Government close. Most of us are thankful for a day off. Rarely do we stop to think about the tremendous sacrifices made by those in the military community -- the risks they take and the burdens they carry. Rarely do we reflect on how families and lives are forever changed as a result of war.
Since September 11, 2001, over 2 million men and women have deployed to fight the wars in Iraq and Afghanistan. Many of these men and women have deployed multiple times -- and many family members have suffered through multiple separations and reintegrations. Thus far 5,798 men and women have died during these wars and the number of those who have come home with significant physical injuries is approaching 40,000.
In addition to the thousands who must deal with physical injuries, many of our returning troops are coming home with the invisible -- but expected -- injuries of war including post traumatic stress, traumatic brain injury, depression and anxiety. Some studies suggest that as many as 35 percent of those who experience combat will eventually develop some symptoms of post traumatic stress. In addition, approximately 20 percent of those coming home will experience a traumatic brain injury as a result of their service. Sadly, a large number of those who suffer these invisible injuries fail to seek the care that they so need and deserve.
Unfortunately, the stigma associated with seeking mental health care -- in addition to our cultural reluctance to admit mental health concerns -- prevent many of the brave men and women in our armed forces from obtaining proper treatment.
Families are suffering. A recent study in the journal, Pediatrics, found that young children in military families are about 10 percent more likely to see a doctor for a mental health difficulty when a parent is deployed than when the parent is home. Social scientists have long known that the cycle of deployment and reintegration puts a significant strain on the families of those who serve -- particularly spouses. This study of more than a half a million children provides critical information about the impact on the youngest members of our military community. Given that the conflict in Iraq has been underway for over seven long years, tens of thousands of military children have only known the experience of war.
While most civilians are familiar with the terms "post traumatic stress" and "traumatic brain injury" it is striking how little the average person knows about these very understandable -- yet potentially devastating -- consequences of war.
Movies and television programs have often portrayed veterans suffering with post traumatic stress as out-of-control and hyper-aggressive. While difficulties with impulse control and rage are indeed possible manifestations of these painful conditions, those who suffer mental health consequences as a result of their service experience a range of symptoms and reactions. Some withdraw and become numb to their surroundings. They are disengaged from those around them and have difficulty finding meaning in life. Our Army is currently battling a dramatic increase in the number of suicides reported by active duty personnel as well as those who have separated from the military.
Others experience anxiety, flashbacks and severe sleep disturbance. They are hyper-vigilant and hyperactive. Sometimes the painful mental health symptoms that result from the experience of war lead to self-medication and substance abuse. Traumatic brain injuries are sometimes hard to identify or diagnosis but leave those who have suffered them with difficulties with concentration, focus and memory.
Some members of our military community come home to families that cannot possibly understand what they have seen or done. Unable to bridge the gap between who they were when they deployed and who they are upon return, our service members find themselves in relationships that falter and marriages that fail.
But there is reason to hope. Many within the Obama administration, the Departments of Defense and Veterans Affairs, the greater military community, the academic community, the nonprofit sector, the veterans service organization community, the entertainment industry, and caring individuals in communities across the country are stepping up to assist those who serve our country and their families.
President Obama, our First Lady, our Vice President and Dr. Jill Biden have focused considerable energy on issues affecting our military families. And they have opened their offices and offered support to creative initiatives designed to coordinate care for those who serve. Secretaries Gates and Shinseki, Admiral Mike Mullen and General Peter Chiarelli are working tirelessly to change the current military culture so that those who experience the understandable psychological injuries of war are able to seek and receive proper care and treatment in a timely manner.
In addition, programs such as HBO's documentary "Wartorn" -- that depicts the reality of post traumatic stress among those who fought in wars from 1860 to the present day -- are educating our nation and providing the knowledge necessary to properly receive those who are coming home. Research is providing additional tools to assist our returning troops and their families and non profit and veteran service organizations are coordinating efforts and services like never before.
Indeed, there is reason to hope -- and reason to believe that we can stem the tide of suicides and save hundreds of thousands of service members who have come home from war with injuries that they alone cannot heal. In order to be successful in this mission, however, we must harness the goodwill, the knowledge, the resources and the commitment of a thankful nation that recognizes the sacrifices made by so few for so many.

Related
Popular in the Community