This Veteran's Day, Nov. 11, many of us will gather in town squares, main streets, and school gymnasiums across the country to observe a great American tradition of paying homage to all those who have served our country as members of our Armed Forces.
The rest -- unfortunately, the majority -- will go shopping.
If you're like many people, this should make you blush with guilty recognition.
I'm hoping it also jolts some to act and help transform Veterans Day back to its original mission.
In the beginning, Veterans Day was not for sale. Fifty-five years ago, inspired by a group of storekeepers in Emporia, Kansas, Congress upgraded Armistice Day to Veterans Day and made it a national holiday. The local Chamber of Commerce got 90 percent of Emporia's merchants to agree to close their doors on Nov. 11, and the idea caught on across the country. On the day set aside to remember those who served and those who died, business-as-usual felt disrespectful.
Those merchants were honoring a profound truth expressed by George Washington more than two centuries ago when he wrote, "The willingness with which our young people are likely to serve in any war, no matter how justified, shall be directly proportional as to how they perceive the veterans of earlier wars were treated and appreciated by their nation."
Veterans Day was always important in my family because a number of relatives served in uniform, including my two sons who both joined the Army, one in military police criminal investigations and the other jumping out of airplanes. But it became intensely personal eight years ago last month when my youngest son, Kristofor, was killed in a helicopter crash in Pakistan. He was one of the first American soldiers to die in the war on terror, just 38 days after the 9/11 attacks.
My grief channeled itself into action and all these years later I was chosen to serve as president of the American Gold Star Mothers, an 81-year-old organization of women who have lost children in uniform. Our mission is to provide services and support to injured or ill veterans.
My journey has been an eye-opener and one of the things I see clearly is how a ritual that was once held sacred in every corner of America has lost its meaning just about everywhere. Even as our best and brightest are patrolling and dying in the deserts of Iraq and the far-off mountains of Afghanistan, at home Veterans Day means an extra sleep-in, traffic-disrupting parades, and the launch of the Christmas retail season with noisy, patriotic sales pitches, which really do nothing for those who have served our country but go a long way to increasing the retailers' bottom lines.
Societies and cultures evolve and we no longer have with us most of the 16 million veterans of World War II. And somewhere along the way, America's retailers, not to mention the majority of our country's citizenry, lost their bearings and Veterans Day became just another promotional opportunity.
We may not be able to go back to the way things were. But we shouldn't be throwing out the baby with the bathwater. So I'd like to offer a challenge to my fellow citizens and to America's retailers, especially those national chains that wrap themselves up in the flag and run all those red-white-and-blue Veterans Day ads, to stop saying they support our troops and actually do something tangible to demonstrate that support.
At the individual level, I recently heard ABC News journalist Bob Woodruff, who suffered traumatic brain injuries covering the war in Iraq, speak about helping veterans this year by urging all Americans to each donate $1 in honor of the 1.6 million men and women who have served in Iraq and Afghanistan.
I want to raise the stakes. Let's make it $11. Just imagine the profound impact we could have on the lives of the courageous men and woman who have volunteered to serve in Iraq and Afghanistan if 11 million of us also volunteered, in this case to each donate $11 to support them on Veterans' Day. The incredible nature of such a collective act on Veterans' Day, the 11th day of the 11th month, would be unprecedented in terms of raising awareness of the plight of returning veterans, particularly those who continue to suffer the invisible wounds of war, all while raising millions of dollars to ensure that these veterans get the help they need and deserve. To ensure the efficiency and effectiveness of such an "11-11 campaign," there is already in place a grassroots coalition called Beyond Tribute that comprises eleven organizations dedicated to assisting veterans of all generations deal with the challenges of civilian life.
As it pertains to retailers, they need to select a legitimate veterans-related charity and allocate a percentage of every sale on Veterans' Day to that organization. Customers will appreciate it because it'll make them feel they're contributing, and it'll be good for business.
Retailers need also to spread the word of the plight of veterans. In every shopping bag, they should place some educational literature about the national and local organizations that serve our troops. Millions of consumers will be reminded what Veterans Day is about, why it matters, and how they themselves can demonstrate their appreciation or become volunteers.
America's retailers also should fly the flag. They can follow the example of Wal-Mart and hang a banner in a visible place in every store showing how many employees are currently serving in the military. The more visible our service people are, the more Americans will become aware that while they are enjoying the freedoms of modern life, not to mention an extra sleep-in day, thousands of their neighbors are giving their best to keep it that way.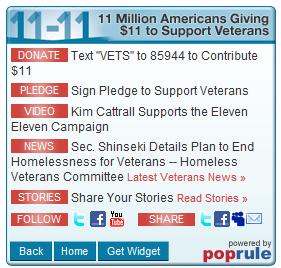 Ruth Stonesifer is the National President of American Gold Star Mothers, Inc. Her son, SPC Ranger Kris Stonesifer, was killed in action on October 19, 2001.
Popular in the Community