When Dylan Tete left Iraq, he thought he was finished working in ravaged cities. But, when Hurricane Katrina hit the day he was to start graduate school, he instinctively knew what he had to do.
Tete, 33, put his education on hold and went to work.
"Everything that I've done since Iraq, since I left the military has been to ... weave this sort of solidarity and strength that military people possess, to weave that into the social fabric of New Orleans," Tete told The Huffington Post. "By doing that, I've gained a lot."
Tete isn't alone when it comes to feeling a burning drive to continue to give back to his country, even after having already put his life on the line.
"[Veterans] don't want to drink beer and share war stories in some dark beer hall," remarked William McNulty, a Marine who co-founded a disaster-relief nonprofit. "What they do want to do is continue their service."
ServiceNation, a campaign working to redefine the concept of "service" beyond military bases and combat zones, is helping veterans to find their purpose again. In 2009, Michelle Obama and Dr. Jill Biden joined up with ServiceNation's Mission Serve initiative to declare Veterans Day an official national day of service. Civilians and veterans come together to give back and show vets that they don't have to retire a uniform, so long as there is someone in need.
Thousands of veterans will collaborate Friday to spend their day to helping others. Meet four such benevolent individuals who are determined to help foster, and perpetuate, the movement.
William McNulty Saves Natural Disaster Victims
The Red Cross told him to just cut a check. But William McNulty, 34, wouldn't take "no" for an answer. Three-and-a-half days after the devastating earthquake struck Haiti in 2010, the former Marine swooped into the Haitian capital with seven others. His crew was one of the first medical teams to touch the ground in Port-au-Prince and McNulty knew his unique military training would serve as a critical life-saving tool.
"It's not about getting there with the most," McNulty said. "It's about getting there the fastest and treating the acutely injured with what you can carry on your back."
McNulty's team performed amputations, delivered babies and altogether treated more than 3,500 victims in need.
That's when Team Rubicon, a nonprofit that dispenses veterans and medical professionals to a disaster site in the immediate aftermath, was born.
Today, 70 percent of the nonprofit's volunteers are veterans.
"We want to establish a new community of veterans who want to continue their service through disaster relief projects," McNulty said.
Chris Marvin Empowers Veterans
Chris Marvin appreciated it when an anonymous donor sent him a $500 check after his helicopter crashed in Afghanistan in 2004. But he didn't want the money. As the former platoon leader recovered from a broken arm, legs, foot and shattered face, he craved only one thing: his sense of purpose.
"There's so much charity out there," Marvin said. "What [veterans] need is to feel like they can still be a leader."
Marvin donated the check to a local food bank and started searching for a meaningful outlet to channel his energy.
After getting his M.B.A. from Wharton, Marvin decided to direct his efforts toward empowering the veteran community. He went on to join ServiceNation, an organization that mobilizes veterans nationwide to take part in volunteer efforts, as the director of civilian-military partnerships.
"They were waking up every morning, putting on their uniform," Marvin noted. "They don't know where else to find that service and satisfaction."
ServiceNation joins civilians, military families and veterans together to complete large-scale volunteer missions.
"I've seen veterans who spend one or two days volunteering," Marvin said. "They come back and say, 'Wow, I didn't realize the same satisfaction I can get from serving in my community.'"
Dylan Tete Builds Veteran Communities
As Dylan Tete, 33, scrubbed blood off the sidewalks in New Orleans, the former infantryman was surprised to realize that he'll never really retire his role as a soldier.
"I knew it could happen in Iraq," Tete said. "I just wasn't expecting it to happen so close to home."
But even as Tete helped put a devastated city back together, he couldn't ignore his need to connect with his fellow veterans, to find the military family he had left behind in Iraq.
That's when Tete came up with the concept of Bastion, a housing community for wounded warriors, surviving families and service-oriented seniors. It aims to help heal veterans in a supportive environment, equipped with essential educational, mental health and recreational facilities.
"Serving your comrades as they return home...That's really what it's all about," Tete shared. "Building back those relationships and strengthening a community in the process. There's a certain magic in that."
Randy Ryan Grows Organic Gardens At Inner City Schools
When Randy Ryan left the army in 1991 to pursue an acting career in New York City, he tried to forget about his service. He rarely talked about Desert Storm. He didn't want to deal with his feelings surrounding the experience.
But as Ryan saw the influx of young veterans returning home from Iraq and Afghanistan to a society that didn't understand what they had gone through, he decided to get involved in helping them reintegrate.
In May, Ryan joined up with Teaching Gardens, a nonprofit that grows organic gardens in Los Angeles' inner city schools and employs veterans as volunteers.
"These schools are like prisons," Ryan remarked. "There's no green on the campuses at all; just locks and buzzers and security, police everywhere. And then to have this haven of a garden is just amazing."
While the kids learn to appreciate vegetables and educate themselves about where their food actually comes from, the veterans get a chance to put their problem-solving skills and tireless work ethic to use.
"You get a bunch of soldiers together, there's no 'can't.' We find a way to do it," Ryan said. "It's stunning to watch these guys. They get to be heroes in front of these little kids."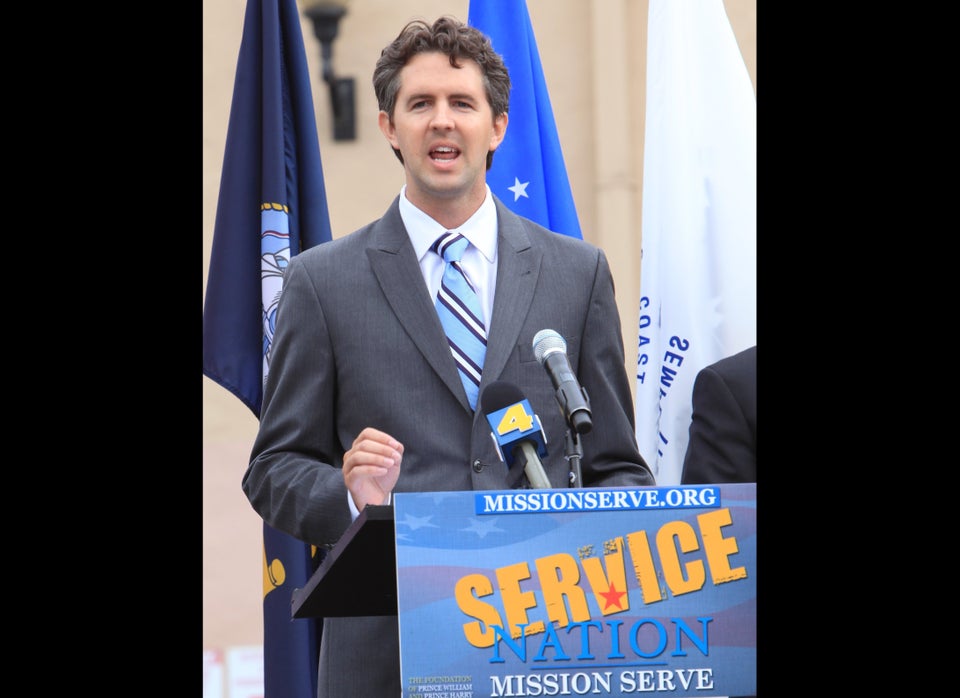 Initiatives For Veterans
CORRECTION: In an earlier version of this story, Chris Marvin was named the founder of ServiceNation. He serves as the director of civilian-military partnerships
Popular in the Community