Updated on Nov. 11, 2015 at 3:30 P.M.
After years of neglect, William Bell's teeth had deteriorated to the point that he looked liked he had been "smoking meth every day for years." And though the U.S. veteran had kidney cancer, diabetes, PTSD and depression, he wasn't "disabled enough" to qualify for dental care through the Department of Veterans Affairs.
"I was trying to get my teeth worked on for three years. They wouldn't do it," Bell, who served three tours in Iraq and two in Afghanistan before retiring in 2013, told The Huffington Post. "I can get major surgery done, but I can't get my teeth done."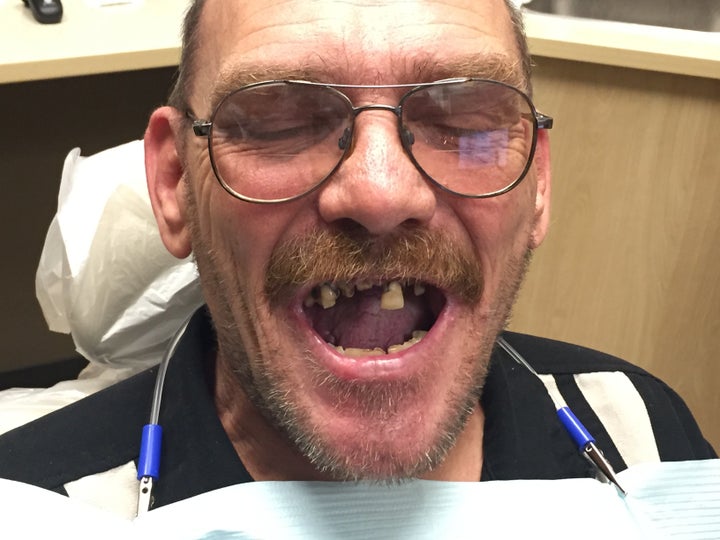 In order for veterans to qualify for full VA dental benefits, they have to be 100 percent disabled, have been a prisoner of war or have developed a dental condition during their service. The need is so great that homeless veterans list dental care among their top three unmet needs, along with housing and child care.
But now, even veterans who don't meet those criteria and don't have the funds to pay for dental care, have a company they can turn to that will take them in for free.
As part of its growing efforts to support underserved patients, Aspen Dental, which has more than 500 offices nationwide, dispensed a mobile unit throughout the country for the first time last year. And after seeing one vet after another file into the 42-foot trailer-turned-dental-facility, the company decided to take a more proactive approach to serving former servicemen and servicewomen.
This year, the organization partnered with Got Your 6, a nonprofit that supports veterans, mobilized its dentists around the country and served more than 4,000 veterans in need of dental care, Chedly Vincent, director of clinical support and community giving, told HuffPost. That came to $2.8 million in donated services.
The group hopes to improve veterans' appearances so they have better chances of securing employment, and also to prevent major health issues. Forgoing cleanings and other routine procedures can lead to a number of issues, including periodontal disease, which raises risks for stroke and heart disease, Vincent added.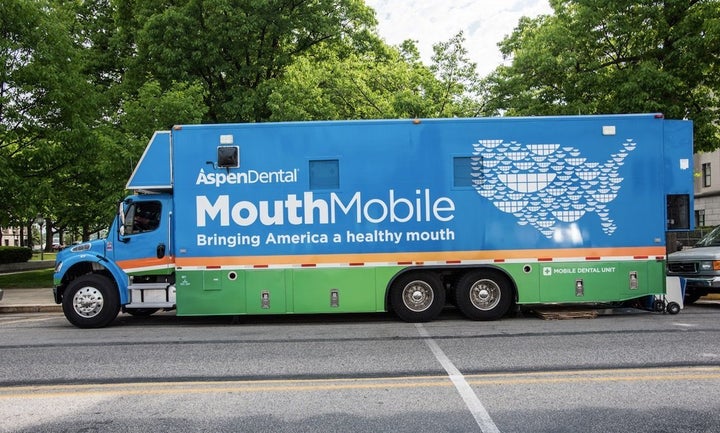 Bell, 49, was one of those veterans who benefited from the new program.
Before connecting with Aspen, Bell says his mouth's decrepit state turned him into a recluse.
Of his 20 remaining teeth, only one was deemed healthy enough to stay put.
"I didn't go out in public," Bell said. "I had such an ugly smile, I didn't get out at all."
He told HuffPost that the VA repeatedly turned him down for dental care and didn't provide him with any information about potential plans he could even pay for.
The VA does offer veterans the opportunity to purchase dental insurance through Delta Dental and MetLife at a reduced cost, Meagan Lutz, VA press officer, told HuffPost.
While Bell didn't have the confidence to leave the house, or resources to take care of his oral hygiene, he did his best to deal with his other plaguing medical issues, which were covered by the VA.
In 2010, cancer led the Arkansas man to have a kidney removed. He's now in remission. Bell was also facing diabetes, which he says is now at bay after he lost 90 pounds.
Though Bell also had big dreams of becoming a pilot with the Arkansas Forestry Commission, he felt he had no chance of getting accepted because of his appearance.
But Bell says he's now feeling confident about putting those plans into action after getting a full workup at an Aspen Dental office in Bryant, Arkansas.
Last Thursday, Eric Sharks, a veteran who served in the Air Force in the '80s, volunteered to see Bell and do whatever it took to care of his numerous conditions.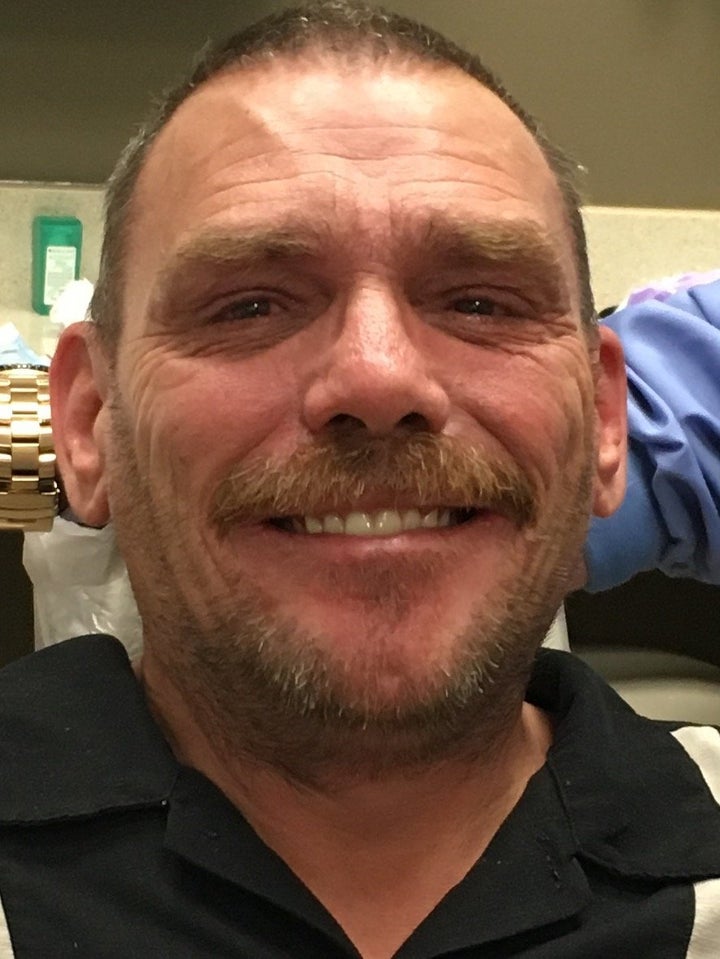 Bell had such severe periodontal disease that Sharks had to extract 19 of his 20 remaining teeth. Sharks recontoured the shape of Bell's arches and smoothed out his bone tips. He took impressions for his dentures and, after about seven hours, sent Bell off with a brand new set of teeth.
The entire procedure was valued at about $6,000.
"He had the entire office in tears," Sharks said.
Sharks, who joined Aspen Dental six months ago, said Bell was the fourth veteran he's treated for free since starting at the company. He said the organization's push to help vets in need was one of the prime reasons he decided to take a job with Aspen.
Encouraging dentists to "adopt" veterans is one of the ways Aspen works to support veterans.
Through its Healthy Mouth Movement, the organization dispenses a mobile office to 30 states throughout the year. Local Aspen dentists and hygienists volunteer to work on the tractor-trailer when it comes through town, which handles services from X-rays to extractions.
Back in June, Aspen dentists committed a day of service on a Saturday to seeing underserved veterans and, starting Veterans Day, it's offering a 25 percent discount to any vet through the end of 2015.
As a thank you, Bell gave Sharks his retirement flag.
"It kind of makes me proud that we can hang a U.S. flag outside our office," Sharks said. "Maybe more companies will jump on board."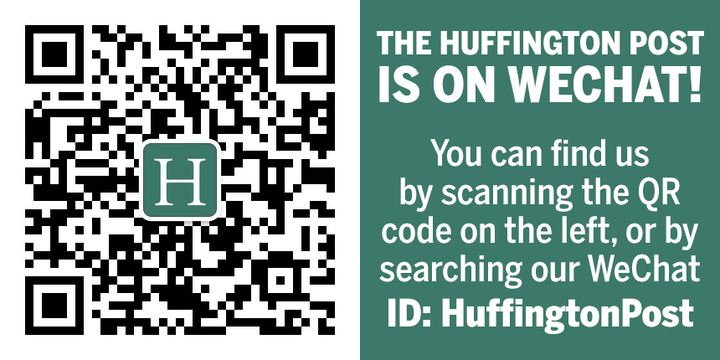 Popular in the Community