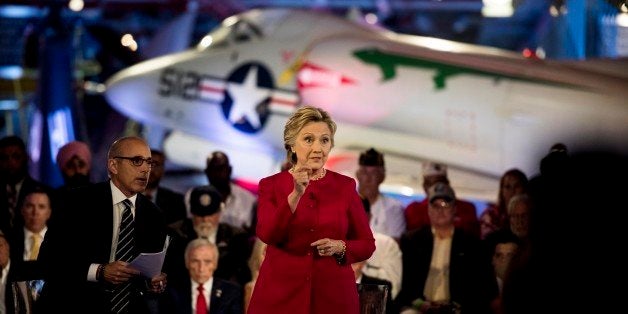 The "Commander-In-Chief" forum on NBC this week put on display a variety of issues. How the press treats, and grades, candidates who are unequal in their preparation and experience, was quite disappointing. But the most troubling issue was that for a half hour, a major party presidential candidate made shocking statements about our military and veterans that in any other year would have been disqualifying.
While Hillary Clinton has broad and deep experience with security and foreign policy issues, Donald Trump used his time in the Commander-in-Chief forum to disrespect our own generals, praise our enemies, blame military sexual assault on the decision to allow women to serve in our military, suggest we should steal the natural resources of another country, and interrupt a veteran to correct her (and let's be clear: She had the correct information and he was wrong.) That was just the tip of the iceberg.
Donald Trump misrepresented his own position on the war in Iraq (he was for it.) He implied that he would use different generals than President Obama (he cannot fire our military generals.) He suggested our military needs a court system (it already has one.) And much, much more.
Trump said our military is embarrassing. He said he is looking forward to having a "very, very good relationship with Putin" and working closely with Russia, seems genuinely impressed with Putin's "leadership" in his country, and is even more impressed when Putin strokes his ego. As President Obama said, Trump's views are not particularly Republican. They are incredibly dangerous.
There is a list a mile long of reasons that a President Trump would be disastrous for our country, but at the top of the list of these concerns is the idea that he would be in charge of the most powerful military in the world and in charge of the services on which our nation's veterans rely. On the other hand, Hillary Clinton is one of the most prepared and qualified presidential candidates we've ever had, with global diplomatic experience and the steadiness the country needs in a Commander-in-Chief.
As we have seen in Los Angeles, when the VA suffers from poor management and chronic problems, our veterans and their families are put at great risk. The VA system is too critically important to have someone like Donald Trump, who one minute says he would never privatize the VA, and the next minute suggests veterans should see private doctors, serve as our Commander-in-Chief. Trump has no coherent plan for fixing the VA or improving services for our veterans. His response to a question from a veteran about what he would do to reduce veteran suicide showed he doesn't even have a shallow understanding of the problem.
Los Angeles is working hard to tackle veterans' homelessness and improve the treatment and services they receive in the area. For Members of Congress, Mayors, City Councilmembers and community leaders, adequately supporting our veterans is a top priority for our city and the region. Electing Trump as our Commander-in-Chief would not simply undo the progress we have made, it would create a lifetime of challenges for generations of veterans in desperate need of real and lasting solutions, and be a horrible disservice to our military personnel and veterans. Our veterans, military personnel and their families have earned so much more.
REAL LIFE. REAL NEWS. REAL VOICES.
Help us tell more of the stories that matter from voices that too often remain unheard.