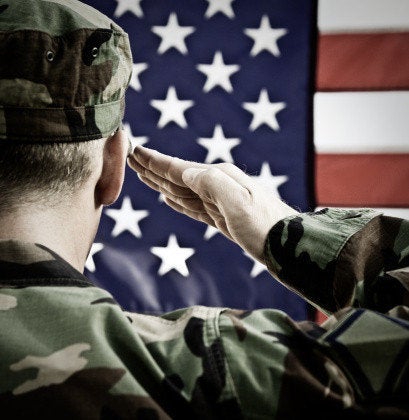 As veterans of the wars in Iraq and Afghanistan use billions of dollars in federal benefits to pay for higher education, for-profit colleges are capturing more than a third of the money -- about $1.6 billion -- despite educating only a quarter of the veterans, according to a report released Thursday by a Senate committee.
The analysis of the $4.4 billion in Post-9/11 GI Bill money doled out in the 2009-10 and 2010-11 school years shows that the largest for-profit college corporations were also among the largest recipients of veterans benefit money, raising questions about the ways veterans are actively recruited by institutions with poor graduation rates and high price tags.
Eight of the 10 largest recipients of GI Bill money disbursed last school year were for-profit college corporations, including the parent companies for the University of Phoenix and ITT Technical Institute, dwarfing the amounts going to large state university systems such as the University of Maryland and the University of Texas. The amount of GI Bill money going to those eight companies surged between the 2009 and 2010 school years, jumping from $393 million to $627 million.
"These people who have risked their lives in Afghanistan and Iraq ... They come back, they want to better themselves," said Sen. Tom Harkin (D-Iowa), the chairman of the Senate education committee, which has held a series of hearings probing the for-profit college industry over the past year. "And they're getting led into this by aggressive recruiting."
Veterans are attractive recruits for for-profit colleges because of the way GI Bill benefits are accounted for under federal law. Under a provision known as the 90/10 rule, the government requires that schools derive no more than 90 percent of revenues from federal financial aid dollars -- a challenging requirement for some for-profit colleges that rely on federal student aid for a vast majority of revenues.
GI Bill money from the Department of Veterans Affairs technically doesn't count under the 90 percent category, allowing schools to count the money toward the non-federal 10 percent of revenues.
As the amount of money allotted to veterans for college has drastically increased after the passage of the Post-9/11 GI Bill in 2008, many for-profit colleges have directed substantial resources toward recruiting veterans. Many of the large schools, including University of Phoenix and Kaplan University, have created separate recruiting divisions to seek out veterans and active-duty military personnel.
Online questionnaires used to generate leads for recruiters almost always ask whether prospective students or their spouses are veterans or active-duty military personnel.
The Association of Private Sector Colleges and Universities, which represents for-profit colleges, acknowledged in a statement that tuition at most for-profit schools is more than at public universities. But the group noted that veterans are attending for-profit colleges because many of their programs offer schedules that are better suited for them.
"While a traditional postsecondary experience is appropriate for many veteran students, others want the kind of flexible and accelerated schedules, career-focused programs, and immersive instructional methods that characterize a quality education," said the statement from Brian Moran, the organization's interim president. Moran also pointed out that the for-profit college sector received essentially the same share of the GI Bill money in 2010 as in 2009, but the overall amounts are increasing as more veterans take advantage of the benefits.
For-profit colleges have high tuition costs and higher dropout rates than pubic colleges and universities, the Senate report noted.
According to the analysis, for-profit colleges educated 25 percent of the veterans using GI Bill benefits in the 2009-10 and 2010-2011 school years, but took in 37 percent of the money doled out by the Department of Veterans Affairs. By contrast, public colleges instructed 59 percent of veterans and took in 40 percent of the money.
On average, veterans attending for-profit schools spent more than twice as much money in tuition as those attending public colleges -- an average of $10,875 per veteran at for-profit schools and $4,874 at public schools.
Holly Petraeus, who handles military affairs issues at the Consumer Financial Protection Bureau, noted the "unintended consequence" of the 90/10 rule on recruiting veterans during a Senate hearing in July.
"It's made them a target for very aggressive recruiting, because for every one GI Bill or tuition assistance recipient that you can recruit, you can then get nine other students in your (federal student aid) category," said Petraeus, who is married to former Army General David Petraeus. "Unfortunately, I think military folks at this point are seen like a dollar sign wearing a uniform for many recruiters in a for-profit model. They're seen as cash that enables them to sell more of their product, and that's unfortunate."
Colleges have referenced the importance of GI Bill benefits in public filings with the Securities and Exchange Commission: Education Management Corp., the nation's second-largest for-profit college corporation, specifically discussed Congress' attempts to make cuts in GI Bill money in a recent annual report.
"A material decrease to the funding of military education benefit programs would have a materially adverse effect on our ability to comply with the 90/10 Rule," the filing said.
The 90/10 rule will be the subject of a Senate Homeland Security and Governmental Affairs subcommittee hearing today.
Sen. Tom Carper (D-Del.) said he expects Congress will introduce legislation before the end of the year aiming to shift GI Bill benefits into the 90 percent category alongside federal student aid dollars from the Department of Education.
He added that the Congress needs to change the way they evaluate where federal dollars are being spent to educate veterans and active-duty military, in order to "incentivize the completion of education requirements that are going lead to a job and the ability of people to lead a productive life."
Moran, the president of the Association of Private Sector Colleges, said in a statement that the changing the 90/10 rule would harm students' ability to attend college by forcing schools to limit the number of students attending.
"The 90-10 restriction does nothing to measure quality outcomes and, by including military benefits in the 90 percent, places an unwarranted barrier in the way of students seeking a career focused education."
UPDATE: Nov. 3, 4 p.m. -- The article has been updated to reflect the Senate HELP Committee's revised calculations of GI Bill benefits going to for-profit schools in the 2010-11 academic year.
Calling all HuffPost superfans!
Sign up for membership to become a founding member and help shape HuffPost's next chapter