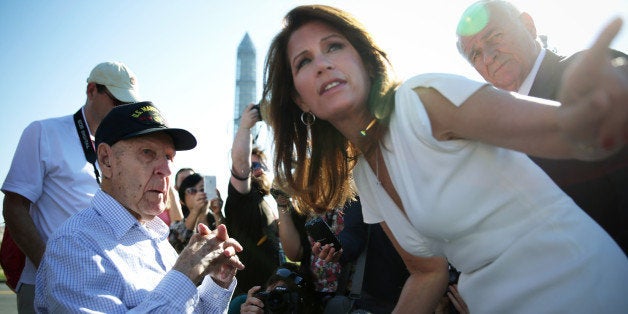 WASHINGTON -- Some of the most visible victims of the government shutdown have been America's veterans. The shutdown is exacerbating the Department of Veterans Affairs' backlog on disability claims, VA benefits will stop if the government remains closed for an extended period of time, and the World War II Memorial in D.C. was closed to a large group of visiting veterans.
House Republicans have seized on this issue. On Tuesday, they put forward a continuing resolution to fund veterans' services while the government was shut down; it failed to get the two-thirds majority needed to pass, since most House Democrats would only support a bill that would fund the entire government, rather than one that takes a piecemeal approach.
But veterans who spoke with The Huffington Post said simply funding veteran-specific projects wasn't enough.
"I think it should all be reopened," said Wilbert Tate, 87, an Army veteran from Kansas who was at the World War II Memorial on Wednesday.
Frank Lutz, 87, a Navy veteran from Illinois, agreed: "I think the whole works should be re-opened."
"What they need to do -- and they being our leaders -- is to be able to agree on something and quit all this cockeyed bickering back and forth," said Nick Chamberlin, 87, from Kansas.
He added that the entire government should be reopened, since the national parks and memorials that have been closed are just "a small part of it."
Indeed, veterans are affected by the shutdown in ways that extend beyond the VA and war memorials, since they make up nearly 30 percent of the federal workforce. About 800,000 federal employees are currently being furloughed. While Congress has, in the past, authorized back pay during a federal shutdown, there is no guarantee it will do so this time.
Dustin Gibbs is a 24-year-old Army veteran living in the D.C. area with his wife, who is also an Army veteran. As a "nonessential" employee at the National Institutes of Health, he is currently being furloughed.
"Our household greatly depends on my income, as well as my wife's GI bill money, to pay for basic necessities such as rent and groceries. We are also trying to save for a house one day that we can start a family in," he said. "To that end, pending the shutdown, we will have to use the money we have saved for our future home for basic necessities to get by."
Gibbs also said the partial funding bill offered by House Republicans was not enough.
"It seems they just want to fund what is getting most attention in the press and completely ignore the other hundreds of thousands of federal employees that are furloughed to get some of the heat off their backs," he said. "If they truly cared, they would fund the government in its entirety so that people like my wife and I can move forward in our careers and education. I enjoy my job and I have worked hard to get where I am. To have a fringe portion of one party take that all away is disheartening."
"This is taking a pretty huge hit to employment," said Tom Tarantino, chief policy officer for Iraq and Afghanistan Veterans of America. "The veterans' employment situation has been improving, but it's still tenuous. So you're basically shoving a lot of vets out of work because Congress can't do their job. It's a big problem."
"The only way to solve this problem is to restart the government," he added.
Still, veterans' advocates welcomed any attempt to aid veterans while the government remains shut down, although they all said a long-term strategy is needed.
American Legion Executive Director Peter Gaytan said his organization had been inundated with calls from veterans worried about the government shutdown and whether they'll receive their disability benefits or if their claims will be delayed. The Legion also put out a statement after Tuesday's failed vote in the House on funding the VA, saying Congress was "missing its chance to help America's veterans."
"Yes, as a citizen and veteran myself, our nation needs to be funded at the level that allow them to meet their obligations in every agency. But the American Legion is focused on America's veterans, and we want to make sure that they receive the benefits they've earned through the Department of Veterans Affairs," Gaytan said.
But Sherman Gillums, associate executive director of veterans' benefits for Paralyzed Veterans of America, said that in the end, both a continuing resolution for the VA and a continuing resolution for the entire government were bad options. Instead, he said Congress should put together an actual budget, rather than a stopgap measure.
"What's happened is, when we got into this sequestration period, it almost desensitized everyone to what in past times seemed like armageddon," Gillums said. "Now we've gotten used to sequestration. And then we'll get used to this shutdown and continuing resolution option as the best that we can hope for. And that's unacceptable. It's not a long-term solution."
Popular in the Community