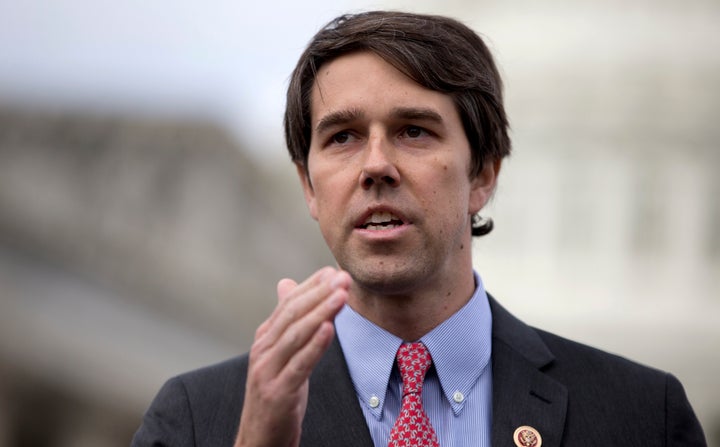 WASHINGTON -- Rep. Beto O'Rourke (D-Texas) wanted to see for himself how veterans in his district are faring with health care they receive through the Department of Veterans Affairs, so he tried something different: He funded a survey himself. A year later, he did it again.
More than 1,100 El Paso veterans participated in this year's study, which O'Rourke paid for with money from his congressional office's annual budget. The results were mostly disappointing. Veterans said they waited an average of 77 days to see a doctor, and 64 days to see a mental health provider. Worse, 34 percent said they weren't able to get an appointment with a mental health provider at all.
But one detail in particular caught O'Rourke by surprise: Eighty-two percent said they didn't care whether they got their health care through the VA or from within the community, as long as it was timely.
"That breaks with my assumption that veterans want their care in the VA," he told The Huffington Post. It turns out they really just "want to be seen somewhere."
The finding has forced O'Rourke to rethink his approach to veterans' health care. Democrats tend to resist calls to fund treatment outside the government system, worried it could lead to privatization of the VA, a longtime goal of conservatives who see the agency as the single-payer system of their nightmares.
The Texas Democrat clarified that he is "absolutely not" in favor of privatization, but said he has arrived at a "politically uncomfortable" conclusion. Despite the additional billions of dollars Congress has pumped into the system, along with a recent change in leadership, it may be time for veterans to start getting at least some of their care outside of the VA.
"I reached the conclusion that there must a be a fundamental problem with the structure and system at the VA," he said. "We can't just continue to spend more money on the same system moving in the same direction and expect a different result."
O'Rourke pointed specifically to the fact that it takes more than two months for many veterans to even get a mental health care appointment.
"It is possible to connect that denial of care to veteran suicides in El Paso," he said, noting that 22 veterans take their own lives every day in the U.S. "I know that number would be smaller if we had that capacity to see every veteran who had that mental health issue."
There's no easy solution, but O'Rourke says the data he's collected from his surveys is hugely helpful. Other members of Congress, he notes, have asked him how they can replicate his study in their districts. He responded by introducing the Ask Veterans Act, which would require the VA Secretary to pay for an independent third party to annually survey veterans on their access to care. The bill has bipartisan support and even cleared the House Veterans Affairs Committee last year. It hasn't moved in this Congress, though.
"It is not currently scheduled for markup, but that doesn't mean it won't be considered eventually," said a committee aide.
For now, O'Rourke is still mulling ideas for how to get veterans the care they need from sources other than the VA.
"What we should be looking for is a solution … that capitalizes on more of the community capacity that's there," he said.
Popular in the Community