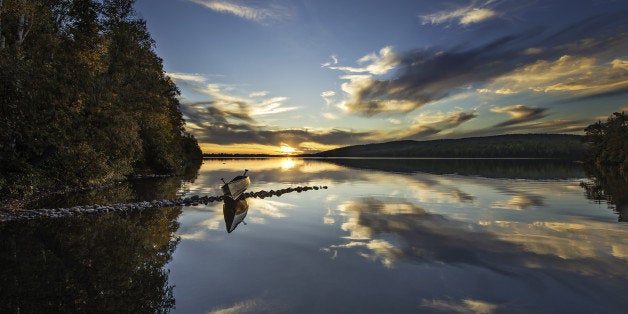 Minnesota's Boundary Waters Canoe Area Wilderness is America's most visited wilderness area. It encompasses 1.1 million acres of pristine water and unspoiled woodlands. Along with the Superior National Forest, it contains 20 percent of all the fresh water in the entire National Forest System. The accessibility of the wilderness for people of all ages abilities, along with world-class hunting and fishing opportunities, make the Boundary Waters a true jewel of America's public lands network.  
The Boundary Waters has come to mean a lot to many people, and it helps drive northeastern Minnesota's tourism economy, which generates $852 million in sales annually and supports 18,000 jobs. The Boundary Waters is where generations of children developed a lifelong love of nature that brings them back as adults. The pristine waters and unspoiled forests of the Boundary Waters provide critical habitat for wildlife, including several endangered and threatened species, such as the Canada lynx and moose.
To our military veterans, the Boundary Waters is a place where the land and country they fought for provides healing. No one better illustrates this than Erik Packard, an army veteran who served two tours in Iraq. After his last tour ended, Erik began suffering from PTSD and depression. It got to the point where he attempted suicide. After inpatient and out patient treatments at the VA, Erik left in his words "Not wanting to die, but not wanting to live either."
That is when Erik heard about Voyager Outward Bound School's (VOBS) program for veterans in the Boundary Waters. It was on a winter dogsledding trip with VOBS that the character that helped him get though two tours in Iraq was once again revealed. As he put it, "The poison that had infected my soul was taken out of me by the power of the wilderness. I then decided that if I was willing to die for my country, I now have to live for my family." Erik's story is not a unique; many veterans have found peace in the pristine waters water of the Boundary Waters, whether through programs such as VOBS or on their own.
Now the peace of the Boundary Waters is under threat.
Proposed sulfide-ore copper mining within the Boundary Waters' watershed is imminent. Mineral leases have been granted. Industrial mining proposals are underway. Already the noise of the exploratory activity of the mining interests is damaging the quiet serenity of the Wilderness. One instructor remarked that a summer trip for one veterans group was not peaceful due to industrial noise coming from an exploratory site. These veterans who fought for their country were not able to have the same peaceful experience because of the actions of foreign mining interests. Pollution from these mines will flow directly into the heart of the Boundary Waters. Even conservative models of pollution show that waterways would carry contaminants into the Wilderness. Even a single mine in this watershed would pollute the Wilderness for at least 500 years, but more than just one mine are proposed. The result would be an industrial corridor of mines, mills, roads, rail lines and toxic tailing piles at the edge of the Boundary Waters.
The risk of an environmental catastrophe is real. 
The mining industry has a long history of major infrastructure failures with catastrophic environmental impacts. Even state-of-the-art mines are at risk for this level of disaster. In August 2014, the Mount Polley copper and gold mine in British Columbia had a tailings dam breach that released 4.5 million cubic meters of toxic slurry into a lake and river system that was a priceless salmon spawning area. At about the same time, a mine in Mexico spilled 40,000 cubic meters of copper sulfate acid solution into two rivers, wiping out the water supply for a vast rural area that depended on the river water for domestic use and agriculture. Fish and wildlife were devastated, and the list of recent disasters goes on. Don't risk this incredible place of healing!
Calling all HuffPost superfans!
Sign up for membership to become a founding member and help shape HuffPost's next chapter