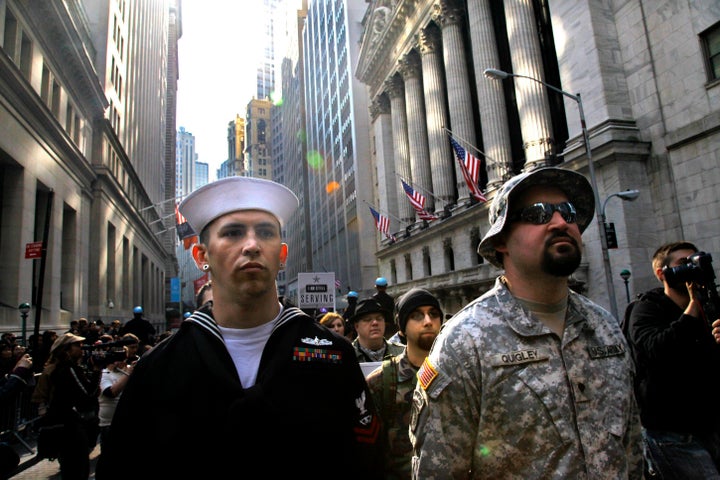 A potentially powerful new element joins Occupy Wall Street as military veterans in uniform took to the streets in New York, marching from Vietnam Veterans Plaza to Zuccotti Park Wednesday, enlisting the campaign to spotlight issues of social and economic injustice.
Veterans have "a unique opportunity to continue serving here at home through our participation in this civic movement for change,'' said Andrew Johnson, president of the New York City chapter of Iraq Veterans Against the War, which organized Wednesday's march.
Veterans could take an increasingly visible presence in OWS. Some 2.3 million Americans have served in Iraq and Afghanistan, and almost half a million veterans last year went to the Department of Veterans Affairs for health care.
Their grievances tend to be deep and personal as they face the challenges of coming home from war. The unemployment rate for veterans, at 12.4 percent, is due to climb as thousands of military personnel flood out of the ranks into an extremely competitive job market, with the Defense Department cutting back on manpower this year and in the years ahead.
Many Iraq and Afghan war veterans have come home with mental health issues, including post traumatic stress disorder and traumatic brain injury. While the VA is scrambling to provide therapy, counseling and employment support for these veterans, many veterans say such services are scarce and difficult to find.
Ruling on behalf of veterans, the 9th Circuit Court of Appeals last spring found the VA in violation of the constitutional rights of veterans by failing to provide efficient and effective care and benefits. The court said veterans experience "unchallengeable and interminable delays'' in service, in part because of what it said is the "VA's unchecked incompetence.'' The Justice Department is appealing the ruling.
Veterans' participation in OWS recalls the Bonus Army of 1932, when some 15,000 World War I veterans marched into Washington demanding the payment of bonuses that had been promised. Despite months of protest, Congress refused to authorize the payments and the U.S. Army charged with drawn bayonets and tear gas into the shantytown where veterans and their families had camped.