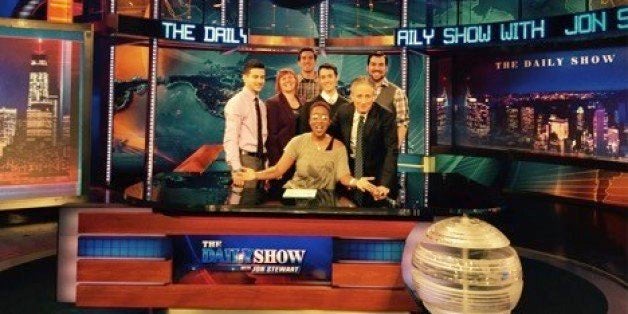 When Sgt. Sarah Serrano ended active duty with the U.S. Marines in 2009, she returned to Los Angeles to pursue her civilian dreams of acting and writing.
Serrano threw herself into networking, but as she told The Huffington Post, "One year and zero professional connections later, I realized why so many burn out quickly."
The military doesn't prepare veterans for an industry that trades in elbow-rubbing and name-dropping, while vets find themselves typecast -- as providers of security and law enforcement.
"I cannot tell you how many times police departments have tried to recruit me," Serrano said. "It can be anything from mall security guard to Border Patrol, it's hard to get employers to see outside the uniform."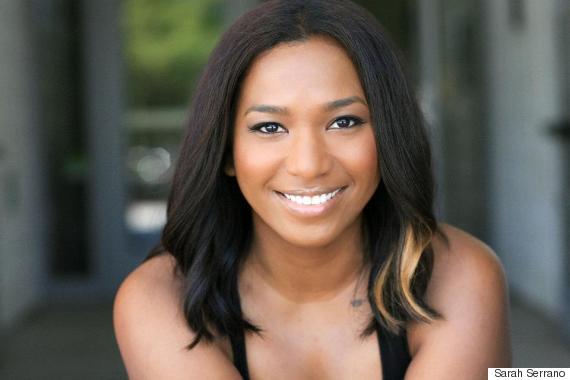 Veteran Sarah Serrano is a model, actress and writer who works with Veterans in Film and Television. (Photo courtesy of Sarah Serrano)
What society doesn't see is the individual, Serrano observed. "We are usually seen as extreme cases of people in need of charity or acting with heroic valor, but there is so much more in-between."
Serrano now writes, acts and models in addition to working with the LA-based group Veterans in Film and Television. The VFT links veterans with film and TV opportunities -- and regularly sends members to specialized boot camps run by Jon Stewart and his crew at "The Daily Show" to help vets break into the business.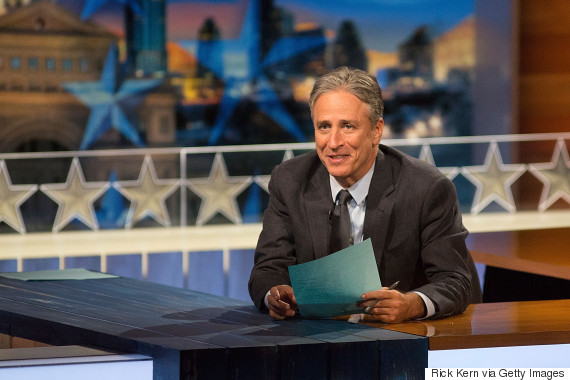 "Daily Show" host Jon Stewart is helping veterans break into showbiz. (Photo: Rick Kern/Getty Images for Comedy Central)
On Monday, The New York Times revealed that over the last few years, "The Daily Show" has been quietly running a program aimed at boosting veterans with film and television ambitions.
A request for Stewart to mentor a veteran sparked the idea for the Veteran Immersion Program, "Daily Show" senior coordinating producer Elise Terrell told The Huffington Post on Wednesday. Terrell and production manager Camille Hebert are the chief architects of the program and have been involved since its beginning in 2013.
"Jon came to Camille and myself because at the time we ran the internship program here," Terrell told HuffPost. "He wanted to create a program for veterans to expose them to some of the behind-the-scenes aspects of television production and the entertainment industry."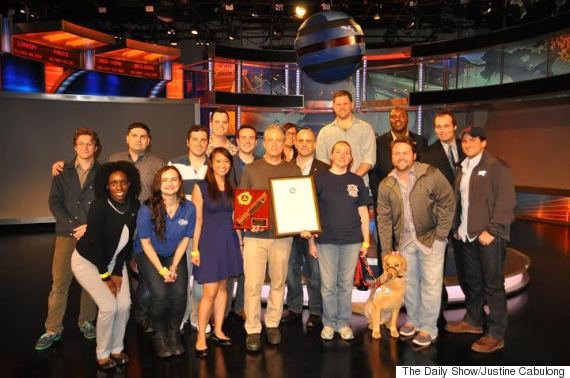 Jon Stewart in 2013 with the first class of participants from the Veteran Immersion Program. (Photo: The Daily Show/Justine Cabulong)
Each five-week session brings together 24 veterans who use the "Daily Show" studio as their classroom. Once they've spent a week immersed in every aspect of production, they meet with the specific department (writers, producers, etc.) they want to learn more about. The program, which runs nights to accommodate the vets' work schedules, ends with a career fair to help participants find opportunities in the film and TV business.
Several participants have gone on to land jobs with "The Daily Show," "The Tonight Show" and NBC, according to Terrell.
Early on, there had been some concern about a potential culture clash between the "Daily Show" staff and the veterans, she said, but that quickly melted away. Now the program produces close bonds and gratitude on both sides.
Terrell recalls the first year of the program: "The veterans made us these dog tags and commemorative military medals and gave us the tags with our names on them. ... It felt so ridiculous because we couldn't thank them enough. This whole program has been trying to thank them for their service. it was this mutual thank fest."
She remembers one veteran saying at the end of the course, "I got out of the military, I didn't know what I wanted to do. I felt totally lost. After six weeks, I know what I want to do and I don't feel lost anymore."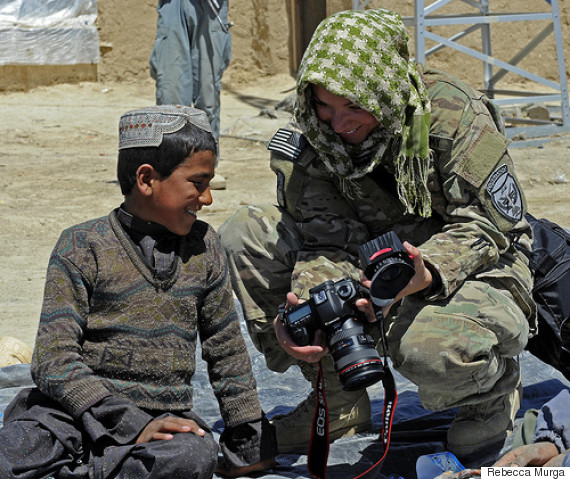 Veteran Rebecca Murga is now a writer and filmmaker. (Photo courtesy of Rebecca Murga)
One veteran who has moved into the entertainment industry is writer-director Rebecca Murga. Once she served several tours in Iraq, Afghanistan, Kuwait and Qatar as a public affairs officer following 9/11, and she is still a captain in the Army Reserve. She told HuffPost that vets with Hollywood dreams need to figure out the art and craft of filmmaking and the entertainment business itself.
"Unfortunately the military doesn't teach you any of those things," Murga said.
But what people do learn in the military -- how to be resourceful, lead others and never quit -- can be put to use in any industry. "Being a good film director is being a good leader, and leadership is a characteristic I developed in the Army," said Murga.
Indeed, Terrell and her "Daily Show" colleagues are hoping that other industries where veterans aren't commonly found reach out to them as well.
"The formula can really be applied to any sector: the medical industry, the financial sector," Terrell said. "There's always a way to apply this program to any kind of workplace. It's easier than it sounds. It's rewarding both on personal levels and on professional levels, and the veterans that have been hired on shows have contributed tenfold."
In the New York Times article, Stewart said his show's idea "is ready to franchise," and he encouraged copycats.
"It isn't charity," he said. "To be good in this business you have to bring in different voices from different places, and we have this wealth of experience that just wasn't being tapped."
Serrano noted that veterans also offer great diversity -- something that many industries could use more of.
"Veterans' voices are so diverse because we are drawn from all segments across America to serve," she said. "Less than one percent of Americans serve in the military, but that one percent is richly diverse." She added that veterans "have stories that the average American doesn't."
One other benefit of military training: workplace tidiness.
"They clean up after themselves," Terrell said of the veterans. "On the late nights that they're here, we order pizza for them and they always stay and help us clean up."
Calling all HuffPost superfans!
Sign up for membership to become a founding member and help shape HuffPost's next chapter
BEFORE YOU GO
PHOTO GALLERY
Honoring our veterans