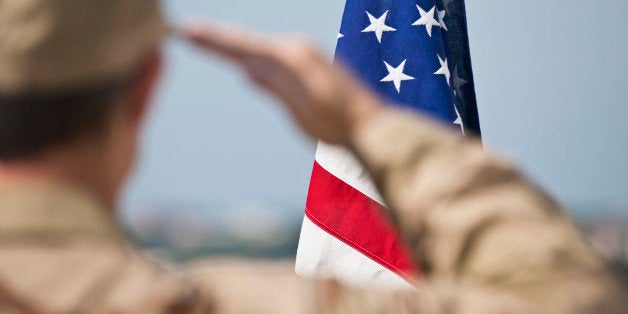 A good friend of mine is a death penalty mitigation specialist. She helps exonerate indigent people who have been wrongly convicted of capital crimes. As an opponent of capital punishment, I am constantly inspired by her work. It often forces me to contemplate the way this country talks about the death penalty.
Additionally, I happen to be an Army veteran, who has been working for the past decade to improve the public perception of veterans. So, I was doubly interested when I saw a headline in The New Yorker that asked "Why Are So Many Veterans on Death Row?"
The November 10 piece by Jeffrey Toobin cited the Death Penalty Information Center's recent report that "at least 10% of the current death row -- that is, over 300 inmates -- are military veterans."
The author noted, "In a nation where roughly seven per cent of the population have served in the military, this number alone indicates disproportionate representation. But in a nation where military service has traditionally been seen as a route into the middle class -- and where being a vet has been seen as more of a benefit than a burden -- the military numbers are especially disturbing."
I took pause at Toobin's assessment that the proportion of veterans facing capital punishment had any bearing on the economic mobility of the average law-abiding veteran. I was further shocked at his assertion that a group he named "veteran killers" will, according to him, "very often lash out at those around them." That seems like a large assumption made from a small sample size.
He continued, "Earlier generations of veterans came home from war to ticker-tape parades, a generous G.I. Bill, and a growing economy that offered them a chance at upward mobility. Younger veterans returned to P.T.S.D., a relatively stagnant economy, especially in rural and semi-rural areas, and an epidemic of drug abuse."
Toobin's implication that young veterans are afflicted with PTSD and abuse drugs and are therefore more likely to commit crimes worthy of capital punishment put me staunchly on the defensive. Many recent reports and studies--some of which I have helped to produce or publish--have consistently demonstrated that veterans are more employed than their civilian counterparts, as well as more likely to vote, volunteer, and help their neighbors. Essentially, veterans tend to be good citizens. So, how could they also be disproportionately overrepresented on death row?
As I dug into the numbers, I realized that Toobin was right about one thing. The number of veterans on death row is disproportionate to their presence in the general population -- but the fact is that veterans are underrepresented on death row. That seemed more like it.
The math isn't difficult; I simply applied basic tenants of statistical analysis. Toobin compared veterans in the general population (6.9-percent) to veterans on death row (10-percent). By doing this, he is assuming that the base comparison sets--the general population and the death row population--are relatively similar. That's where he went wrong.
No one under the age of 18 is on death row. (The US may be one of the only developed countries that systematically executes our criminals, but at least we don't extend our barbaric practice to children.) Likewise, by definition, all veterans are at least 18 years of age. However, children under 18 make up nearly a quarter of the US population. Therefore, to make a fair comparison of veteran proportionality, one must exclude children from the general population.
Similarly, gender is a significant differentiator. While the general population is split relatively evenly between men and women, the death row population is not. According to DPIC, 98-percent of death row inmates are males. Meanwhile, according to the Department of Veterans Affairs, more than 90 percent of living US veterans are males.
It becomes abundantly clear that to compare apples to apples, we should compare the proportion of veterans on death row to the proportion of veterans in the US adult male population.
With appropriate controls for age and gender, the story changes completely. Over 16 percent of US adult males are veterans, compared to 10 percent on death row. To put it another way, approximately one in 41,000 US adult males are on death row; about one in 67,000 US male veterans are on death row.
Male veterans are significantly less likely to be on death row compared to all US males. And because such a small number of death row inmates are women, this conclusion stands for all veterans. Thus, an appropriate statistical examination demands an entirely different question: "Why Are So Few Veterans on Death Row?"
Along with rethinking the headline, Mr. Toobin and the editors at The New Yorker may also want to consider why they took so little care with the statistics and what negative effects they have inflicted on the perception of all veterans in our country today.
Chris Marvin is a retired Army officer, a former Black Hawk helicopter pilot, and a combat-wounded veteran of the war in Afghanistan. He is the principal for Marvin Strategies. He is also a fellow with the Truman National Security Project.
REAL LIFE. REAL NEWS. REAL VOICES.
Help us tell more of the stories that matter from voices that too often remain unheard.