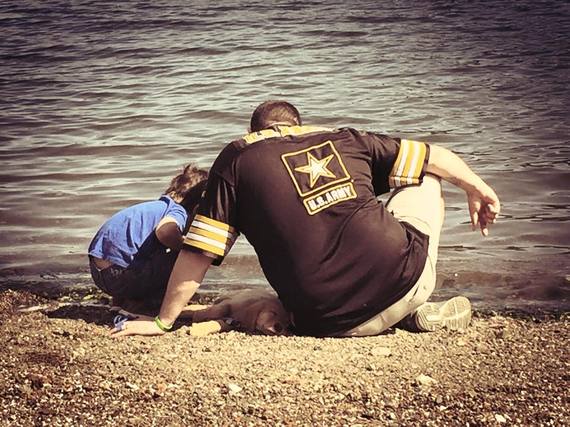 When my brother sat me down, not more than a few weeks after he graduated from high school, and told me he was joining the Marine Corps as an infantryman, I was scared. The United States was actively involved in two wars, so combat deployment was imminent. While I feared he would come home in a box draped with our nation's flag, I equally feared him coming home broken -- a shell of his former self incapable of rejoining civilian life with the same vivacious spirit and infectious tenacity that made him who he was. I had seen enough TV shows and blockbuster movies to have an idea of what PTSD looked like and I didn't want that for him.
I still don't want that for him.
So, when I was invited to Islandwood, a 225-acre compound and subsequent outdoor classroom, to attend the National Military Family Association's Operation Purple Healing Adventures, I jumped at the chance. I wanted to give back to our servicemen and women any way that I could, even if it was by simply listening or observing. I also, honestly, wanted to better understand what plagues so many of our returning veterans and, yet, what we seem so hesitant to address -- publicly or otherwise. I wanted to educate myself in case, one day, my brother ends up experiencing something similar.
Walking down the beautifully groomed path toward my cabin, I felt surprisingly nervous. Regardless of my personal attachment to the military, I knew my idea of wounded or emotionally traumatized veterans was narrow at best. I envisioned encountering shaken, broken men and women with undeniable drinking problems and the ability to "snap" at any second. I imagined exhausted caregivers who sigh more than they smile and quiet children, afraid to do anything that would upset the dad who came home or the mom who has been stretched too thin.
Instead, I met a father, his pregnant wife and their adorable 5-year-old daughter. He was in the Air Force and is now paralyzed from the waist down. Fitted with what can only be described as an electric wheelchair-turned-dune buggy, he was smiling and laughing and calling his energetic service dog back to his side every-so-often. His wife was taking pictures of their daughter and rubbing her baby bump, relaxed and content and at ease.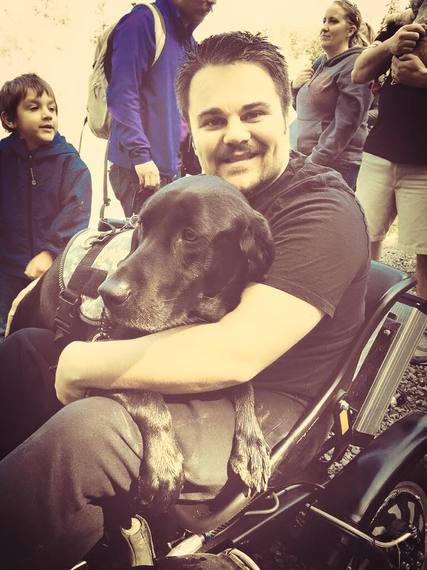 This family, and the 14 others who were in attendance, were half way through their daily activities. Each group spent time with an Islandwood counselor, completing family-focused tasks that include outdoor exploration and are designed to foster togetherness and growth. We were able to climb an observation tower and survey miles of beautiful Pacific Northwest Scenery, walk a gorgeous suspension bridge, navigate the tight rope walk and take part in geocaching. We learned about indigenous wildlife and laughed at silly-looking slugs and I watched families enjoying one another without the every day stresses that could trigger mental or emotional hardships.
And instead of the outbursts Hollywood had left me cautiously prepared for, I watched as a wounded veteran discreetly pulled aside a Family Over-Coming Under Stress (FOCUS) Resilience Trainer. In the middle of an activity he talked with her; quiet and reserved as tears seemed to slowly and methodically crawl down his face with a prideful purpose. I was impressed as I watched the trainer sincerely listen, nodding her head to signal that she understood and interjecting very rarely.
It was in that seemingly simple moment that I realized: The aftermath of war doesn't just come and go with great bursts of emotion. It is always there, underneath the surface like a thin layer of skin, constantly present and in need of regular attention. With the right training and tools and support, it is as manageable as any other obstacle daily life throws our way.
Society seems to want to type-cast veterans. A mother shared that her oldest child's friends are not allowed to come over to their house because her husband has a well-known PTSD diagnosis and their parents are afraid he'll "snap." We thank them publicly and declare holidays in their honor, yet we refuse to try to understand their needs and, therefore, perpetuate a never-ending cycle of fear and stigma. We express our gratitude from a distance, leaving them feeling as broken as we believe them to be. They wonder why we're making them feel so different and we wonder why they're acting so different.
I'm embarrassed to admit that, even as a member of a military family, I woke up that morning perpetuating that very stereotype.
Thankfully, I learned in one gorgeous afternoon that these wounded veterans and their families are not broken. They are not shells of their former selves and they are not worthy of my fear or trepidation. Yes, extreme situations do arise but, for the most part, they are families who are ready to build a new normal they can flourish in. They're families who live with wounds that are not always visible but are definitely manageable. We don't always see the mother with three kids who's learning how to readjust or the military child who's adapting to having two parents home, instead of one. We don't notice the small communities that band together by understanding one another and being patient with one another and laughing with one another; despite loss of limbs or life or mental health.
I'm still afraid my brother won't come home and, yes, I'm still afraid that when he does come home he will experience Post Traumatic Stress Disorder or a Traumatic Brain Injury. However, thanks to programs like the National Military Family Association's Operation Purple Healing Adventures, I have new faith in his and his family's ability to endure. I know that his spouse will be supported as a caregiver, he can always continue to be a happy parent playing with his children and my nieces can still be kids, making life long memories with their parents.
And I'm hopeful that the stigma of PTSD and mental illness can end, one humble and educational experience at a time.