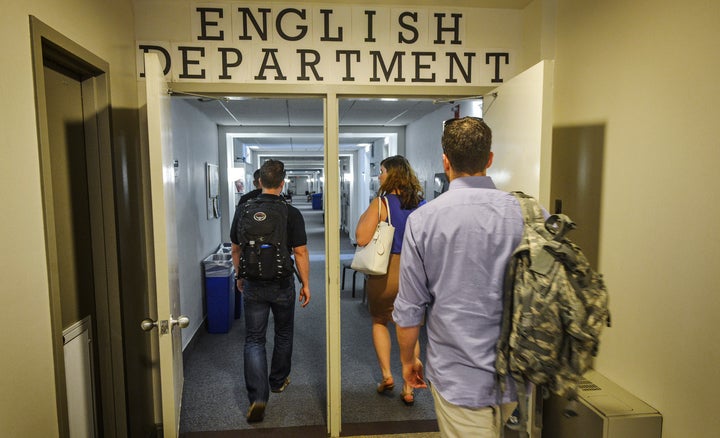 A new scholarship fund is going to make it easier for U.S. veterans to fund their higher education. 
"It's our hope that our gift will allow for a more seamless adjustment, financially, where veterans can re-enter academic life in order to best access a broad range of careers," said Bruce Richards, a global hedge fund manager.
The scholarship fund, which is running on the crowdfunding website CrowdRise, will raise money until Veterans Day 2016 to provide veterans with the funds for college tuition and room and board, as well as other necessary living expenses. The couple has pledged to match up to $1 million of the donations from the general public. 
Scholarship awards will be based on financial need, with priority given to students eligible for federal Pell Grants. Veterans awarded the annual scholarship will have the opportunity to renew it each year, based on their standing with their colleges.
While the Post-9/11 G.I. Bill provides some funds for veterans to achieve higher education degrees, the Richardses said they want to add to the bill's service and provide further opportunity for those who need it.  
The majority of veterans on college campuses are considered "non-traditional," according to the National Conference of State Legislatures, because they are older, did not enter college directly after high school or have families who are dependent on them. 
"A lot of them have the financial needs that your typical college student doesn't have," said Avis Richards, who is the founder and chief executive officer of the Birds Nest Foundation, a company that provides digital media for nonprofits. 
"A lot of times, the financial burden is just too great so they end up dropping out," she added. "This scholarship, we hope, will fill that gap." 
College education has long been viewed as a necessary benefit for U.S. veterans. The White House announced new reforms to veterans education policy Wednesday, further underscoring the importance of this issue. Under these new reforms, the White House said, all recent veterans and their families will be offered in-state tuition rates for public colleges and universities throughout the country. 
The G.I. Bill's funds, for which veterans are eligible up to 15 years after active duty, does not cover out-of-state tuition rates.  
Avis Richards said she hoped "within this next year that the American public joins us, and we're able to match that million dollars, and maybe even make more money and bring this cause to the forefront."
Separate from this fund, the Richardses said they will make another donation of $1 million to the University of Maryland this month to provide more scholarships for veterans.  
"This is our way of saying thank you," Bruce Richards said.
REAL LIFE. REAL NEWS. REAL VOICES.
Help us tell more of the stories that matter from voices that too often remain unheard.