Organizers of the Million Veterans March sought to distance themselves from the "political agenda" promoted at Sunday's protests at the World War II Memorial in Washington, D.C., criticizing tea party activists for taking over the demonstration.
"The political agenda put forth by a local organizer in Washington DC [sic] yesterday was not in alignment with our message. We feel disheartened that some would seek to hijack the narrative for political gain," the group wrote on its Facebook page Monday morning. "The core principle was and remains about all Americans honoring Veterans in a peaceful and apolitical manner. Our love for and our dedication to remains with Veterans, regardless of party affiliation or political leanings."
On Sunday, hordes of demonstrators converged on Washington, protesting the closure of memorials and national parks due to the partial government shutdown. According to news reports, Sunday's event was much more political than previous demonstrations at the memorial. A number of conservative politicians spoke at the event, including former Alaska Governor Sarah Palin (R) and Sen. Ted Cruz (R-Texas).
"Our vets have proven that they have not been timid, so we will not be timid in calling out any who would use our military, our vets, as pawns in a political game," Palin told the crowd.
Many attendees held tea party-supporting signs, and at least one Confederate flag could be seen in the crowd. At one point in the day, some protesters took barricades from the memorial and brought them to the White House gates in apparent protest of President Barack Obama.
One tea party demonstrator, Freedom Watch's Larry Klayman, had particularly strong words for Obama, claiming the U.S. is "ruled by a president who bows down to Allah."
"I call upon all of you to wage a second American nonviolent revolution, to use civil disobedience, and to demand that this president leave town, to get up, to put the Quran down, to get up off his knees, and to figuratively come up with his hands out," he said.
Before You Go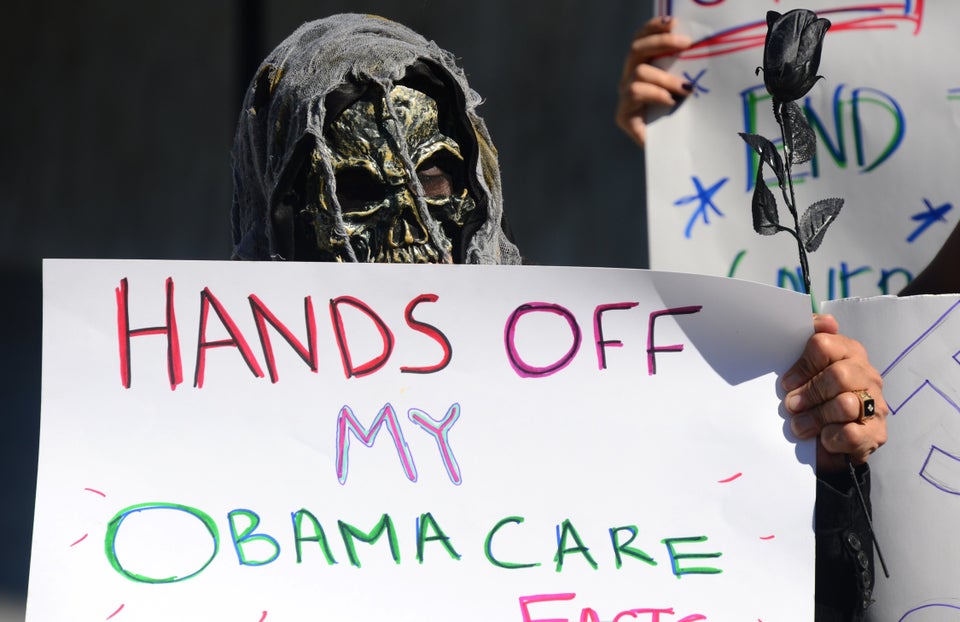 2013 Government Shutdown Protests
Popular in the Community