I could not imagine the words "yoga" and "military" used in the same sentence when I first began studying yoga 17 years ago at the Omega Institute. The world of yoga, with its grounding in nonviolence, and that of the military, with is call to violent action if necessary, seemed to me to be polar opposites.
Slowly, yoga is being accepted as an effective complementary therapy for mental health issues including PTSD. Many returning service members experiencing symptoms of combat stress such as nightmares, chronic physical pain, hyper-vigilance, sleeplessness, difficulty in controlling anger, and problems in personal relationships say they feel somehow disconnected from themselves, from their loved ones and from life as a whole. You see that look on the faces of veterans when they first hear about yoga class as part of a treatment program for PTSD, the one that says, "you've got to be kidding." But often another veteran will jump in: "I know what you're thinking, and I felt the same way. It took me a while to even give it a chance, but you know, it really helps me."
One area where I see yoga can be very helpful is in helping to prevent the effects of PTSD itself. My humble daily practice while under daily fire in Iraq helped to keep me centered and able to detach from the traumatic events happening all around me. I honestly believe that yoga could have helped to prevent the American NCO from shooting all those villagers in Afghanistan a few weeks ago...and truly want to help see if we can help to prevent such things from happening again in the future. -- Chris, Iraq Veteran
Are there enough yoga teachers and therapists to complement the work of other health professionals addressing the growing health crisis those now face who have served our nation in Iraq and Afghanistan, and even Vietnam? That crisis is here, now:
• Active duty suicides reached epidemic levels in 2010 with one active duty service member committing suicide every 36 hours. Our veterans are killing themselves at twice the rate of other Americans.
• There are approximately 214,000 women serving in the military today, with more entering military service every year. In addition to the combat experiences that their male counterparts have to cope with, female veterans suffer from significantly higher rates of Military Sexual Trauma and have suicide rates that are up to three times higher than the rates of civilian women. In addition, the impact of these problems has a cascading effect on each of the 8-10 family members directly related to each service member and veteran.
Yoga is being offered in some VA medical centers to help address unmet mental health needs. In fact, a recent study found that nearly 30 percent of Specialized PTSD Treatment Programs offer yoga as a treatment option. But is this enough? Are we moving fast enough? Veterans and active duty military personnel who practice yoga regularly report reduced anxiety and depression, improved sleep and concentration, a greater ability to focus on the positive, support in addiction recovery, pain relief, and increased ability to deal with the mental and emotional strain of combat.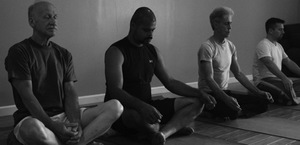 There is a growing community of yoga therapists and studios wanting to give back to veterans the gifts that they have received from the practice and teaching of yoga. Want to teach yoga effectively and safely in military settings, or offer free classes to veterans?
• The Veterans Yoga Project, http://www.veteransyogaproject.org/, offers yoga as a therapeutic practice for veterans coping with PTSD and other trauma-related psychological problems and training for yoga instructors wishing to serve veterans. The focus is on practices that are breath- and sensation-oriented, inviting veterans to come back into their bodies in a safe, predictable, and controllable manner.
• Warriors at Ease offers training and certification for yoga and meditation teachers (and other professional mind/body instructors/practitioners). The training includes cultural sensitivity skills critical to a teacher's success and effectiveness and steps to navigate the military healthcare systems. Check out www.warriorsatease.com for more information and resources.
• More than 300 gyms and yoga studios nationwide are participating in the YogaForVets.org program so far. Founded by Paul Zipes, a former Navy deep sea diver who started doing yoga in 1995 on a dare from his wife, this grassroots initiative's goal is "to make sure that someday all war vets return and receive our welcome home gesture of providing 4 free yoga classes where they live." Sign up to offer veterans four free classes at www.yogaforvets.org.
For more by Rob Schware, click here.
For more on yoga, click here.