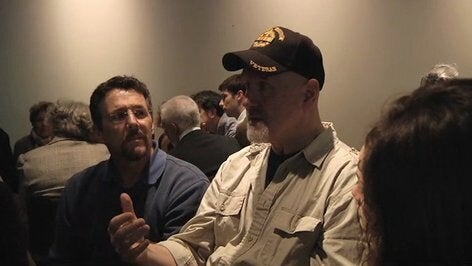 War doesn't only touch the lives of those on the front lines -- it extends to all of us, whether we're conscious of it or not. That's what the Veteran-Civilian Dialogue aims to highlight by bringing together members of the two groups, which can often seem polarized, for the purpose of healing.
According to Larry Winters, a Vietnam veteran and dialogue co-host, veterans and civilians must work together to unlock their respective healing processes. In effect, the two groups need to be in conversation. And many veterans say they need greater help reintegrating into civilian life.

Intersections International, a New York-based NGO dedicated to reconciliation and peace across the boundaries that divide humanity, held the most recent such dialogue on Friday, April 1.
Those in attendance -– from veterans suffering from addiction and post-traumatic stress to civilians who had never met a veteran before -– were asked to create a sacred space in which to explore their most deeply held beliefs about the other group and break the silence that leads to misunderstanding and separation.
Video by Damon Scheleur and Alana B. Elias Kornfeld
Popular in the Community