The American Veterinary Medical Association, a professional association that represents most of the country's animal doctors, apologized last week for posting a salary calculator that assumed female vets would make $2,400 less than their male counterparts in their first job out of school.
The group clarified that, of course, it doesn't believe that men should make more than women, but was merely trying to give students an accurate picture of what to expect in the job market.
"You should be upset over the gender disparity in starting salaries, just as we at the AVMA are upset by it. Unfortunately, it's a reality, and one we have reported on in the past, just never in calculator format," the group said in a lengthy statement. "The AVMA actively encourages students who use this calculator to run a few scenarios and then utilize all the information gained to strategically advocate for themselves during salary negotiations."
The pay disparity is particularly galling, considering that a majority of veterinarians -- 58 percent -- are women, according to the association's own data. Indeed, about 80 percent of the students enrolled in veterinary school are women.
Intended to help veterinary students hone their career choices, the association's calculator was devised by four economists -- two of them women -- using statistics from the organization's salary surveys dating back 10 years. Their calculations consider, among other things, whether you will specialize in pets versus "food animals," or if you'll work for the government or private industry. (The group said that race and ethnicity did not statistically affect pay, according to its data, but age did.) The calculator also considers where the vet would be practicing -- as pay goes up in bigger urban centers.
These are all rather run-of-the-mill factors that would raise or lower a new doctor's pay, according to the data.
Gender unfortunately also plays a role in how much veterinarians make, the organization's CEO, Ron DeHaven, told The Huffington Post. "We think it's totally unfair," he said. "On average women makes $2,400 less in starting salary than men."
Still, when students used the calculator it was hard to tell whether or not the group was endorsing the pay gap.
The reaction was pretty hostile. In response to a Facebook post about the calculator, commenters were bewildered and angry.
"This took us by surprise," DeHaven said.
DeHaven said the group initially unveiled the calculator at a student symposium, where they could explain its context. "We're not advocating women should accept less, we're saying historically that's what happened," he said. "When we presented it, the [crowd] thought it was great."
The group has since updated the calculator with an explanatory box offering more context. "Knowledge is power," the box says, in part.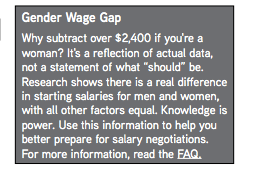 Like pretty much all women in nearly all professions, veterinarians face a pay gap throughout their careers.
Female vets in private practice had a median income of $88,000 in 2011, according to a report the AVMA released in 2013. Men had a median income of $112,000. It may be that women who run their own practices are working fewer hours, or taking more time with each animal, the authors of a piece on the veterinary pay gap speculate in an article in the Journal of the American Veterinary Medical Association. Gender bias also plays a role, the authors said. And finally, more older vets are male and are the ones pulling in more money.
Women outside of private practice (working for government or companies) made $112,000 compared to $136,000 for men.
Veterinarians also face some unique challenges -- the cost of going to veterinary school is as high as medical school, but animal doctors don't make the same kind of money as human doctors. The average starting salary for a vet is about $70,000 a year, DeHaven said. But the average student graduates with about $140,000 in debt.
The idea that if women know about the gender gap, they could negotiate their way out of it, seems fairly dubious. First, there's evidence that women do negotiate just as much as men. Second, studies have also shown that women who push for higher pay are not often perceived as well as their male counterparts. Third, a high percentage of veterinarians work in private practice -- i.e., for themselves.
DeHaven emphasized that the calculator was also meant to draw employers' attention to the issue.
There are myriad complex reasons for the gender pay gap -- a supposed difference in negotiating tactics is just one factor. Women also may choose lower paying jobs or work reduced hours in order to carve out more time for themselves at home. Also jobs that attract more women tend to pay less well.
DeHaven didn't offer reasons for the pay gap in his field. "I hesitate to speculate why."