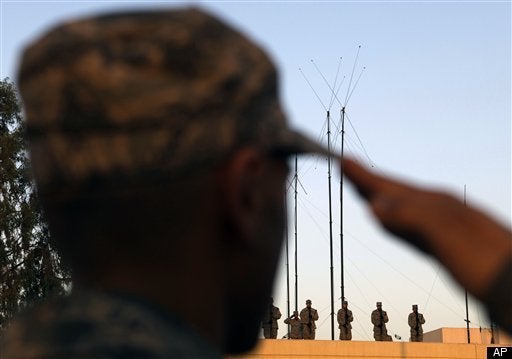 WASHINGTON -- Veterans returning from the wars in Iraq and Afghanistan have been enrolling in for-profit colleges at substantially higher rates during the past two years, raising questions about the degree to which such institutions are seeking higher enrollment rates at the expense of true educational opportunities.

A report released today by the Senate's Health, Education, Labor and Pensions Committee, which has been examining aggressive recruitment practices and high student loan default rates in the burgeoning for-profit education industry over the past several months, shows the share of their revenue coming from veterans has increased fivefold from 2008 to 2010.

For-profit colleges have been one of the primary beneficiaries of the Great Recession, with many institutions capturing anywhere from 85 to 90 percent of their revenues from federal financial aid dollars. But veterans present a particularly attractive opportunity to boost enrollment, because their generous benefits through the GI bill and other programs are not counted as federal financial aid dollars -- a point singled out in the Senate report.

Under a rule in place since the early 1990s, for-profit institutions are required to have at least 10 percent of their revenues coming from sources other than federal financial aid -- a provision to prevent such colleges from relying solely on federal aid to make profits.

But the veterans' tuition benefits from the GI bill and the Department of Defense are not counted as federal financial aid dollars, because they are not technically student loans or Pell Grants governed by the Higher Education Act.

"Enrolling veterans and service members allows for-profit schools to expand the number of non-military students that they enroll," says the report, released today by the Senate HELP Committee Chairman Tom Harkin, (D-Iowa). "Not only does the failure to count military educational benefits as federal financial aid subvert the intent of a regulation ... it actually incentivizes these companies to aggressively recruit and market to veterans and service members."

Numerous corporations that own for-profit universities have hired staff exclusively dedicated to recruiting veterans, in an attempt to capture a reliable stream of revenue through the Department of Veterans Affairs. Television stations such as the Military Channel are filled with advertisements promising lucrative career opportunities.

The significant growth in revenues that for-profit colleges receive from military benefits -- which jumped from $108.2 million in 2008 to approximately $521 million in 2010, according to the committee report -- comes after Congress provided a generous increase in educational benefits offered to service members through a 2008 GI bill.

Supporters of the for-profit education industry argue that their schools offer access to traditionally underserved populations, including low-income students and -- in this case -- veterans returning from active duty overseas.

Harris Miller, chief executive and president of the Association of Private Sector Colleges and Universities, which represents the for-profit sector, said the report discounts veterans' ability to choose for themselves what type of college they would like to attend."
"They were mature enough to lay down their lives for their country. Shall we say they're not mature enough to decide which educational institution is best for them?" Miller said. "I think they're looking at this from the wrong end of the telescope. We have a major crisis in this country in higher education, namely not enough people going into higher education."
He also pointed out that many veterans and active-duty military choose for-profit institutions because they offer a more convenient option for generally older students.
"Clearly a lot are choosing to go to our schools because we offer a program tailored to working adults, who often have a family already and already have a job, whereas traditional schools don't operate that way," Miller said.

Today's Senate report is the most comprehensive analysis to date of how money from the 2008 GI bill, known as the "Post-9/11 GI Bill," is being distributed in the educational marketplace. Advocates for veterans question whether service members are being enticed by exaggerated recruitment messages that could ultimately lead to few employment opportunities after graduation.

"When I look at it, it's a large pot of money readily available at the disposal of these institutions, with little accountability," said Donald Overton, executive director of Veterans of Modern Warfare, a veterans support group. "Ultimately, are we enhancing the bottom lines of the for-profits instead of enhancing the viability of the returning service members, and their ability to transition successfully into the job market?"

One of the primary criticisms leveled at for-profit colleges is the high turnover rate of its students. A previous Senate committee report, issued in September, found that out of 16 for-profit schools analyzed between July 2008 and June 2009, 57 percent of students had withdrawn within a year.
Students enrolled in for-profit colleges represent about 10 percent of college students in the nation, but the sector received nearly 23 percent of all higher education loan and grant money in the 2008-09 school year.

Although returning veterans would not be subject to the same student loan debt as other students, because of the GI benefits, the report raises questions about whether sending more federal dollars to such institutions is a prudent investment.

"While it is possible that service members and veterans have somewhat better records of remaining in these schools, it nonetheless raises serious questions about whether directing such a large portion of the new investment in service members' and veterans' education to for-profit schools with questionable outcomes achieves the success sought for our active duty military and veterans," the report notes.
Roger Betancourt was among the first soldiers to parachute into Iraq in March 2003, with the U.S. Army's 173rd Airborne Brigade. He finished his service in 2004, worked several odd jobs around Laredo, Texas, and by early 2009 he was looking to improve his options by taking advantage of his GI Bill benefits.

In July 2009, he enrolled at Kaplan University online, after being recruited heavily by an academic advisor specializing in military recruitment. Betancourt said he was skeptical at first, especially because he hadn't been able to discuss the funding with the Department of Veterans Affairs.

"It was a very aggressive process," said Betancourt, now 28. "I felt a lot of pressure, to the point where I felt like I was buying a car. Like they were trying to sell me a Mustang and I just wanted to buy a truck."

After the recruiter called his wife, Betancourt said he eventually decided to enroll, trusting the recruiter's word that all VA issues had been resolved. Less than two months later, he heard from the VA that his paperwork was not in order. He was not yet eligible for the benefits, and he had $2,300 in outstanding charges from Kaplan.

Unable to pay off the bill, he was locked out of classes and is now working two jobs to get the charges off his credit report.

U.S. Marine Corps veteran Will Sampson recounted a much different experience at ECPI College of Technology, a for-profit trade school he attended in Virginia Beach, Va. Sampson enrolled while still on active duty in the Marine Corps in early 2001, and he was able to get his associate's degree in IT network management within two years.

He parlayed that into a bachelor's and later a master's degree at an online, non-profit university - nearly all paid for through the Montgomery GI bill, the predecessor to this generation's Post-9/11 GI bill.

Sampson is currently the chief information officer and a senior vice president at ECB Bancorp Inc., a 24-branch bank in North Carolina.

"It's all about what you put into it," Sampson said. "Not to say that everybody who gets their education at a for-profit is going to have the same experience. In the corporate world, you've got to know how to play politics. And I will say the Marine Corps definitely taught me the chain of command."

The for-profit education industry has been under the microscope for months, following a scathing report from the Government Accountability Office in which undercover-camera footage showed recruiters engaging in aggressive, often deceptive techniques to enroll students. In addition, the Florida Attorney General's Office is conducting an investigation into unfair and deceptive practices involving financial aid and recruitment at The Washington Post Co.'s Kaplan subsidiary and four other for-profit colleges.
Calling all HuffPost superfans!
Sign up for membership to become a founding member and help shape HuffPost's next chapter