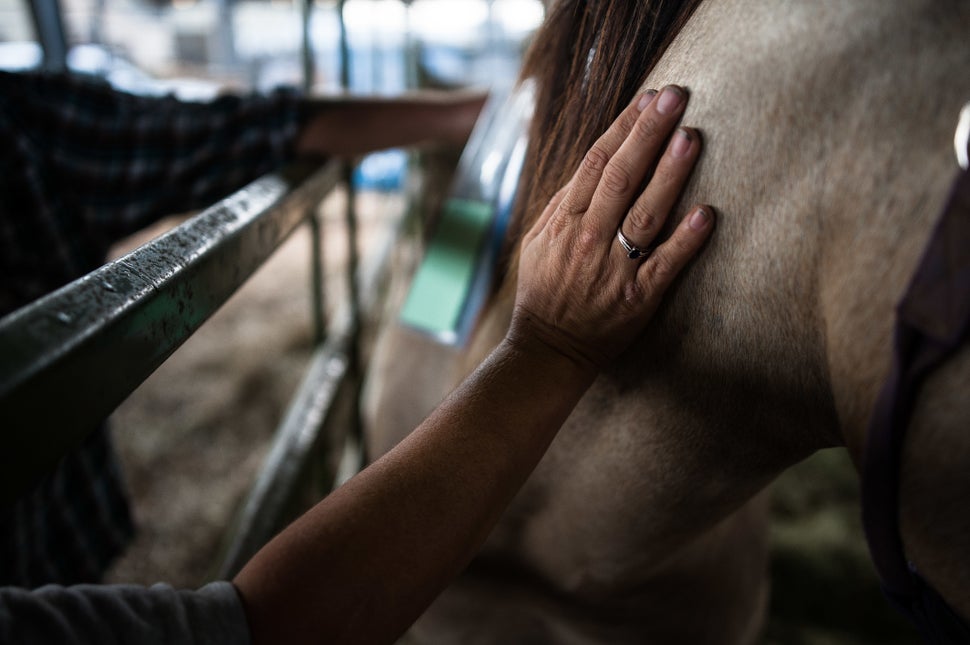 BEAUMONT, Texas ― Like many people at Ford Park, Dr. Nick Moore isn't sure exactly how he got here. He just knows why ― to save horses.
Over the past few days, he and other veterinarians, veterinary assistants and volunteers converged at this sports and entertainment complex built to host concerts, sporting events and fairs.
Since Hurricane Harvey hit Texas, Ford Park has become something quite different. It is currently a makeshift animal triage hospital, where Moore estimates 150 to 160 horses have been treated ― many ravaged by hypothermia, fever, respiratory infections and stress-induced colic.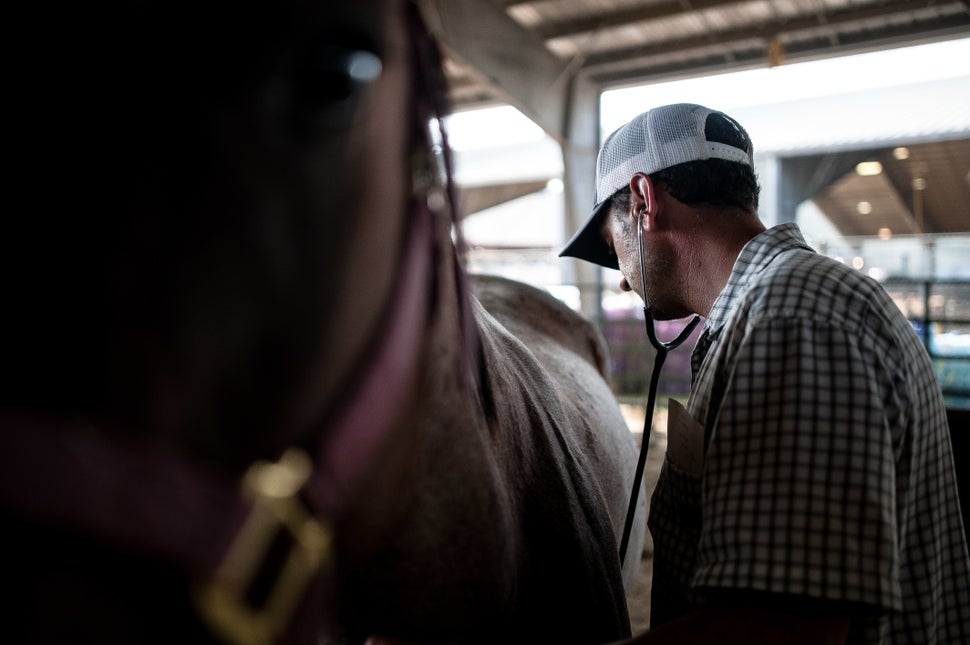 "A lot of these horses had to paddle in water or stand in water for anywhere from multiple hours to days," the Georgetown, Texas, vet told HuffPost on Sunday.
When owners started bringing animals here ― simply because Ford Park was one of the few places in the area that could accommodate them ― people who cared started showing up, without any formal organization.
"This is all volunteers," Moore said. "I ended up here by accident. There were people desperate for help."
"At first it was just chaos and we were short on supplies," he added. "And all of a sudden people started pouring in from everywhere. We had teenage girls that drove in from Kentucky, people from Florida, veterinarians from Wisconsin. ... And you can see the amount of the supplies that have been donated." 
It was hard to witness the shape some of the animals were in as they arrived. Many were emaciated, severely dehydrated and had skin conditions, after being stranded in dirty, toxic water.
"Their skin was literally falling off," Maggie Olthaus, a veterinary technician at Bella Vista Equine in Blacklick, Ohio, said of some of the horses she treated.
Like Moore, Olthaus found it hard to explain how she ended up in Ford Park.
"We came to work on Wednesday with a full schedule of our normal day planned out. Around 7 a.m. we all decided we needed to come and help out. We put the post out on Facebook on our page asking for donations so that we could start packing things and getting ready to leave, and the public outreach we received … it was so incredible."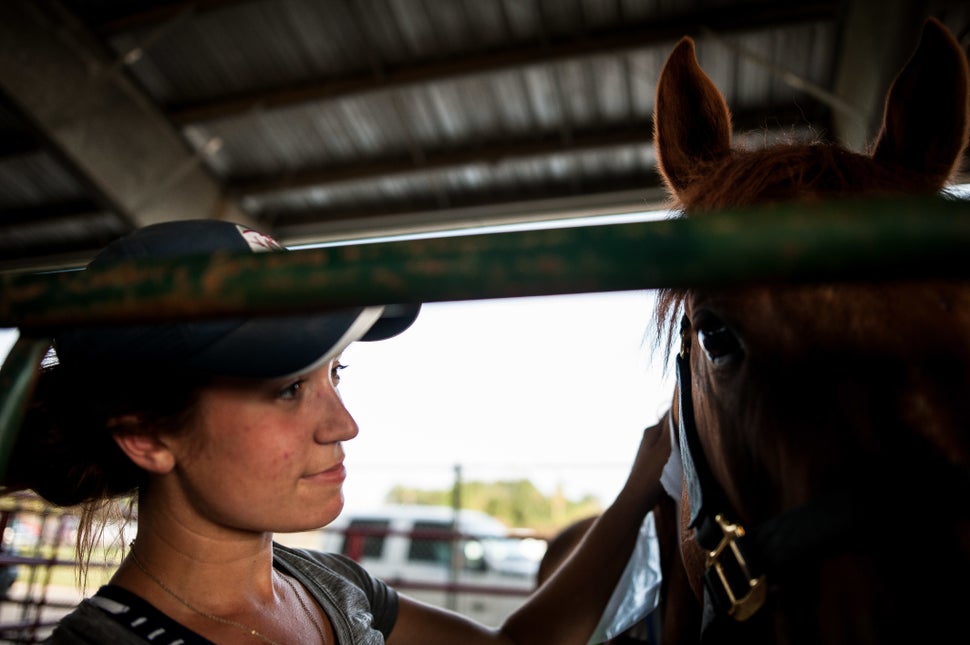 "We started out with two trailers filled with hay, $3,500 of donated medical supplies and equipment donated by MWI Veterinary Supply, a company we do business with," Olthaus said.
In the days since, she said, her group has raised more than $20,000. "We have multiple semis headed down here hauling hundreds of bales of hay and tons of grain," along with other supplies, she said. "Overnight, things have gotten very organized."
IV bags were still hanging from many of the remaining horses on Sunday afternoon. The ones that need more care are being stabilized, so they can be transferred to Texas A&M University and another large animal clinic for further treatment.
"Between all the vets that showed up, all the volunteers, and all the supplies, we basically saved 150, 160 horses," Moore said. "We only lost four horses, which is pretty much miraculous considering the shape they were coming in."
Harley, a 7-year-old quarterhorse, is among those heading to Texas A&M, where she will be treated for a fever and possibly pneumonia.
"I got her at 8 months. She is my baby," said Jamie Sander, a 33-year-old woman who was born in Austin and now lives in Colorado.
Haley was one of three horses that Jamie and her sister, Cristina Coots, were planning to take to Colorado.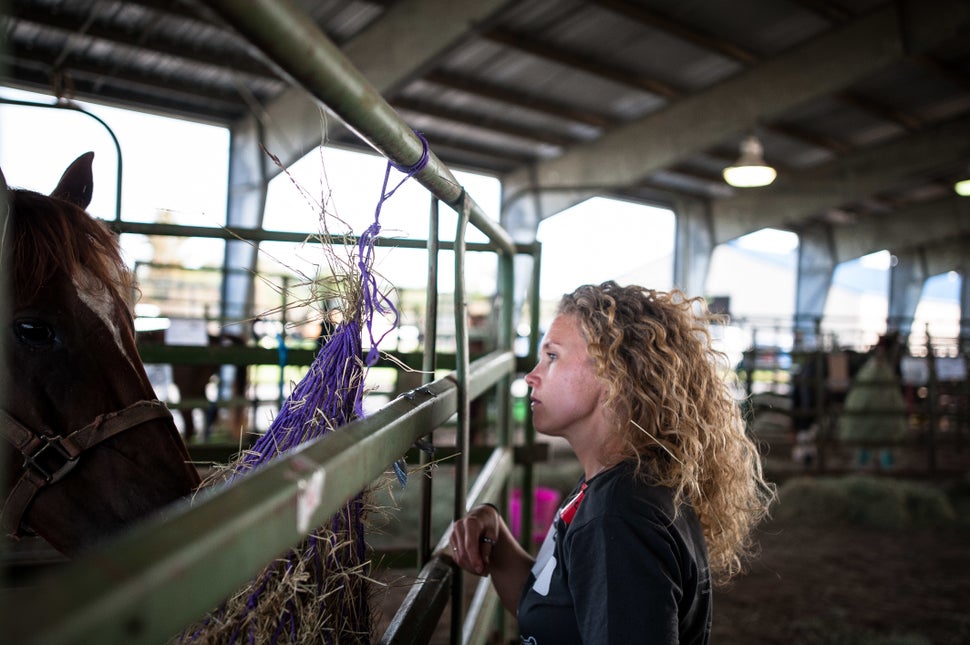 Floodwater at the facility where the horses were being held was knee-deep in one area and muddy everywhere else.
"They were good until the wind got really bad, and then they were anxious with each other, just kicking and biting," Coots said. "Our 2-year-old stud has bites all over him. We know it's from her and the other horse."
Coots, a 43-year-old mother of five, said the hurricane has given her a new perspective, despite all she has seen at Ford Park and elsewhere in Texas.
"I feel fortunate because this is the most we lost. We didn't lose everything, and we pray for the people who did. Because I've seen a lot of the devastation and it's bad, and it's hard to explain to my kids."
Calling all HuffPost superfans!
Sign up for membership to become a founding member and help shape HuffPost's next chapter
BEFORE YOU GO
PHOTO GALLERY
Coast Guard Flies Over Port Arthur And Beaumont