On Wednesday, as the United States honored Veterans Day and tens of millions of former military men and women, a new government website for veteran services went live.
Vets.gov, which is still in beta, aims to give users a streamlined version of the vast digital system managed by the U.S. Department of Veterans Affairs, the mammoth government agency entrusted with administering benefits for veterans and their families and operating hundreds of benefits offices, hospitals and clinics.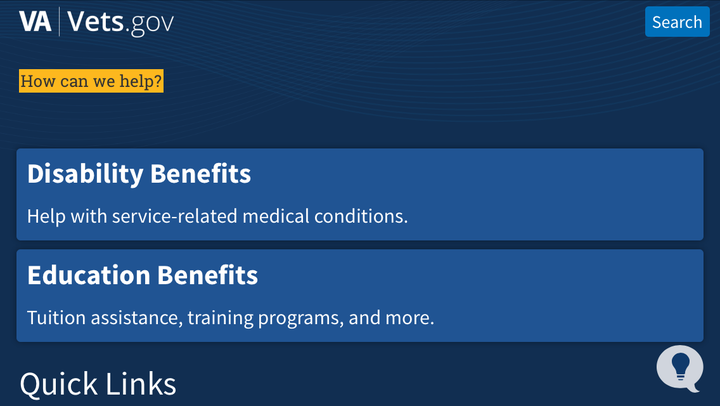 VA Secretary Robert McDonald explained in a blog post that the department launched Vets.gov after receiving feedback from veterans about too many government sites with too much confusing information.
An online playbook for Vets.gov outlines its challenges and goals: simplify the ways veterans experience the VA online, meet their needs on any platform on the first try, be "mobile-first" and be transparent about the way the site is being built.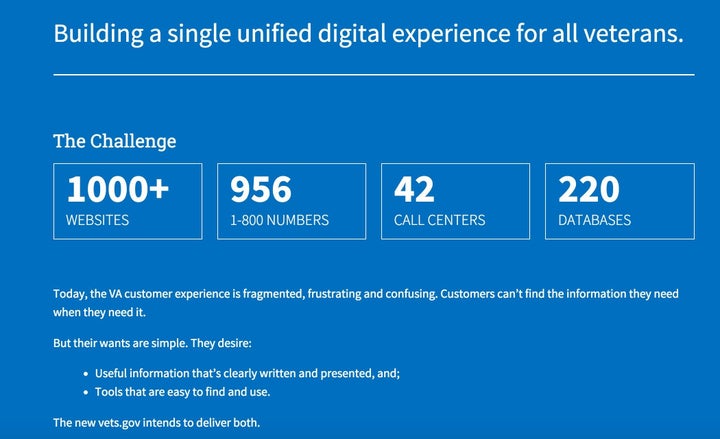 McDonald wrote that, within a year, veterans would be able to create one account on Vets.gov from which they'll manage all their personal information. While details on how that might work are scarce, it's possible that the VA might make use of Connect.gov, which enables federal agencies to securely identify users in digital services.
McDonald's post also promised more improvements and consolidation in the future and asked for feedback about how the site could be better. The public can see suggestions that have been submitted at at veterans.uservoice.com.
"New content and functionality will be added week by week, with improvements based on user feedback and usage data, incrementally evolving to become a valued veteran-focused digital experience," VA spokesman Mark Farrell told The Huffington Post.
Keeping blog posts online in the age of cloud computing is not rocket science. Delivering safe, secure services over the Internet and mobile devices is harder, but the nation that put men on the Moon and split the atom should be able to pull this off in 2015. 
Vets.gov shows, rather than tells, the commitment of the feds to do better. 
Here's hoping that by Veterans Day 2016, Vets.gov will be a shining example of how a government of the people, by the people takes care of those who have done so much to take care of us.
Calling all HuffPost superfans!
Sign up for membership to become a founding member and help shape HuffPost's next chapter