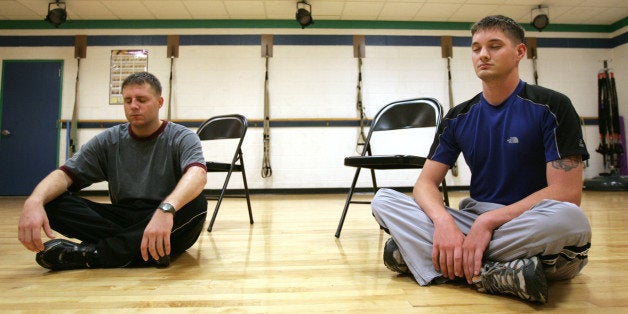 It's a cloudy, cold day in Washington, and it takes a group of vets, all from the Vietnam War era, a few minutes to unpack coats and mufflers and settle into comfortable arm chairs in a semi-circle.
The hard lives they've led are etched on their faces: long military service, followed in some cases by drug and alcohol abuse, economic hardship and violence. Many have been coming to this meditation group at the VA Medical Center for years; one veteran drives two hours each week to get here. For them, the sessions are a refuge.
"This is a place to get away from the outside where they don't understand us," said another veteran. "I feel healed just being here."
And they know the drill: a few minutes of socializing and catching up, and then, under the guidance of teacher Karen Soltes, they quiet down as she leads them softly through body-sensing techniques. One man puts on eye shades. Others pull their Vietnam Veteran ballcaps low over their eyes. There is the soft sound of deep breathing as Soltes reminds them to feel their neck … shoulders … arms … elbows … fingers.
"As you sense different parts of your body," she reminds them, "you feel yourself relaxing. Find your safe place, and when you feel tension you can come back to that place where you feel good. Today we want to think about intention, the heartfelt desire. What do you want to do … maybe it's to be safe. Or to be of service."
Veterans often return from war struggling with painful memories and emotions, and 648,000 currently receive compensation for post-traumatic stress disorder, or PTSD. Many avoid sleep for fear of nightmares, staying hyper-vigilant to minimize fear and anxiety, and using drugs or alcohol to dull their emotions. Often they suffer chronic pain from injuries and from the clenched muscles caused by stress.
Meditation has been shown to have a significant healing benefit, enabling veterans to find a safe, quiet peace within themselves from which they can deeply relax and begin to sort out these troubling experiences and visions. Increasingly, meditation is seen as a critical complement to other forms of therapy and as an important alternative or complement to antidepressant drugs that numb, but do not cure, patients with PTSD.
But widespread acceptance of meditation within the Department of Veterans Affairs and the military is still at an early stage, despite a growing body of scientific evidence and the experiences of many veterans who have benefited from it.
Joe Craig is one of them. He went to Vietnam as an Army private in 1967, so young his platoon sergeant had to show him how to shave. He served 20 years in the Army, and then another 18 as a federal police officer. Now 73, Craig struggles with the demons of his war service, and his chronic pain causes him to walk slowly and gingerly. Those conditions have brought him to the VA Medical Center in Washington, where he attends weekly meditation sessions.
The Washington VA is one of the few places veterans can find a form of meditation called iRest, named for integrated restoration. It's a trauma-sensitive meditation adapted specifically for military service members and veterans with psychological trauma.
In the hourlong sessions with a dozen other vets, Craig has learned how to unclench, easing his mind and his pain.
"When you go to war, every day is about getting through that day," he said. With danger all around, as a soldier or a cop, he added, "if you let your mind float, you'll be in big trouble. We've all been to the edge." In meditation, with the guidance of a skilled therapist, he said, "I can let my mind float."
These aren't simply feel-good sessions, meditation advocates say. Meditation helps create new muscle memory, actually rewiring the brain to enable veterans to absorb and recover from stress. This brain "rewiring" is what neuroscientists recognize as neuroplasticity, the ability of the brain to change neural pathways. For patients with PTSD, it means increasing their ability to hold disturbing images and memories without reacting in an emotionally negative way.
"Meditation's big thing is to stop your mind," says Roy Clymer, a Vietnam combat veteran and psychologist who worked with wounded Iraq and Afghan war soldiers for 13 years as director of specialized care at the Walter Reed National Military Medical Center outside Washington. "As you develop skill at meditation, you gain the art of acknowledging an emotion when it comes, accepting it -- but not doing what we usually do, which is immediately reacting to it."
Many veterans find it difficult to tolerate the images and emotions of combat that can come flooding back, Clymer said. "Meditation helps us tolerate feeling and emotion."
Or, as one veteran put it after the meditation drew to a close, "I don't have to react to everything. This helps me think first. People are going to do things whether I get angry or stay calm, and I'd rather stay calm. I always feel like a new person after this."
This form of meditation grew out of the specialized care program at Walter Reed, designed to help wounded soldiers deal with chronic pain and other medical problems without relying on drugs. It began as traditional yoga and meditation, but many of the patients rejected the yoga and just wanted the meditation, said clinical psychologist Richard C. Miller, who founded the nonprofit program as an extension of the work he did at Walter Reed.
"Yoga was a word they didn't know about," Miller said of the Walter Reed staff and patients. He had called the program Yoga Nidra, but changed it to iRest at the request of the center's staff.
Psychiatrist Charles C. Engel, who's done seminal work on the mental and physical health effects of war, oversaw the program as director of the Deployment Health Clinical Center at Walter Reed from 1999 to 2013. He is currently a senior health scientist at the RAND Corporation, a government-funded think tank.
"The thing I noticed over time was that both staff and patients loved it, unlike the average relaxation technique where you get a lot of people falling asleep in the middle of it," he said of the meditation program. "I'm not saying it was a wonder treatment, but from my perspective it was part of the healing process."
The iRest meditation is currently offered at 15 out of 450 VA facilities across the country, and at Brooke Army Medical Center in San Antonio and the Marine bases at Camp Lejeune and Camp Pendleton.
But the VA and Department of Defense have been slow to expand access to meditation, despite its effectiveness compared to treating patients only with drugs.
"Currently, veterans with posttraumatic stress disorder (PTSD) are typically treated with antidepressants, which have limited efficacy and yield extremely low remission rates," states a VA research study currently underway.
The study goes on to say that "new and improved treatments are sorely needed, especially in light of the inadequate evidence to support the efficacy of most pharmacologic and most psychotherapy treatments for PTSD. Complementary and Alternative Medicine practices, such as meditation, may fill this void."
The VA currently funds or participates in 14 clinical trials of meditation, and while many have been completed, the department has not released the findings. VA research officials declined to speak with The Huffington Post.
The VA's top expert on meditation, yoga, acupuncture and other forms of Complementary and Alternative Medicine, or CAM, is Stephen Ezeji-Okoye. Ezeji-Okoye, chairman of the Veterans Health Administration's CAM field advisory committee, works at the VA medical center in Palo Alto, California, and he acknowledges the VA's acceptance of meditation as a treatment for PTSD or other illnesses has been both slow and cautious.
But he suggested that may be changing, with more and better research on precisely what types of meditation are most effective for specific medical and psychological conditions. And, he said, there is "more acknowledgement that there are (medical) issues we are not treating well with conventional medicine."
He said recent studies have found "that there are certain areas where conventional therapies don't seem to be the whole answer and where CAM therapies may be beneficial -- not that CAM should be the standard of care or therapy, but that these are areas that show promise, that may be useful adjuncts" to conventional treatment.
Meditation in particular is useful because patients can use it themselves as part of their own treatment plan. "It allows patents to take more control over how their disease is managed and this generally leads to healthier outcomes," said Ezeji-Okoye.
Dr. Jan Kemp, associate director of the VA's Center of Excellence for Suicide Prevention and a senior mental health expert, oversaw a demonstration project on meditation at nine VA facilities involving several hundred patients with PTSD.
"Essentially we found that meditation was a positive thing, and that while it didn't cure PTSD in any way, shape or form, surely it needed to be a supplement" to traditional therapy, she said.
Patients who participated in the meditation "did feel better," Kemp said. "And isn't that the most important thing?"
In order to expand access to meditation, several veteran meditation and yoga teachers founded a nonprofit organization, Warriors at Ease, which has trained and certified almost 500 teachers in trauma-sensitive yoga and meditation and has campaigned for them to be allowed to work at military and VA facilities.
But that's an uphill battle, said Robin Carnes, a senior yoga and meditation teacher who led yoga and meditation programs at Walter Reed for six years. Carnes, a co-founder of Warriors at Ease, said it's difficult to find funding from military installations and communities for meditation groups.
There's also the perception issue, she said, "a cultural divide between what people think meditation is -- sitting on a mountaintop looking for nirvana -- and something that has relevant and practical health benefits for servicemembers and families. That's the challenge."
Still, acceptance of meditation among veterans and the military is improving, says Karen Soltes, who led the group at the VA medical center in Washington. As it is, the meditation group she leads has never been given a permanent space, and veterans often get lost trying to find out where the group is meeting on a particular day.
"But eight or 10 years ago when I started, there was a lot more resistance. We've come light years," she said.
For the veterans who participate, meditation can be a lifesaver. Al Crawley, 65, has been coming to the D.C. meditation group for years. He fought in Vietnam in 1969 and retired as a sergeant.
"The war is still penetrating all through us," he said. "That's what brought us here. I had to deal with it -- it was killing me."
Support HuffPost
The Stakes Have Never Been Higher
Before You Go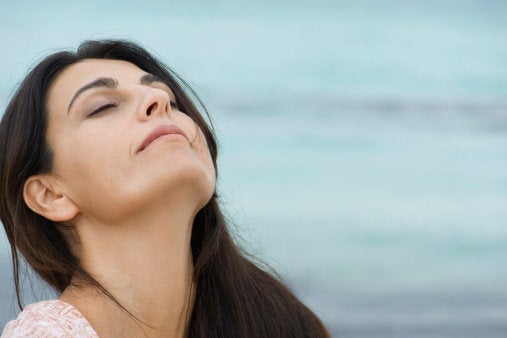 Meditation 101
Popular in the Community