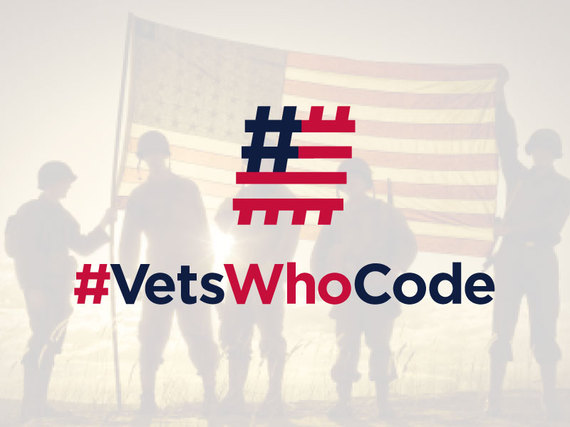 Imagine serving your country in the United States Air Force. The incredible investment of protecting our nation is far beyond what most could invest in a lifetime, so it would be fitting that once veterans are discharged from duty, their transition to civilian life be marked by zero complications. Unfortunately, almost 31 percent of veterans suffer from moderate to serious cases of PTSD, and are ill equipped to cope with the unique challenges of civilian life. An innovative non-profit has taken matters into its own hands, and aims to effectively rehabilitate veterans into society by teaching them integral software development training skills to transition them into jobs in the tech sector. Considering that roles such as a Ruby on Rails developer top the highest pay in the nation for programmers, there is a high ROI for veterans, who invest time into this program.
Vets Who Code is a streamlined, highly selective software development training program with the mission of transitioning military veterans into the vacancies of the technology sector. The unique differentiating angle of Vets Who Code is its ability to identify veterans who are keen to learn, and teach them in demand software programming skills free of charge to up marketability for high-paying software development jobs. Here are the top 3 reasons to fully support Vets Who Code!
Committed Veterans Earn the Lives They Deserve at Zero Cost
All training is 100% online so selected veterans can literally learn anywhere! Quality consistently trumps quantity, and currently, the non-profit is home to a 100% success rate, with veterans landing jobs totaling $3.2M injected into the United States Economy. In fact, former troops truly start benefiting from day one, and the internal motto at #VetsWhoCode is "Skills Pay the Bills," which is an incredible testament to the culture of solution at the non-profit, one that thrives on action.
Stunning Success Rates of #VetsWhoCode Motivate Future Expansion Plans
Within two years of launching the nonprofit, #VetsWhoCode has trained 75 veterans across 12 different states, and boasts a 100% job acquisition rate. The most incredible revelation is that veterans earn annual salaries ranging from $45K to $75K, summing to a total of $3.2M. While financial stability is a tremendous blessing, the authentic sense of purpose that especially a career grounded in software development provides is irreversible and exceedingly fulfilling.
Unwavering Commitment to Mastering New Skills is a Veteran's Forte
"We believe that those who serve in uniform can be the digital economy's most productive and innovative assets." - Jerome Hardaway, Founder, US Air Force Veteran
"Employers need people that have the discipline to acquire those skills and acquire them quickly. In my experience, a veteran is the perfect candidate for that type of job." -Jerome Hardaway
Calling all HuffPost superfans!
Sign up for membership to become a founding member and help shape HuffPost's next chapter