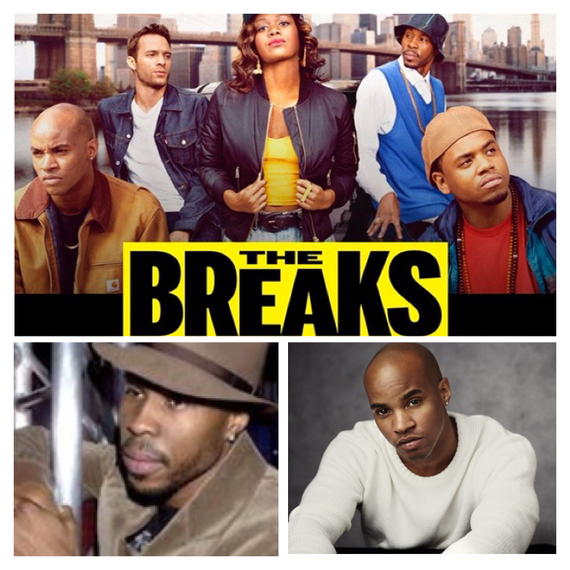 Do you remember where you were in 1990? How about when you first heard hip-hop? Picture it, New York City, 1990 and a genre of music that really tapped into a person's soul and really generated a movement. That year, groups like Public Enemy, A Tribe Called Quest, and Salt-n-Pepa were all in heavy rotation. Solo artist like LL Cool J and Ice Cube, 2Pac and Biggie were also getting play. The sound of hip-hop over the years as definitely changed but one thing has remained the same. True lovers of the music always remember where they were and whom they were listening to when 1990 hit. The new original movie 'The Breaks' airing on VH1 today (Monday, January 4th) with a group of hot young actors is bringing hip-hop from 1990 back to the masses. The movie set in New York takes you on a journey of self-discovery while pursuing dreams. The characters in this story each come from different backgrounds but between them all one thing remains the center focal point, go after the dreams with all of your might. The ensemble cast includes Wood Harris ("The Wire") Tristan Wild ("90210"), Afton Williamson ('Pariah"), Antoine Harris ("Ballerz"), and David Call ("Gossip Girl").
I was able to see an advance screening of the movie with the cast a few weeks ago in New York City. It was a crowd full of people who definitely moved to the music and had such an appreciation for the time. "The Breaks" is a period piece and it takes you back to a time when rap artist spoke about things of importance over slick beats and tempos. The crowd that night, many of them from New York, were around during that time talked about how authentic the movie played to life during that time. I caught up with two of the actors, Wood Harris, who plays a record label executive in and Antoine Harris, who is a rapper with a difficult past. The two of them talked with me about the movie, what is was like filming, and the films impact.
KM: What attracted you to this project?
Wood: A lot of people from "The Wire" worked on this project and I knew that it was going to be great. It also allowed me to work with some people who I didn't get to have scenes with on that show. I knew it was going to be a quality project.
Antoine: The director of the movie I had the opportunity to work with him on "Ballerz" and I was really interested that VH1 decided to bring this kind of scripted show to television. It felt like a project that a lot of people believed in.
KM: How did your backgrounds prepare you for taking on hip-hop in 1990?
Antoine: I wasn't a teenager at that time but that period the 90s once you get it in you it's hard to get it out of you. It was very easy for me to go back to that place for the role because I remember watching movies and listening to music from that time. There was so much authenticity before the technology took over in the 2000s.
Wood: In 1990, everything was hip-hop to me. I'm a huge hip-hop head. I had a group back then I was really immersed in the culture and in that time you didn't know how it was going to evolve, you just knew that you part of something powerful and cats were making some real statements. Right now in the media we have the Black Lives Matter movement well in the 90s we had Fight the Power, we had Public Enemy and it made you feel that there is a mission that I can have with my music. So I was very prepared for the role because I was living it.
KM: Talk about your characters and the motivation behind the way you delivered the performance?
Wood: I play Barry Fouray, the record label head and the motivation behind my character is pretty easy. I know Puffy, I know Dame, and I had the pleasure of meeting Russell Simmons a number of times, so I get it. I understand how they march. It's different than I am but I feel like I understand how to embody that in a role and to project that in the film. That's what I drew from, being there in the 90s and able to remember Puffy before he was this Puffy and Dame Dash before he was this Dame Dash you know and seeing them evolve.
Antoine: For my character, Ahm, I had to understand where he was at in life outside of the story. Once they gave me a break down of who he was I kind of had to create a biography that made sense to me and to him. So to find that I find to find his motivations and somebody growing up in the streets with not to many options and in single parent household it was very clear to see what your choices are going to be. You could be the book dude or you could be the hustler. Ahm was the type of dude that once he made a decision whether it was good or bad that's what he was doing and so he made the decision to be a hustler. He is also at a crossroads in his life, he's trying to decide if he wants to stay in the streets or go after this rap thing and it's not an easy decision.
KM: What can you tell me about the future of the movie? I will admit that after the screening there was this set that there could be more. A television series maybe?
Antoine: First, from your mouth to God's ears! There are so many stories within the movie that it could definitely become a scripted series. Also hip-hop in 1990, no one is telling that story with the authenticity and the type of artist that are involved and we have an opportunity to be the captain on the network.
KM: What do you want people to take away from the movie?
Wood: I want people to enjoy it because it's meant for entertaining and I want people to want more because we left it open-ended.
Antoine: I want people to take away from that culture that it's okay to be you more than anything. Right now we are in a world of followers and right now we have a lot of issues in the world and you need leaders. I hope that people take away that VH1 is a network that can handle scripted television. For that whole culture it's going to be good.
"The Breaks" premieres tonight, Monday, January 4th on VH1.
REAL LIFE. REAL NEWS. REAL VOICES.
Help us tell more of the stories that matter from voices that too often remain unheard.