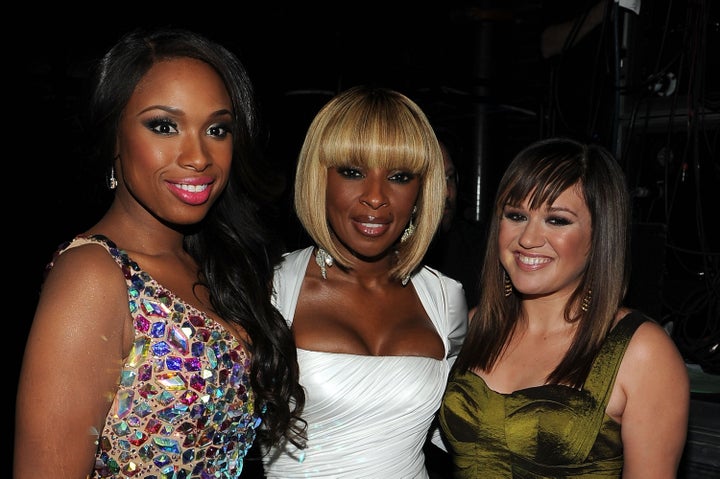 The VH1 Divas Concert, held Sunday night at the Hammerstein Ballroom in New York City, was nothing short of a superb display of talent and style.
The show gathered the most dazzling divas around -- Mary J. Blige, Jennifer Hudson, Jill Scott, Chaka Khan, Dolly Parton, Mavis Staples, Kelly Clarkson and Florence Welch from Florence + The Machine, just to name a few -- to pay homage to the soul music cities of Philadelphia, Detroit, Memphis and even London.
"It's so exciting to be here. I just look around and I'm geeked." Scott told HuffPost Black Voices. "It's like being part of a team."
Blige, the Queen of R&B, was also excited about the night's attendees.
"I'm super excited to see Chaka Khan, who will be performing right next to me," Blige said. "And also Dolly Parton. I didn't even know she was here until I got on the red carpet."
Blige hit the stage not one, not two, but an amazing three times. She teamed up with Kelly Clarkson and Jennifer Hudson for one set in a body-hugging white gown and performed with Chaka Khan in a short beaded frock. She also performed her new album's first single, "Mr. Wrong," in a high-high boots and a feather-trimmed tweed motorcycle jacket.
In true diva fashion, Jennifer Hudson donned a total of four outfits during the evening, which included bejeweled thigh boots, a rhinestone encrusted gown, a pink-beaded number and a red-hot mini dress.
Other style standouts were Jill Scott, who wowed in a cobalt blue gown, and Estelle, who sparkled in a floor-sweeping gold sequin dress.
Fashion risk takers of the evening included Jessie J, who wore a multicolored bodysuit with fringe arms, and Erykah Badu, who wore a fur-trimmed cape and floral-printed leggings during her first performance of the night. But that's pretty par for course when it comes to these two.
Beyond the amazing performances and dazzling outfits, Chaka Khan caused quite a stir on the red carpet when she arrived with rapper 50 Cent as her date. Not quite sure how these two connected, but we're intrigued.
"It's amazing being here standing next her," 50 Cent told HuffPost Black Voices. After gushing a bit more and calling her an "icon," 50 Cent mentioned that he'll be working on some music with the legendary singer in the new year.
And speaking of the new year, we caught up with a few celebs to get their New Year's resolutions.
Grammy-nominated singer Ledisi told us that she is simply looking forward to having fun and being in the moment, while rapper Common is in search of greatness.
"I want to be greater at what I'm doing. Whether it's fatherhood, being a greater friend, a greater son, greater child of God, greater artist, actor, all that."
The concert airs Monday night on VH1, but in the meantime, here's a sneak peek at the diva-licious event.
Calling all HuffPost superfans!
Sign up for membership to become a founding member and help shape HuffPost's next chapter