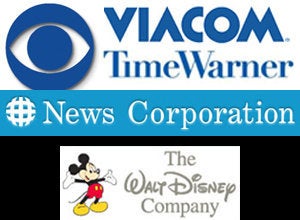 Late paychecks are always a drag, but they're especially inconvenient during the holidays. A delayed payment of a week may mess up one's checkbook, but try not getting paid for three months. That's the position MTV's Street Team found itself in this year.
MTV and its parent company, Viacom, are on a roll lately with mistreating its employees. First, Viacom announces the firing of hundreds of employees right before the holidays, and now MTV employees will have payment delays and hiring freezes for their stocking stuffers.
Sure, times are tough, but Viacom and MTV have an obligation to pay its employees, including MTV's Street Team, which consisted of students and single parents.
This week, I received an email from a source, who has been working for MTV's Choose or Lose campaign since January. My source signed a confidentiality agreement with MTV, and explained that they wanted to remain anonymous out of respect for their supervisors and the many hard-working MTV employees, who defended the Choose or Lose employees throughout this ordeal.
Choose or Lose employed 51 "Street Team" members, and intended to be a journalistic collaboration between the Knight Foundation and MTV. In the spirit of the participatory internet, Choose or Lose tapped every day folks to participate in their election-time stories. Street Team members were hired as freelance employees for MTV, and were not invited to become full-time, or part-time employees of either MTV or Viacom.
Choose or Lose employees initially received timely and regular payments, but this summer, the checks suddenly stopped coming, and didn't reappear for another two and a half months.
Over the summer, employees were told that MTV was conducting a quarterly financial review, and that's why their checks were being held, and in fact, all freelancer checks were being held. MTV supervisor checks were also being held during this time.
Finally, after two and a half months, they received compensation for back payment. The project ended in November, but the employees have still not received their $800 final paycheck. Internal e-mails alerted the employees that there is no definitive deadline for when they will receive payment.
This poor treatment of the Street Team is especially appalling considering the MTV Choose or Lose Street Team was part of the 2008 Emmy-Award-winning ThinkMTV campaign. An award-winning team shouldn't expect a wealth of perks for industry recognition, but they should at least receive timely paychecks.
Like some more salt in your wounds? MTV is throwing an inauguration ball for Obama next month, and didn't even invite the Street Team (that's the Emmy-award-winning Street Team, mind you.) Geez, I guess corporate loyalty really is dead.
After that first initial contact with my anonymous source, my inbox exploded with angry letters from other MTV Street Team freelancers. The employees had to sign confidentiality agreements to work for MTV, so most of them requested to remain anonymous, but two brave souls stepped forward.
Nathan Leigh was the Street Team's Iowa correspondent. He is going to the DC inauguration ball anyway, and he's going to meet up with other Street Teamers, and he will be wearing a "WTF MTV" t-shirt proudly, and he says he we will be heard.
The late payments seriously messed with Leigh's finances. "I had overdrafts and I've missed rent payments, but at one point our producers told us the money they were paying us was to be used for travel expenses and not our personal payments."
Call me old-fashioned, but I always thought employees should expect timely paychecks from their employers, and they could use that money for whatever they want, including bread or electricity bills.
Christine Begay shares her former coworker's outrage. The New Mexico representative on the team, Begay can't believe how poorly the freelancers have been treated. "I am waiting on my last month's paycheck, and also a travel reimbursement from when I traveled to Las Cruces, New Mexico to cover a story on immigration and the Mexico/NM border. I rented a car and paid for it upfront, which I agreed to, but I did not anticipate that it might be 2009 before I got my money back."
Begay says the late payments have put a serious dent in her Christmas shopping budget, but they have also affected other areas of her life. "I think that a lot of Street Teamers have suffered, including myself, because we have not been able to pay rent, student loans, credit cards, utility bills, and car payments."
Some kind of delayed, watered-down justice may be on its way for MTV freelancers. As stories about Viacom's mistreatment popped up across the internet, Gary Kebbel, a Knight Foundation representative, contacted me to say that he had heard from MTV that the employee checks had been mailed off to the freelancers.
That would be great news for the freelancers, who ask for nothing more than their contractually promised payment. "It is just ridiculous the situation we are in. Throughout the entire project, we met our deadlines and had to abide by our contracts, or else we would not receive payment, but Viacom/MTV can do what they want and not meet their contractual obligations," says Begay.
According to the latest news from Viacom, the money is in the mail. The Street Team will believe it when they see their checks.
Viacom representatives were contacted but did not respond to requests for an interview.

Calling all HuffPost superfans!
Sign up for membership to become a founding member and help shape HuffPost's next chapter