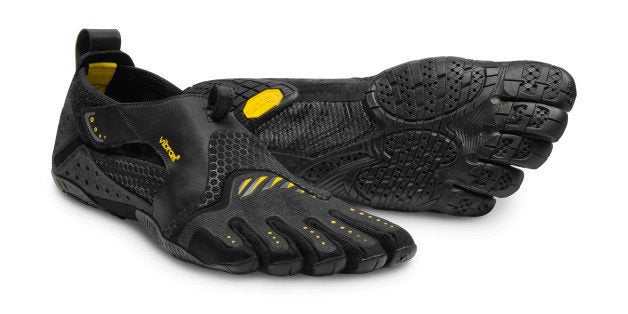 The last place you'd expect to see a "barefoot" shoe is at a wedding.
But you've probably never met Michael Martin, the business unit director for footwear manufacturer Vibram. Martin says he wears the company's FiveFinger shoe to every occasion -- even marriage ceremonies. And he hopes customers will do the same soon.
"I may be the supreme wearer. I haven't worn anything else since I joined the company in 2007. I put on regular shoes and they hurt my feet. They're still the subject of ridicule at family weddings, but I don't care. My feet are comfortable, I'm comfortable," Martin told The Huffington Post.
Since settling a multi-million dollar class-action lawsuit in May over false claims that the FiveFinger shoe yields certain health benefits, Vibram sees a bright future ahead. Mike Gionfriddo, Vibram's U.S. CEO, says the company is ready to move on from the lawsuit and has a new line of products to debut in 2015, including casual footwear, and an incentive program to entice new customers.
"The lawsuit was something that consumed a lot of time and resources from the company. It's very significant, particularly for a small family company like Vibram. We made a decision to offer a settlement based on our interest of getting on, versus continuing spending these resources on litigation," said Gionfriddo.
Business reached its peak back in 2011, when "barefoot running" became a sensation, according to Gionfriddo. Though he described Vibram's sales in recent years as "stable," he said the lawsuit boosted retail distribution.
"Between 2013 and 2014 our business has been pretty stable. In May, when we settled the lawsuit, we had an increase of about 17 percent in new [retailers] and retail distribution of our products, so that's pretty promising for us for the future," Gionfriddo said.
"The fact that all of the publicity [from the lawsuit] had people going in [to stores] and asking about our product started to energize retailers. Like anything else, when there's a void of offerings for a particular category, it's opened up an opportunity for us," he added.
Vibram is aware that its funky-looking FiveFingers shoes aren't for everyone, which is precisely why the company began developing a broader selection of products -- from hiking and mud-running shoes, to indoor casual wear for the office.

Trek Ascent, Vibram's new hiking shoe, is made from leather and hemp. It is slated to debut in April 2015.

"We want to keep FiveFingers relevant by introducing new materials, compounds and designs and creating products that are task-specific," Martin told HuffPost. "A lot of the FiveFingers that have come out since its first model in 2006 have been created based on user-driven feedback."
The lawsuit prompted a tremendous amount of feedback from customers, and the company has a new plan for incorporating those comments into its shoes.
"We have a process where we can recycle paper into rubber. We've been getting so many letters, and rather put them in a file cabinet, we're basically going to put them through the recycling process and use them in our outsoles and repurpose them. So literally people's letters to us are going to become parts of other people's footwear in the very near future," Martin said.
Vibram also wants to convince skeptical consumers to purchase FiveFinger shoes. To do so, Gionfriddo said that for a limited time the company will let users try the shoes out and, if they're not satisfied, return them for a full refund.
"There's still a lot of curiosity about FiveFingers from people that are on the fence. We believe so strongly in the innovation and new products that between now and the end of the year, we're proposing that if people want to try out shoes, they can buy them on our website," Gionfriddo told HuffPost. "Then, if after you wear them for six weeks and you're not happy with them you can return them and you'll get a full refund, no matter what condition, no questions asked. And the shoes we get back we'll donate to charity."
Is the world ready for FiveFinger shoes at weddings or the office? We're not so sure, but Vibram certainly wants you to go for it.