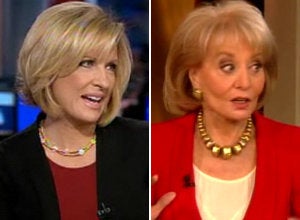 Vibrator-Gate hit round four Wednesday morning on "The View!"
In case you missed the first three rounds:
Round 1: On Monday's "View" Barbara Walters cracked a vibrator joke.
Round 2: On Tuesday's "Morning Joe," Willie Geist played the clip while Mika Brzezinski rolled her eyes and voiced her displeasure. Later that day on "The View," Walters said how she had been watching Mika knock her joke, prompting Sherri Shepherd to suggest buying Mika a vibrator.
Round 3: Wednesday morning, by which point the feud was full page news in the NY Post, "Morning Joe" played the Walters/Shepherd clip, and Mika said she was sending her assistant over with a gift for Walters.
Round 4: Later Wednesday morning on "The View," Walters turned to the camera with a cryptic message. "She'll know what I'm talking about. Thank you, Mika. I'll have what you're having."
So, what do you think Mika's having? Share your thoughts in the comments below.
Popular in the Community