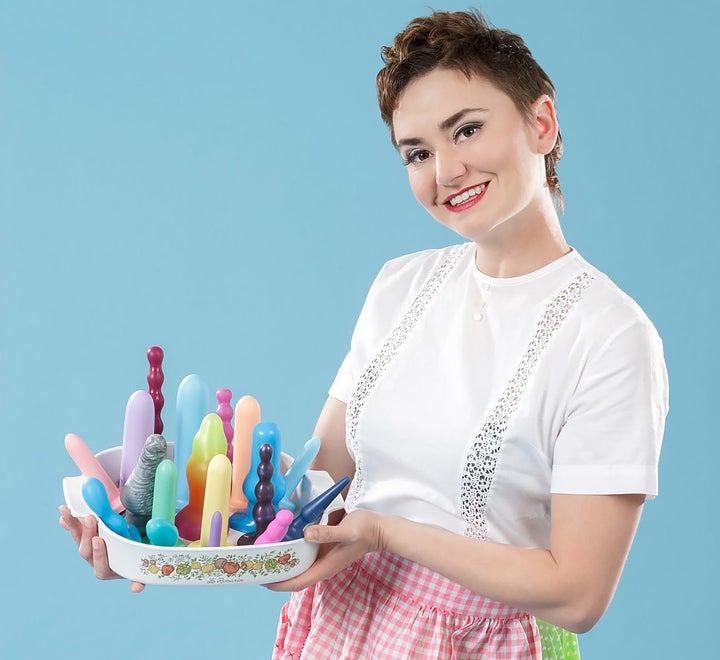 It all started with a shipment of sweaty sex toys.
It was a hot and humid day in August 2003 and Jennifer Pritchett and her then business partner were days away from opening Minneapolis's first feminist sex shop, Smitten Kitten. They had sunk all their money into their first shipment of products, but as they excitedly opened the boxes of toys, packing peanuts flying everywhere, they knew immediately that something was wrong. The toys were leaching an oily substance. It was coming off the products, out of the clamshell packaging, through Styrofoam packing peanuts, leaving big greasy spots on the cardboard box. What, they wondered, was wrong?
They rinsed off the toys, patted them dry, and set them on towels in the middle of the store to see what would happen. After a minute, the toys once again began sweating, and the air was filled with a noxious odor that gave them a headache. At this point, they panicked. "All of the dildos and vibrators were just a wreck," Pritchett recalled.
Pritchett called their distributor and he told them not to worry, that it happened all the time. The items probably melted in the truck, he explained, saying, "It's just what happens with these toys." Pritchett sent the products back. New ones were shipped immediately and the store opened as planned, but something just didn't feel right to her.
The business partners then called Metis Black from Tantus, a company known for manufacturing body-safe sex-toys, and that was the first time they heard the word "phthalates" (pronounced tha-lates).
For years, sex-toy retailers used to joke about the "mystery rubber jelly" that many vibrators and dildos were made from — materials that often smelled funny and would frequently degrade. While these products were relatively inexpensive and therefore sold well, not much was known about the materials used to make them or their potential health risks.
As it turned out, there were reasons for concern. In 2006, the Danish Environmental Protection Agency released a research report that verified what many people had long suspected: it was likely that the majority of sex toys on the market, most of which were manufactured in China, contained toxic chemicals, including phthalates, a family of industrial chemicals known as plasticizers that are used to make hard plastics soft and pliable. Phthalates are found in a variety of products, from children's toys to shower curtains to medical devices. The problem with phthalates is that they break down over time and release harmful gasses, which cause toys to discolor, get sticky, and have an unpleasant taste and odor; and more and more studies indicate they may cause reproductive defects and hormonal disruptions, especially in infant males. In 2008 Congress approved a nationwide ban on phthalates in children's toys.
But in 2003, when Smitten Kitten opened for business, few in the adult industry were talking publicly about phthalates, let alone waving a big red flag. According to Pritchett, that's when Smitten Kitten's mission changed from being just another sex-positive, educationally focused feminist sex shop to becoming a business committed to environmental justice and personal health. Pritchett, who has a graduate degree in women's and gender studies, contacted customers to let them know that they had sold them some things that they previously thought were good for them but now believed were bad and if they brought the items back, they would replace them with silicone options. She immediately revamped the store's inventory and got rid of vinyl and jelly products in favor of body-safe items made from silicone, ceramic, glass, and hard plastic.
"That almost put us out of business," Pritchett said, "but we didn't open this business to participate in an industry that wasn't good for people."
In 2005 Pritchett founded the Coalition against Toxic Toys, a nonprofit organization intended to educate consumers and raise awareness about the kinds of materials used to manufacture sex toys. "Our philosophy," says Pritchett, "is that if we know how dangerous these chemicals are for children and dogs, we don't want contact with them, either."
A year later, she sent ten of the top-selling products in the industry to an independent lab in California that does consumer product testing, so the items could be analyzed. The lab's findings closely mirrored the results of the Danish study. Some of the most popular sex toys on the market included chemicals such as phthalates, polyvinyl chloride (pvc), and polystyrene, which were known to cause cancer and birth defects and interfere with hormones.
There are no FDA regulations or established industry standards for sex toys, in part because items are marketed and sold as adult novelties or gag gifts rather than functional items that people actually use. Yet as consumers have learned more about the materials in their sex toys, due largely to the educational efforts of companies like Smitten Kitten, they are demanding better, healthier, and more eco-friendly products.
Smitten Kitten's efforts have been redoubled by those of other progressive feminist retailers like Self Serve in Albuquerque, which launched Phthalate Awareness Month in 2008 to raise public awareness about the plastic softeners. Self Serve is one of an increasing number of businesses opting to sell only phthalate-free and nontoxic sex toys made from platinum-grade silicone, glass, wood, and stainless steel, making body-safe and eco-friendly options an important part of their brand identities.
"People who think nothing of scrutinizing the health implications of what they put in their mouths often seem to forget about the other parts of their bodies associated with pleasure."
The greening of the sex-toy industry has also brought greater attention to issues of responsible manufacturing and the problem of packaging and waste. Ellen Barnard, co-owner of A Woman's Touch in Madison, Wisconsin, looks for products made by smaller manufacturers, preferably ones whose production facilities or studios she can actually visit. She concedes that it is difficult to completely avoid products made in China since so much sex-toy manufacturing is done there, although whenever possible, she stocks items made by companies that are responsibly sourcing the material they use. "We are pretty fussy about what [items] we will carry," she told me.
Standards regarding eco-friendly products and manufacturing practices differ from company to company. Metis Black from Tantus explained what sustainability means for her. "We are committed to making products that are good for the body and good for the earth and that means the production process itself has to be green." Tantus manufactures its products in the United States and uses platinum-grade silicone in its designs. The company also uses fda-approved mineral spirits to clean its machines in an effort to avoid leaving toxic residue on its nontoxic toys. "We try to be as green as we possibly can, from start to finish," Black said.
According to Black, the sexual marketplace is still largely an uneducated one in which a handful of manufacturers, retailers, sex educators, and bloggers have worked together to educate consumers about the potential risks of toxic toys and the benefits of sustainable sex. Indeed, these values are now an explicit part of how Tantus markets its products, underscoring the company's commitment to sexual health promotion. According to Good Vibrations' longtime staff sexologist Carol Queen: "People who think nothing of scrutinizing the health implications of what they put in their mouths often seem to forget about the other parts of their bodies associated with pleasure. But when we bring the question up, most people do care very much about how healthful materials are." In an effort to address the growing awareness around sustainable sex, Good Vibrations coined (and trademarked) the term "ecorotic" to signal the availability of more healthy and earth-friendly products for sex.
Although it is possible to walk into almost any adult store today and find sex toys labeled phthalate-free, latex-free, cadmium-free, hypoallergenic, and "safe and pure," among other eco-friendly terms, not all sex toys are created equal, and it remains the case that the sex-toy industry lacks regulations and consumer watchdog groups. This means that manufacturers eager to jump on the green bandwagon can theoretically put whatever language they want on their packaging if they think it will help sell products. Mirza from Earth Erotics refers to this as "greenwashing" — the tendency for companies to stamp their products green when really they are not. Thus, consumers who want to be eco-sexy and sustainable are largely left to educate themselves about the kinds of products they are purchasing and the companies they are doing business with. As Queen notes, "We can minimize our overall 'sexual footprint' by buying higher quality and longer lasting, not toss-away imports, when we're able to."
Feminist sex-toy shops like Smitten Kitten, Self Serve, A Woman's Touch, and others, and sex-toy manufacturers like Tantus, have been catalysts for change in the sex-toy industry. They have helped cultivate a consumer class that expects more not only from their retail experiences but from the products they purchase. As Pritchett explained, Smitten Kitten's entrepreneurial mission is to "prove in this industry that good business is good business" and that it is possible to run an ethical company and sell quality toys that don't break the first time you use them.
"If we change the industry so there is more quality and choice for everyone," she told me, "then anywhere [customers] go, even a truck stop porno shop, they [will] have access to quality toys."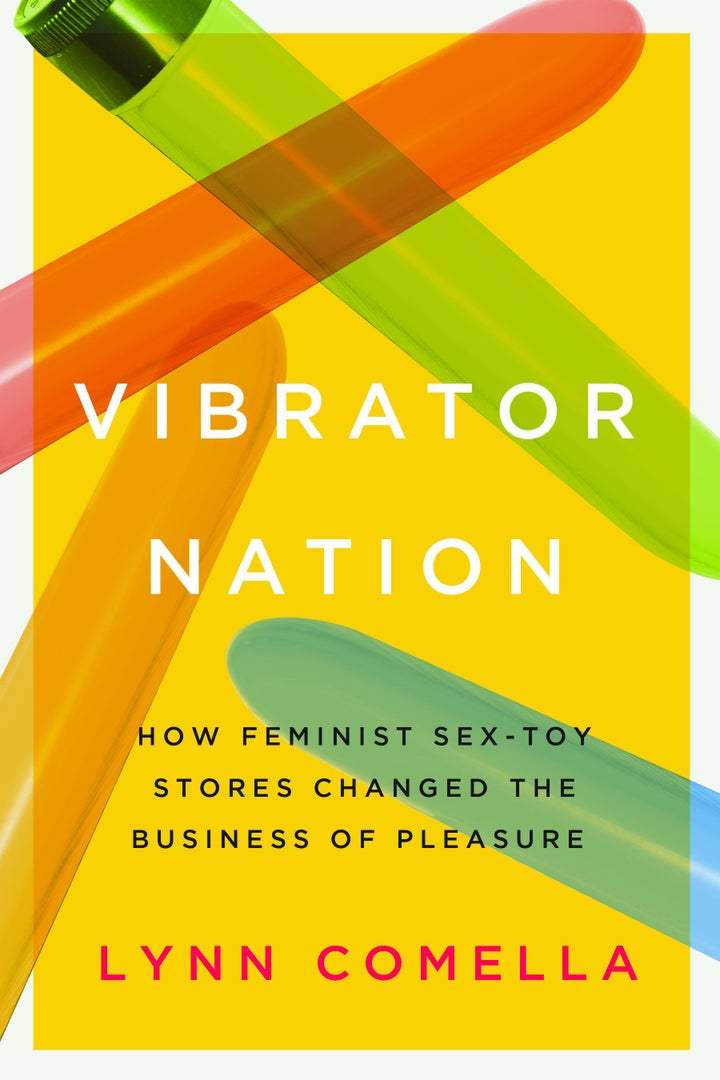 Related
Popular in the Community