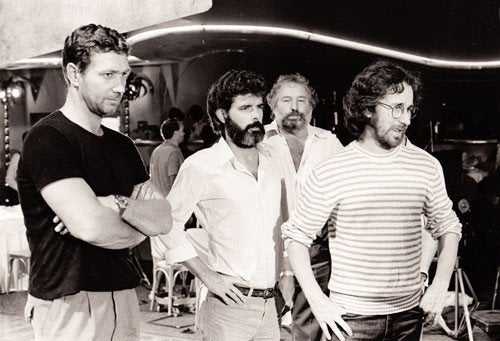 Leading up to one of the most well-known stunts in cinema history, Indiana Jones –- galloping atop a stolen horse –- flies alongside a Nazi tank in an attempt to rescue his kidnapped father. As the tank descends into a canyon, Indy detours up the ridge alongside it, rises to his feet and leaps off of the horse onto the speeding tank below, proceeding to shoot, stab and fistfight a whole bunch of Nazis atop two moving vehicles.

That leap, a highlight from "Indiana Jones and the Last Crusade," is widely considered one of the greatest stunts ever. But Harrison Ford didn't do it. It was Vic Armstrong, the most prolific stuntman of all time, according to the "Guinness Book of World Records."
(SCROLL DOWN FOR PHOTOS)

Armstrong planned the stunt for weeks, scouting the scene's desert location in Almeria, Spain, laying rocks along the ridge to keep the horse "centered" and ironing out other precise details that would allow him to time the 18-foot belly flop to perfection.

"Harrison's one of those guys who'd do all his own stunts if he could," Armstrong told The Huffington Post. "But that's why we're there: to remind them what they're capable of."

Armstrong bore a stark resemblance to Ford in those days. So much so that Ford once signed a photo of Armstrong and him together, along with a note that read, "If you learn to talk I'm in deep trouble!"

"Luckily, Harrison didn't have to worry," Armstrong said. "I'm a dreadful actor. Can't act for the life of me."

Today, Armstrong is an exceedingly amiable man in his 60s, quick to tell stories and laud the virtues of his favorite air bag, a piece of stunt equipment that his sons used to jump off the roof from their house in England. His new autobiography, "The True Adventures of the World's Greatest Stuntman," which hits shelves next Tuesday, delves into the myriad relationships and experiences he's cultivated from almost 50 years in the business.
Armstrong spoke to HuffPost from his hotel room, high above Manhattan on the 34th floor of the Le Parker Meridian, a fitting view for the ultimate stuntman. "You couldn't jump out of this building, hit the ground and walk away," Armstrong said, gazing out the window at the steep drop below. "But you can always create the illusion of it."

Quick to champion the early films that led to his success, Armstrong now finds himself pioneering a unique family business. He met his wife, Wendy Leech, daughter of famed stuntman George Leech, while they were both working on the first "Superman" film in 1978. Armstrong was Christopher Reeves' stunt double, sporting thin cables and hovering over 20-foot drops for the flying scenes, and Wendy doubled Margot Kidder's Lois Lane.

"Wendy's the only woman to kill James Bond in a Bond movie," Armstrong said, pointing to a scene in "Never Say Never Again," when Bond tears through the jungle in a mission to rescue a captive, only to be stabbed to death by the very girl he set out to save. "Of course the scene turns out to be a 'test exercise,'" he added. "But still! That's impressive."

The "only woman to kill James Bond" and Armstrong have four children together, three of whom also work full time in stunts, while the fourth, Georgina, is a champion horse jumper aiming for a career as an action star.

And then there's Armstrong's brother, Andy, a stuntman and stunt coordinator in his own right, and Andy's son, James, who also works in stunts.

"We're a family affair, the Armstrong Action Team!" he said, laughing. "We work together as much as we can."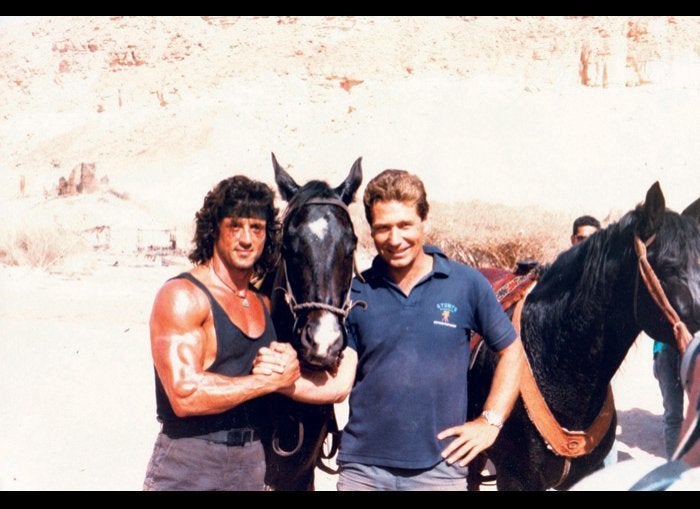 Armstrong and his Action Team's mark has permeated some of the best-known action films of the past few decades. Think of an action movie you like and, most likely, Vic Armstrong had something to do with it.

That Aston Martin chase along the ice in "Die Another Day?" Armstrong. The manic bug attacks in "Starship Troopers?" Armstrong. The helicopter scene at the end of "Charlie's Angels?" Armstrong. The bar brawl in "Terminator 2?" You get the idea.

He's embodied some of the most iconic heroes in film history, legends like the aforementioned James Bond, Superman and Indiana Jones. He's worked as a stunt coordinator or second unit director for Martin Scorsese, James Cameron, JJ Abrams, George Lucas, Terry Gilliam and Steven Spielberg, among many others. Most recently, he directed the action sequences for "Thor," "The Green Hornet," "Salt" and "I Am Legend." He is the only stuntman to receive a BAFTA award for Lifetime Achievement.

And he only got into this whole stuntman thing by accident. The son of an Olympic horse trainer, Armstrong grew up in stables, hitting over 20 different schools throughout his childhood as he hopped from Kenya to Glasgow to England. His lifelong dream was to be a steeplechase jockey, racing horses professionally, but when a family friend needed someone to wrangle horses on set for "Arabesque," the 1966 film starring Sophia Loren and Gregory Peck, Armstrong came along as a stunt rider.

"It was 20 pounds a day," Armstrong remembers. "That was a whole lot of money. I was in heaven."

Armstrong now finds himself directing some of the biggest special effects action sequences of our time. He's currently working, with his Action Team in tow, as second unit director on "The Amazing Spider-Man," in production in New York and Los Angeles. His goal is to find a perfect balance of computer graphics (CG) and real-time flying.
"What I don't like is when CG becomes the whole point of the movie," he said. "You're not making a cartoon."

As part of his work on "Spider-Man," Armstrong coordinated a multi-million dollar flying sequence with a crew of hundreds. During the scene, Spiderman, played by Andrew Garfield in the film, flies along five city blocks in upper Manhattan, swooping through archways and between buildings, sporting intricate cables that will be erased during post-production. Armstrong hopes it will be one of the most spectacular flight sequences in film history.

"Look: I love CG, provided you use it right," Armstrong said. "Morphine is a wonderful drug if it's used correctly, but when it's used too much, you get addicted. It's a killer; it defeats the whole object of its being."

Armstrong noted that computer graphics allow stunt people to use pads and cables they would never have been able to use before, since they used to appear too bulky onscreen. Gone are the days when a stuntman had to leap 30 feet out of a moving helicopter onto a mountainside with no padding (as Armstrong himself did for the 1970 caper, "Figures in a Landscape,") because now you can just "airbrush all that stuff out."
If CG existed when Armstrong was an up-and-comer, he might have avoided the 125-foot slide down a volcano in "You Only Live Twice," his catapult into a windshield in "Superman II" or the 100-foot leap from the viaduct in "Omen III."
"I remember standing atop that viaduct, looking down to the ground below," he said. "I'd just bought a new Mercedes and all I was thinking was: 'I'll never drive that car again.'"
In the introduction to Armstrong's autobiography, Steven Spielberg lauds Armstrong's talent and courageousness, raving, "no CGI can match what Vic can accomplish."

Though he remains a stuntman in his heart and soul, Armstrong is now an accomplished director as well, having created films like "Joshua Tree" and some installments of the "Young Indiana Jones" series. He hopes to helm more movies in the years to come.
But his storied past comes to life every time he hits the security line at the airport. The metal plate in his shoulder, a result of an injury he sustained while filming "Mary Queen of Scots," and another one in his shin, from a broken bone he incurred in Morocco while working on "Mohammed: Messenger of God," serve as constant reminders of his roots.

"I've got a bit of metal in me, yeah, so the thing always beeps and they search me every time," he said, patting his left shoulder. "But, you know…accidents happen."

Popular in the Community