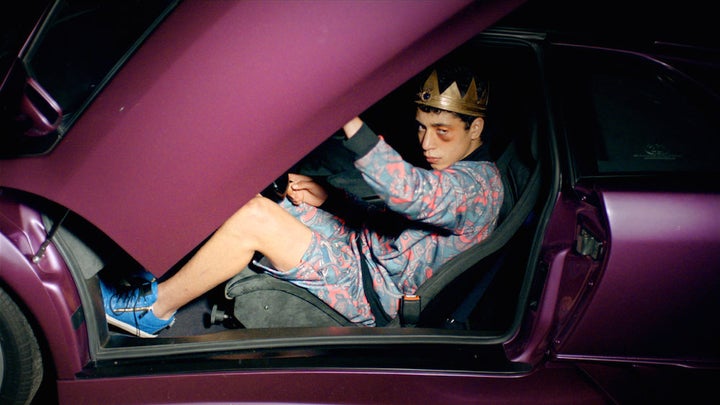 You probably haven't heard of the VICE-produced indie Dutch film "Prince," which mixes the visual aesthetic of Nicolas Winding Refn (think "Drive") with a playful take on the street crime of "City of God," all to moody synths reminiscent of "It Follows." However, you may have read about the film's stars. Page Six covered the recent arrest of lead Ayoub Elasri, while GQ.com admired the oddity of Dutch rapper Lil' Kleine (neé Jorik Scholten), whom "Prince" director Sam de Jong describes as "the Justin Bieber of the Netherlands." But if you haven't seen Lil' Kleine's music video "Drank & Drugs" yet, please stop what you're doing and watch it below. Song of the summer?
Super catchy, right? If that grabbed your attention, so will "Prince." The film stars Elasri as Ayoub, an Amsterdam kid who spends his days setting off firecrackers in mailboxes with his boys, a crew of three other teens which include Franky (Scholten), Oussama, played by 15-year-old kickboxing champ Oussama Addi, and Achraf (Achraf Meziani). In the movie, Ayoub falls for a girl and is determined to do whatever he can to win her attention, even working for the street's most respected gangster to prove himself. But Ayoub and BFF Franky soon have a falling out when Franky starts hooking up with Ayoub's sister Demi (Olivia Lonsdale, the girl in the leopard print in the "Drank & Drugs" music video).
"Prince" is a stunning first feature from de Jong, who previously directed shorts and music videos (including "Drank & Drugs."), with charged performances from its cast of mostly non-professional actors. But in a story about juvenile aggression starring amateur actors, there's the chance fiction will mirror reality. In an interview with The Huffington Post, de Jong told us about the on-set animosity that nearly led him to recast the leads. "It was more like social work," de Jong said of directing the boys. "Most of my work with them was making sure that raw energy came into the film without exploding." And it came close, many times.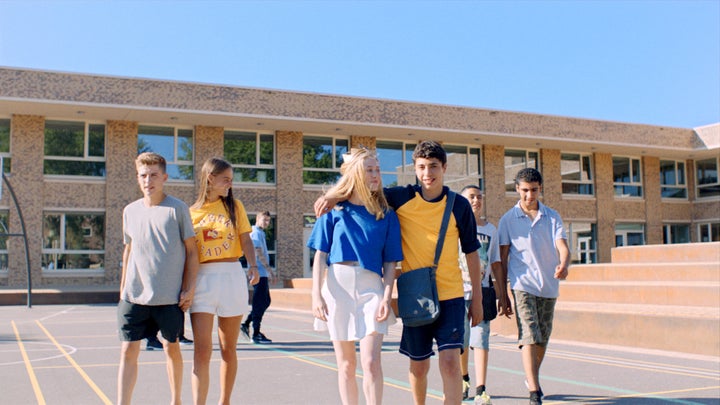 The tension on the set of "Prince" was mainly an ego war between Elasri, 18, and Scholten, 21. "Ayoub was the alpha male because he was starring in [the movie], he's the hero," the director said. "But [Scholten], he couldn't deal with that. He has like 200,000 Instagram followers, he's like the Justin Bieber of the Netherlands. And he wanted the highest status. So the second shooting day, they just exploded." The two boys had such a difficult time getting along on set that de Jong and the crew had to hold them back from one another. "They really wanted to just fuck each other up all the time."
But the boys' real-life beef played into the film in more ways than one. It became so impossible to have the actors on set at the same time that de Jong came up with the idea to shoot most of their group scenes as single close-ups, which largely informed the film's style. "It ended up being a stylistic choice, but I came on to it by necessity," he told us. "I was trying to find a way to work with them, and by sending the others away I could get this quirky sort of comedy by having them act to the camera. So it feels a little constructed."
Although de Jong says he didn't use the tension between Elasri and Scholten's to heighten their characters' on-screen fight, we can't help but wonder how much the two drew from it. In one scene, Ayoub rushes toward Franky and punches him in the face, a punch that plays even more charged knowing their real-life hostility. But struggling to stifle teenagers' hormone-fueled fights and avoid legal issues -- one of the actors even stole the production car keys for a joy ride -- is not something de Jong wants to do again in the future.
"It's fucking with your head," de Jong said. "At the same time it's cool because the movie is about that. But now, in my next project, I just want to save my energy for more creative stuff."
PHOTO GALLERY
Tom Cruise Action Films
Calling all HuffPost superfans!
Sign up for membership to become a founding member and help shape HuffPost's next chapter