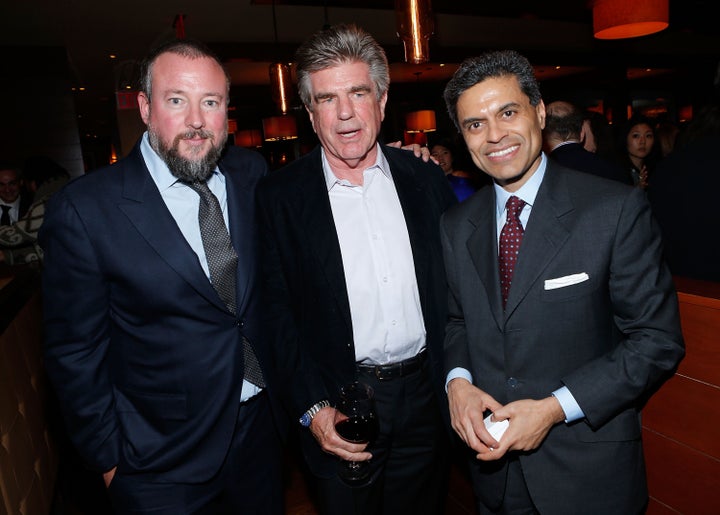 In a world of deliciously unhealthy options, how do you get people to eat their vegetables -- and pay you for the privilege?
It's a question all news organizations struggle with as proliferating cable and Internet options blow the old media landscape to smithereens.
Of all companies, VICE Media -- which made its name with a skate-punk giveaway magazine but has since grown into a large, profitable, international branding and media company -- seems to have found a way: shock value.
In a new half-hour news-magazine series on HBO, titled "VICE" and premiering Friday, April 5, the brand's hipster correspondents travel the globe looking for mind-blowing stories about how "fucked" things are overseas. There are segments on child soldiers in the Philippines, child suicide bombers in Afghanistan, North Korean refugees escaping sex slavery in China and "the world's most dangerous border," which separates the Indian and Pakistani armies in Kashmir.
You can call it news if the audience doesn't know about it yet, and that's what keeps these segments fresh despite the absence of late-breaking developments. Targeted at millennials aged 18 to 34, "VICE" holds out the promise of making international affairs palatable -- and comprehensible -- to a generation raised on gross-out YouTube videos. It's the news equivalent of broccoli with hot sauce.
"We should be cheering people who are able to get Americans -- particularly younger Americans -- to be interested, to be fascinated, to be engaged by the big international stories that are going on out there," says author and CNN host Fareed Zakaria, who serves as a consultant to the series. "What I have tended to do is always try to focus on the spine of the story. It's great to have color, it's great to have juice, it's great to have attitude. You also want to couple that with a narrative or analytic spine that's coherent and intelligent, and that's what we've focused on."
On Tuesday night at the Time Warner Center in New York City, VICE and HBO screened the first two episodes -- as well as some teaser footage from the series' North Korea visit, which has already made headlines around the world thanks to the participation of retired NBA oddball Dennis Rodman -- to an audience heavy with "60 Minutes" and Vanity Fair types, though Yeah Yeah Yeahs guitarist Nick Zinner was also in attendance.
Introducing the segments, HBO CEO Richard Plepler quoted former New York Times managing editor Abe Rosenthal, whose goal, Plepler said, was to give readers at least two reasons a week to gasp, "Holy shit!" Plepler promised that every episode of "VICE" would do just that.
The face of the series is Shane Smith, a co-founder of VICE who -- in time-honored startup fashion -- straddles the roles of host, correspondent and head of ad sales. A bear of a man with a lumberjack beard and plenty of tattoos, Smith isn't the world's smoothest interviewer: He slumps in his chair and murmurs distractingly as his subjects talk. But there's something about him that holds the eye.
A profile in this week's New Yorker ("The Bad-Boy Brand") portrays Smith as the company's adrenaline-junkie-in-chief, and it's clear that he gets a charge from going places no sane person would dare to visit. But his idealism also shines through. After all, as the head ad guy for a major global brand, he could easily get his thrills skiing the Swiss Alps rather than interviewing a Taliban warlord about his reliance on underage suicide bombers.
To make all this look a bit more like a legitimate news operation and less like a bunch of knuckleheads indulging in conflict tourism, HBO and VICE have enlisted a group of clean-shaven, middle-aged adults to supervise: In addition to Zakaria, there's Bill Maher, an executive producer of the series whose live HBO talk show will serve as its lead-in, and Tom Freston, the globetrotting former CEO of Viacom and an investor in VICE, who serves as an informal advisor to the program.
I asked the elegant, India-born Zakaria if he had any concerns about sending these bearded hedonists into the world as journalistic emissaries. "I think that they are a lot hipper than I am," he replied. "While they were dropping acid in college, I was probably in the library. But don't mistake that for a lack of intelligence or a lack of interest in the world."
The highlight of Tuesday night's presentation was the rough footage from the North Korea segment, which is still being edited. According to The New Yorker, Smith was the one who realized that the way to gain access to the rogue nation -- and meet its combative leader, Kim Jong Un -- was to use basketball as bait. So the "VICE" crew arrived with Rodman and the Harlem Globetrotters in tow. The footage of the Globetrotters' exhibition game with the North Korean national team is stunning, but the real treat is seeing the players teach children at a park in Pyongyang how to spin a basketball on their fingertips. "Holy shit," indeed.
"The North Korea thing is not going to be some paean to the People's Republic of North Korea," he says. "But was it worth trying an unorthodox method to get a foot in the door? Yeah. I think, quite frankly, this was a very, very unusual situation, a very, very hard nut to crack, and the fact that we managed to do it is I think to ["VICE's"] credit. They'll have to approach [editing the segment] carefully, but if we had a chance to do it again, sure, I would say yes."
Related
Popular in the Community