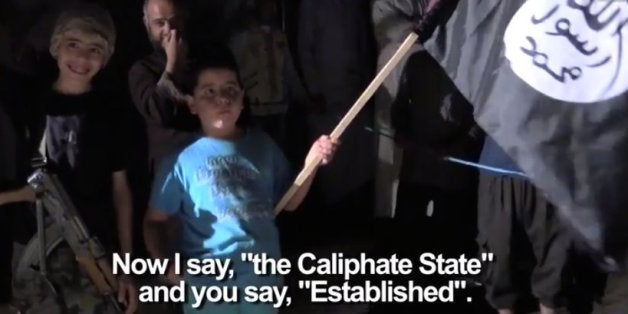 NEW YORK -– When The New York Times reported last month on life in Raqqa, Syria, the de facto capital of the extremist group the Islamic State, the paper didn't reveal its reporter's identity or that of anyone interviewed out a fear of retaliation. No original photographs or video accompanied the article.
But in a new, five-part Vice News documentary, "The Islamic State," journalist Medyan Dairieh reports openly in Raqqa, riding alongside a militant who reminds passersby about upholding Sharia law. Dairieh speaks with young boys about their dreams of fighting for the caliphate, and with a Syrian man imprisoned for selling alcohol who claims to have since found his faith. Vice received unprecedented access for the documentary, the first part of which will appear online Thursday.

Vice famously gained access to secretive North Korea by bringing along Dennis Rodman, and the news organization has covered conflicts ranging from the Iraq War in the midst of sectarian violence to the recent uprising in eastern Ukraine.
Still, reporting openly from the parts of Syria and Iraq controlled by the Islamic militant group, which was previously known as the Islamic State in Iraq and al-Sham (ISIS), is especially difficult. Syria is the deadliest country for journalists, and western news organizations covering the Islamic State there and in northern Iraq, where militants have brutally seized several cities, have often relied on jihadi videos posted online and shared through social media. The United States is currently considering air strikes to protect religious minorities fleeing the militants in northern Iraq.
Kevin Sutcliffe, Vice's head of news programming in Europe, told The Huffington Post that the organization wanted to do something on the Islamic State "that would feel more like Vice, that you were inside the story" and not "reporting outside living off YouTube clips." Sutcliffe approached Dairieh, who previously made Vice documentaries about the battle for Aleppo and how British citizens are fighting with jihadists in Syria. Using his extensive contacts in the region, Dairieh managed to secure access to the Islamic State-controlled area of Syria, which has been mired for years in a devastating civil war.
"The first thing is, yes, it's a great story, but can we tell it safely?" said Sutcliffe, who was previously editor of Dispatches, an award-winning current affairs program on the UK's Channel 4. There were several discussions about how exactly Dairieh could get in and out of the region, and about how Vice could keep track of him during his trip.
Sutcliff described Dairieh as a "heavyweight," adding, "if he says he can deliver something and deliver it safely, you take notice of that. So we felt comforted and confident that we could try and make some kind of film inside the caliphate."
Not surprisingly, Dairieh couldn't travel as he pleased during the roughly 10 days he spent in Syria last month. And gun-toting Islamic militants were always nearby. Despite these restrictions, Sutcliffe insisted Vice was still able to tell a compelling story.
"We're showing you what's going on there," Sutcliffe said, adding that Dairieh was able to ask good questions throughout. "There's been a lot of stuff about the frontline activity, but to try and understand what a very hardline, conservative Islamic state would feel like, that's what I thought was more interesting."
And the vantage point was unique. "At the moment, we think he's the only person they've let in for this amount of time," Sutcliffe said.
Rania Abouzeid, an independent journalist who recently wrote a comprehensive Politico Magazine story on the origins of the Islamic State, told HuffPost in an email that it "is extremely difficult and dangerous to report in territory controlled by" the militant group.
Abouzeid was in Syria and Turkey in April interviewing militants for her article, but she has not returned since. Given the kidnapping of journalists, she said she's "cancelled interviews with ISIS members because they insisted they be conducted in territory they firmly control in Syria, not an area where other groups may also have a strong presence."
"At the end of the day, I have one question I must be able to answer before I set out: If I get into trouble, who can get me out?" Abouzeid said. "With the Islamic State, the question is almost nobody, not even my Al-Qaeda sources should they even wish to intercede on my behalf."
Sutcliffe, who said leaving Syria proved more difficult for Dairieh than getting in, acknowledged that these types of reporting trips are only possible with the consent of those controlling the region -- and even so, they remain dangerous.
"These are managed trips, so you are there with their permission," Sutcliffe said. "While they are, to some extent, keeping you safe ... you are also an interloper."
Watch Part 1 Of "The Islamic State":
Related
Popular in the Community