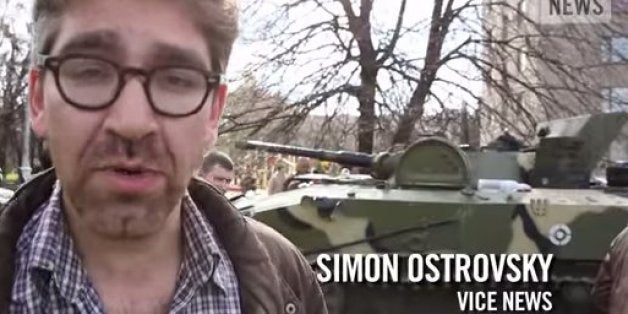 NEW YORK -- The U.S. State Department urged Russia Wednesday to help free Simon Ostrovsky, a Vice News correspondent now being held captive by pro-Russia separatists in Eastern Ukraine.
"We call on Russia to use its influence with these groups to secure the immediate and safe release of all hostages in eastern Ukraine," State Dept. spokeswoman Jen Psaki said Wednesday. "We have also raised our concerns with Ukrainian officials as they work with local authorities to try to de-escalate the security situation in and around Slovyansk."
Vyacheslav Ponomarev, the self-appointed "People's Mayor" of the Slovyansk, an eastern Ukrainian city under control of pro-Russia separatists, confirmed Tuesday that his forces had detained Ostrovsky. The Associated Press reported Wednesday that the group holding Ostrovsky said he's been "suspected of bad activities."
Since early March, Ostrovsky has doggedly reported on the crisis in Ukraine and produced over two-dozen video dispatches chronicling the situation on the ground, from the tense standoff in Crimea to protests in Eastern Ukraine.
The dispatches have often been heated, showing Ostrovsky encountering angry demonstrators and black-masked fighters. One early March video showed Ostrovsky being detained by the Berkut, a disbanded Ukrainian riot police force manning checkpoints for the Russians.
Ostrovsky, who has covered conflicts throughout Central Asia and the Middle East, told HuffPost last month that he's never encountered more hostility than in covering the Russian incursion.
"I think it's because of the propaganda that Russia is broadcasting over the television networks 24/7, brainwashing the people out here into thinking that the entire world has come out against Russia," Ostrovsky said.
Russia began its media war as soldiers entered Crimea last month, helping create a hostile atmosphere and the perception that journalists are supporting the Western-facing government in Kiev.
The New Republic's Julia Ioffe wrote Tuesday that Ostrovsky being held suggests that "Russia is exporting its harsh stance toward the press into these regions, viewing them as roadblocks on the road to conquest, and dealing with them accordingly."
A Vice spokesman said Tuesday that the news organization had contacted the State Department over the detention of Ostrovsky, who was born in Russia and is a U.S. citizen.
Psaki, the State Department spokeswoman, expressed concern Wednesday over the kidnapping reports.
"We condemn any such actions, and all recent hostage takings in eastern Ukraine, which directly violate commitments made in the Geneva joint statement," she said.
Ostrovsky last tweeted Monday from Ponomarev's press conference and described how the "mayor" was threatening to remove a journalist. His most recent video dispatch, from Slovyansk, ran Sunday.
Related
Popular in the Community