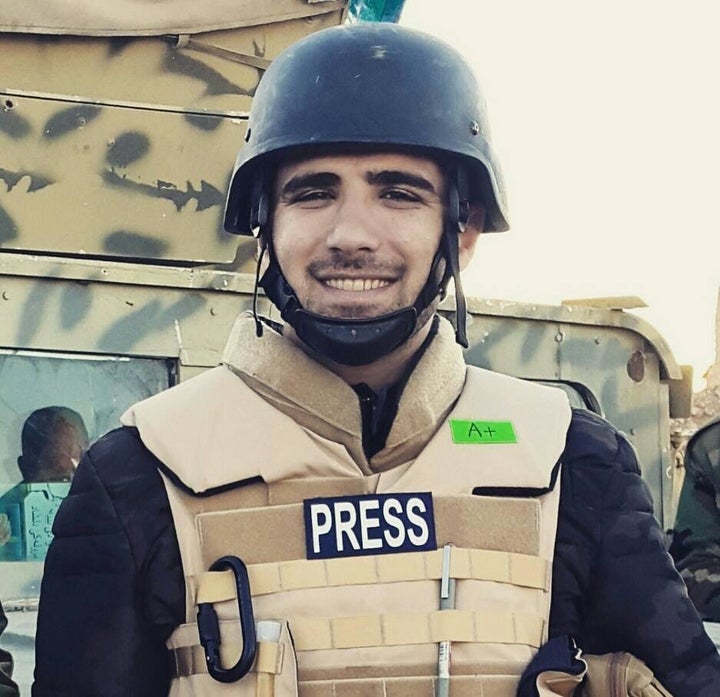 NEW YORK -- Vice Media blacked out its worldwide network of digital channels Wednesday to shine a light on the imprisonment of journalist Mohammed Rasool.
On Aug. 27, Turkish authorities arrested Rasool alongside two British Vice journalists as they covered separatist clashes with the government in the southeastern part of the country. The Turkish government released the two British journalists, Jake Hanrahan and Philip Pendlebury, 11 days later, but kept Rasool detained on baseless allegations of working with a terrorist organization.
Turkey is one of the world's leading jailers of journalists, and Rasool's imprisonment is part of a disturbing pattern in which local journalists -- often described as "fixers" for the role they play in assisting foreign correspondents -- bear the brunt of crackdowns on press freedom. Born in Iraqi Kurdistan, Rasool, 25, is a graduate student who has worked as a fixer and interpreter for major news organizations like The Associated Press and Al Jazeera.
"The very existence of democracy relies on a free and thriving fourth estate," Vice Media CEO Shane Smith said in a statement. "Please help us focus attention on Rasool's case, by sharing the hashtag on social media of #FreeRasool, and keeping pressure on the Turkish authorities to free him immediately." 
Beginning at 10 a.m., Vice's nearly 100 digital channels worldwide will be dark for two hours, except for a request that readers sign a Change.org petition calling for Rasool's release. The petition, addressed to Turkish President Recep Tayyip Erdoğan, was created in conjunction with the Committee to Protect Journalists.
Joel Simon, executive director for the Committee to Protect Journalists, said in a statement that Rasool's ongoing imprisonment "is a tremendous injustice, one that highlights the arbitrary, capricious, and punitive nature of the Turkish criminal justice system."
"It is also a reminder of the essential role of media support staff, the fixers, stringers, translators and drivers who risk their lives to bring us the news," Simon continued. "This is why we must all come together on Rasool's behalf, challenging the Turkish government to do the right thing, which is to drop all charges against Rasool and release him immediately."
Hanrahan wrote last month on the journalists' experience and moment when it was clear that the two would be released back to the U.K. As the pair were led away, Rasool said, "Get me out here guys."
REAL LIFE. REAL NEWS. REAL VOICES.
Help us tell more of the stories that matter from voices that too often remain unheard.