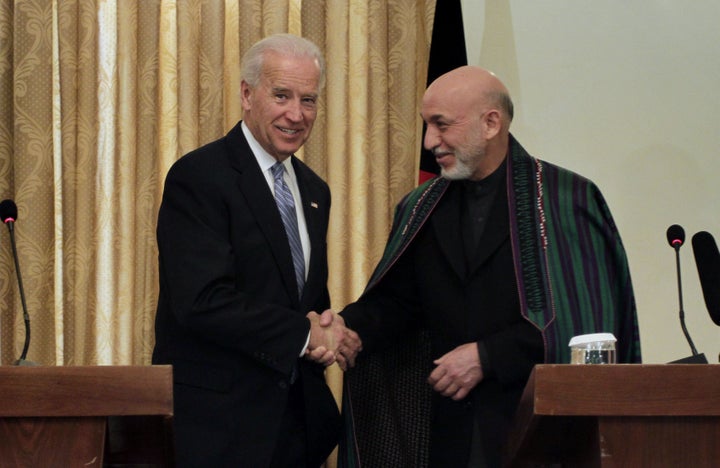 WASHINGTON -- Vice President Biden told reporters at a press conference in Kabul on Tuesday that the United States is willing to stay in Afghanistan beyond 2014 if the Afghans want the assistance, seeming to depart from comments he made last month that U.S. forces would be out by that time "come hell or high water."
Speaking after meeting with Afghan President Hamid Karzai, Biden said that the United States was there to help the Afghan people build their nation -- not be an occupying force. "[W]e stand ready to help you in that effort," said Biden. "And we will continue to stand ready to help you in that effort after 2014."
While he reiterated that President Obama's goal is to "transition to a full Afghan lead that begins this year and will conclude in 2014," he added that the United States would continue to provide assistance beyond that date:
We have moved into a new phase -- a new phase -- in Afghanistan; a transition to a full Afghan lead that begins this year and will conclude in 2014, as we prepare a framework for our future bilateral relations. This is President Obama's vision for the future. It's a vision expressed by our allies at the Lisbon Conference. And I believe, based on our conversation today, it clearly reflects the vision of President Karzai.

The United States, if the Afghan people want it, are prepared, and we are not leaving in 2014. Hopefully we will have totally turned over the ability of the -- to the Afghan security forces to maintain the security in the country, but we will -- we are not leaving, if you don't want us to leave. And we plan on continuing to work with you, and it's in the mutual self-interest of both our nations.
The comments are in line with what an unnamed senior administration official told reporters aboard Air Force Two en route to Kabul on Monday. When asked if U.S. troops would be out of Afghanistan by 2014, the official replied, "I'm not going to speculate on what we may or may not have in 2014 or beyond. What we do know and what's agreed is that the Afghans will be in the lead throughout the country."
They come, however, just a month after Biden appeared on NBC's "Meet the Press" and said, "We're starting it in July 2011, and we're going to be totally out of there, come hell or high water, by 2014."
The president has stated that the United States will begin withdrawing troops from Afghanistan, although it's yet to be determined how many will come out at that time. "We clearly understand that in July of 2011, we begin to draw down our forces," Defense Secretary Robert Gates said in July. "The pace with which we draw down and how many we draw down is going to be conditions-based."
Several senior U.S. officials told CNN that Biden was referring to the "enduring partnerships" Obama has spoken of and was "promising to maintain ongoing cooperation with the Afghan military beyond 2014, not only on civilian issues such as governance and economic development but on security, including training of the Afghan army and policy and counterterrorism training and assistance."
Related
Popular in the Community