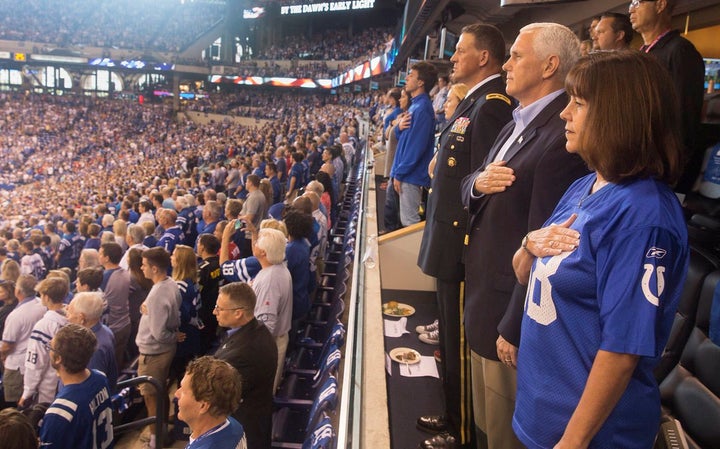 On Oct. 8, 2017, Vice President Mike Pence stood, held his right hand to his heart and stared into the middle distance as "The Star-Spangled Banner" played prior to the Indianapolis Colts game against the San Francisco 49ers. At the same time, about a dozen 49ers players kneeled to protest racial inequality, as they had the previous week, continuing the demonstration begun by their former quarterback, Colin Kaepernick.
After the anthem was over, Pence left the game, in what seemed like a performance of disgust. He issued a statement saying he exited "because President Trump and I will not dignify any event that disrespects our soldiers, our Flag, or our National Anthem."
Newly released documents from the Department of Homeland Security show more clearly that Pence's early departure was a stunt — and not a cheap one at that. The Secret Service on Friday released receipts and folios indicating more than $75,000 in expenses, including hotels, travel and additional security measures.
But this is hardly the extent of the bill. As The Washington Post reported in the days after the game, Air Force Two costs approximately $43,000 an hour to operate, which the Post estimated meant a total bill of $250,000 for the flight alone. That's to say nothing of the cost of local law enforcement, an extra ambulance and extra trauma teams at the local hospitals, with many of these supernumeraries making overtime for Sunday work. None of those expenses was included in the Secret Service's cost breakdown. All told, it cost $325,000 at the very least for the vice president not to watch a football game.
According to the newly released — and heavily redacted — documents, the hotel rooms for Pence's security team totaled $64,637.88, split between nine different properties, with the heftiest bill of $25,151 at the Marriott Indianapolis Downtown. A heavily redacted document titled "LRC Air/Rail Detail Report by Project Code" with a "report period" of Oct. 7 through Oct. 9 has an amount at the bottom of $8,877.91, presumably for certain travel expenses. Temporary walkways deployed in downtown Indianapolis add another $2,368.
The dates on the documents lend further credence to the notion this was a hastily planned stunt and not, as a Pence aide claimed to CNN, an event planned "for weeks" so that the vice president could watch a ceremony honoring former Colts quarterback Peyton Manning. The walkways, rented from an event company based out of Cincinnati, were ordered only the Friday before the game and a lodging addendum for the Crowne Plaza Indianapolis Airport was signed just three days before the game.
The walkways were also scheduled to be picked up at 4 p.m. on Sunday, but any football fan knows a game with a 1 p.m. kickoff is no sure bet to end by 4. (The game ended up going into overtime, taking three hours and 32 minutes.) Pence's pool reporters were told by a staffer that day that Pence "may depart the game early," but the staffer "did not indicate how early."
The DHS documents include one single sheet of paper addressed to the Crowne Plaza, dated Sept. 13, which is indeed weeks before the game. It's unclear if it's related to Pence's trip or even that it's a Secret Service document at all. Every proper noun and identifying detail is redacted, even the word before "Travel Office." (Other documents do not redact the phrases "White House," "Secret Service" or "Department of Homeland Security.") However, there is a handwritten note, much darker and more clearly legible than all the other handwritten notes in the documents, that says in big, neat, impossible-to-miss letters: "COLTS game."
Crowne Plaza couldn't be reached for comment on Saturday, and the Secret Service directed inquiries to Pence's office, which didn't immediately respond.
Aaron W. Gordon is a New York City transportation reporter. He filed this Freedom of Information Act request a year ago when he was a sports reporter. Follow him on Twitter at @A_W_Gordon.
Popular in the Community